Of all the multisport smartwatch brands on the market currently, Garmin and Apple can be said to be the most popular. This observation mostly falls into two reasons: Garmin is better for fitness tracking and Apple is better for smart notifications.
I own a few different versions of each brand, and I have tested many others, and I can say that both brands offer great features for vastly different reasons.
In a Garmin vs. Apple comparison, which is better for sports tracking?
In terms of multisport tracking features, GPS navigation, and the measurement of performance metrics, Garmin watches offer the best value. Apple watches (see on Amazon) are better in terms of smart notifications and a wide range of features that are commonly found on smartphones.
When deciding between these two watch brands, your overall need will be based on what you primarily want out of a smartwatch. Since Garmin is geared more towards athletes and Apple watches are more of a niche product for offering a mini iPhone, the similarities and differences between the two brands are important to know. Read on to find out which of these two brands will meet your needs better.
Is a Garmin Watch Better Than an Apple Watch?
The Garmin Forerunner 35 was the first watch I ever bought. As a fitness enthusiast, I was blown away by the level of detail that the watch gave in performance tracking. But I am also a big fan of the iPhone, therefore, I was just as excited to buy my first ever Apple watch series, and have a literal smartphone right on my wrist.
The truth is, both Garmin and Apple make incredible smartwatches, yet your decision on which is better will come down to many different variables.
Most people I know in the fitness community do not regularly use the Apple watch for performance tracking, but this is only because their Garmin or Suunto is much better for tracking things like triathlons or complex performance metrics based on outdoor GPS variables.
An average user who simply wants a smart device on their wrist would find the Apple watch series to be overwhelmingly superior to either of these brands.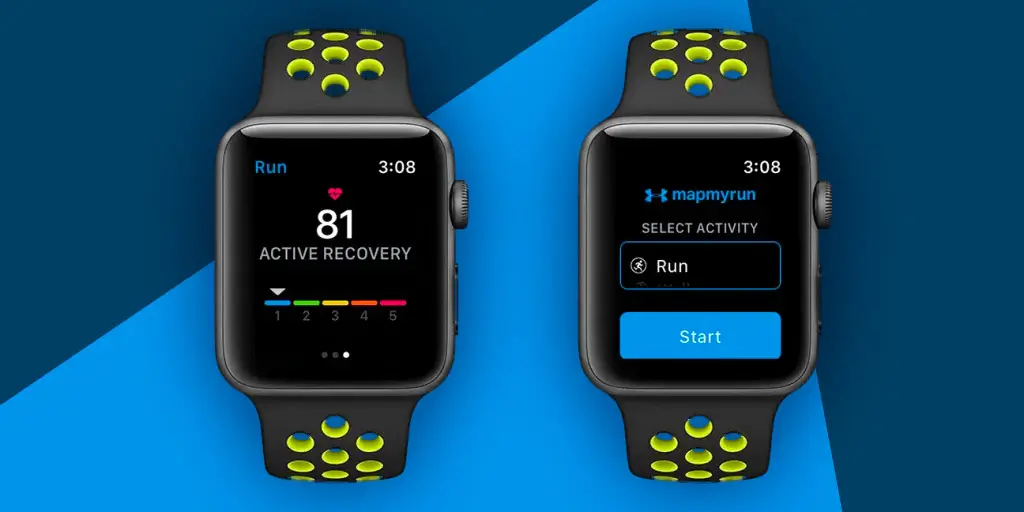 But to say that the Apple watch series is lacking in performance tracking would be false; there are many essential performance tracking features available on an apple watch. For example, the Apple Watch Series 6 features Vo2 Max as well as performance conditioning features that you can find on my intermediate and advanced Garmin watches. Both brands feature sleep tracking and the accuracy of both brands is fairly equal with sleep tracking.
But when you really get down to the comparison, Garmin amplifies the fitness and health tracking features to a substantial margin. Garmin watches make running or tracking multisport activities a truly convenient process, and you can have all of the conveniences that you get indoors with models that are targeted to rugged, tactical outdoor activities as well.
But Garmin is miles behind Apple watch series models in terms of smart notifications. You can respond to texts and other alerts much quicker with an Apple watch series and the overall screen quality of any Apple watch series is better than what is seen with a Garmin watch. App notifications are truly more innovative on an Apple watch series model, and all of this is easily pulled up thanks to the absence of physical buttons.
The final verdict: Garmin is better than an Apple watch series when it comes to performance tracking and fitness.
But what are the real differences between a Garmin watch and an Apple watch series model?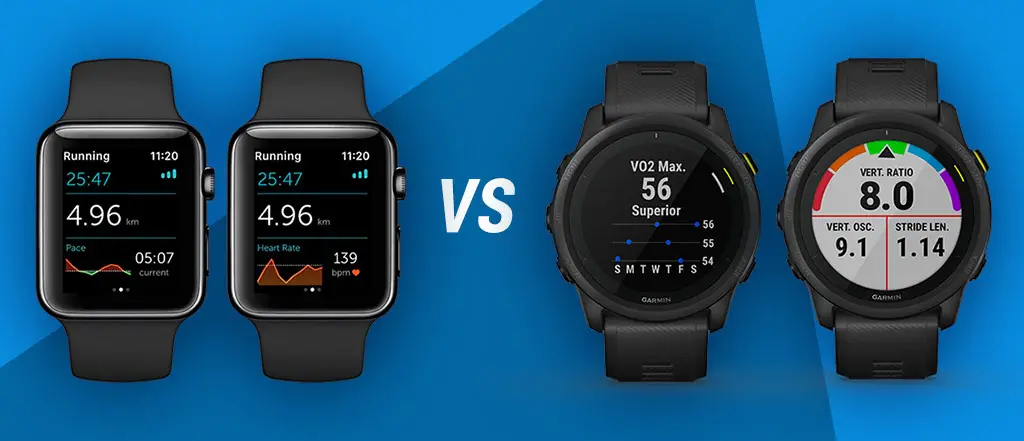 What Is the Difference Between an Apple Watch and Garmin?
The very first difference that pops out is the inclusion of touch screen technology in the Apple watch series; this is one Garmin vs. Apple Watch debate that Garmin doesn't come anywhere close to winning. Garmin watches rely on buttons, which isn't a downright negative trait – but touch screen technology is far more convenient.
Additionally, Garmin watches have a better battery life overall than an Apple watch series model. In a Garmin watch vs. Apple watch body battery comparison, there are Garmin watches that can easily hold a charge for 1-2 weeks and even 3-4 days with constant GPS tracking. An Apple watch series doesn't come anywhere close to this. When you add in some of Garmin's solar-powered models, the body battery comparison is even more impressive for Garmin.
Both Garmin and Apple Watch Series have convenient pay apps in Garmin Pay and Apple Pay respectively. Garmin Pay and Apple Pay are easy-to-use apps that really take the hassle out of having to open separate apps to pay for an additional app or even everyday purchases. Health monitoring statistics are also a big component of each brand. Both Garmin and Apple series watch models tell you what you need to know for both health and fitness tracking data.
Your blood oxygen levels, heart rate, and recommended activities to increase or balance these rates are included. Garmin is a bit more innovative in this field, especially in terms of heart rate monitoring and overall better suggestions for increasing your output or decreasing your rest periods, even when you sleep.
An Apple watch series is faster and more convenient with ample amounts of data at your fingertips. You will likely be pleased with what Garmin has to offer in this department, but this is only more of a supplemental convenience when compared to everything an Apple watch series can do.
The Apple watch series is also the premier smartwatch for music. With Apple Music already included and the ultra-convenient Apple air pods as an additional accessory, even the Garmin Forerunner 245 Music and the Forerunner 645 Music can in no way compare to an Apple watch series.
Again, the main difference to keep in mind when comparing Garmin and Apple watch series is the main use you are seeking from the watch. Apple watch series has nothing on Garmin when it comes to the fitness arena, but Garmin cannot keep up with the innovative smart features of the Apple watch series.
You can get good fitness features out of an Apple model, but great fitness features out of a Garmin; Garmin is fairly good with smart features, but Apple sets the gold standard.
What Is the Best Alternative to an Apple Watch?
Apple clearly is the better choice in terms of apps and downloads, but there are some competitor watches that strike a nice balance between smart technology and fitness:
No fitness session (or any smartwatch use) is ever truly complete without a watch that allows music storage, and this watch is all about music. The Forerunner 245 Music (see on Amazon) has the added convenience of having up to 500 audio files to play at random. Gone are the days of having to use a separate device to hear all of your favorite fitness songs, you can listen with ease during your fitness with this model.
The Garmin Forerunner 245 Music is also beneficial if you need some enhanced training during your fitness sessions. The Garmin Coach feature recommends status, effect, and insight dynamics into your fitness history and how it corresponds to any new goals you wish to reach, as well as insights into future recommendations that can then be broken down into distinct categories to ensure that you are dedicating the proper amount of time to each activity.
The battery life of the Forerunner 245 Music is also impressive. You can get up to 24-hours of battery life when running the watch in GPS mode and a week when running the watch in regular smartwatch mode.
The Forerunner 245 Music has most of the capabilities of an Apple watch with the added benefit of improved music accessibility that make it a stellar choice in an Apple comparison. But this model is also great for so many other types of activities as well. The Forerunner 245 Music lets you change things up with ease, thanks to built-in activity profiles for running (indoor/outdoor), cycling (indoor/outdoor), swimming, elliptical, paddle sports, and strength training.
This watch will certainly make a fine choice if you simply cannot decide between other models.
Pros:
Easily download up to 500 songs to your watch, and connect with Bluetooth headphones for phone-free listening
Syncs music from select streaming services for offline listening
Provides advanced running dynamics including ground contact time balance, stride length, vertical ratio, and more
Uses estimated wrist-based heart rate data to offer performance monitoring features, including evaluating your current training status
Cons:
Uncomfortable wrist band
Quick battery drain
---

The Garmin Forerunner 945 is a marked upgrade from the already perfect Forerunner 745. I have written passionately about this watch, and the same level of passion holds steady when analyzing the Forerunner 945's abilities against Apple. The Forerunner 945 monitors your training performance and can even offer personalized insight, so you can train smarter, not harder.
The smartwatch tracks your VO2 max and adjusts the value based on heat and altitude. Training status evaluates your recent training history and performance indicators to let you know if you're training productively, peaking, or overreaching. You can see how your workouts influence the development of endurance, speed, and power with aerobic and anaerobic training effect feedback, even from multisport statistics.
Recovery time helps you maximize the benefit of your efforts by predicting when you will be ready for your next tough workout. You can even view your overall training load, which measures your exercise volume from the last 7 days and compares it to the optimal range for your fitness and recent training history. Additionally, the new Forerunner 945 training load focus sorts your recent training history into different categories based on activity structure and intensity.
An Apple watch is still a decent choice for fitness but the Forerunner 945 takes fitness to a new level of performance tracking expertise.
Pros:
Performance monitoring features include Vo2 Max and training status with adjustments for heat, altitude Acclimation status, training load focus, recovery time, and aerobic and anaerobic training effects
Full color, onboard maps guide you on your run so you never get lost during your workout
Safety and tracking features include incident detection (during select activities) which sends your real-time location to emergency contacts through your paired compatible smartphone
The battery life lasts up to 2 weeks in smartwatch mode, 10 hours in GPS mode with music, or up to 60 hours in ultratrac mode.
Cons:
Spotty connectivity issues may require frequent power cycles to refresh
---

The Garmin Venu Sq packs quite a punch for such a small watch. This can be beneficial for athletes who do not wish to have a larger, bulkier watch feel as if it is weighing them down. Apart from an attractive price and some similar smart notifications seen with Apple watches, the main attributes of the Venu Sq come with the health statistics and tracking that is found in the watch.
When you want to relax or focus after a grueling workout, you can start a breathwork activity, and this watch will track your stress and respiration to help you get a better understanding of how you're breathing. You can also log your daily fluid intake as a reminder to stay hydrated. You can even have an auto goal for hydration that adjusts based on how much sweat you lose during a workout.
The Pulse Ox sensor estimates your blood oxygen, and that can be very handy during a training session, specifically a race. Additionally, prompt relaxation reminders will even prompt you to do a short breathing activity when you're feeling stressed. This model may not have innovative performance features but the Venu Sq comes in handy if health monitoring is what you are seeking.
Pros:
Small and compact
Find new ways to keep moving with more than 20 preloaded sports apps, including walking, running, cycling, mindful breathing, swimming, golf, and many more
Use preloaded workouts that include cardio, yoga, strength, and even Pilates, create your own in the Garmin Connect app (requires an app on a compatible smartphone)
Never miss a call, text, or social media alert with smart notifications delivered right to your wrist (when paired with a compatible smartphone)
Cons:
Prone to glitches and spotty GPS reception
It may be too small for some cyclists
---

The Garmin Vivoactive 4S is another stellar Garmin watch that is on the smaller end of the size spectrum. When it comes to fitness, you can now use the convenient training power meter to log and display your performance specifics and health targets when you are training. But the Vivoactive 4S has so much more to offer if you wish to change up your fitness routine occasionally.
If you want swimming mode, this model now has a fully integrated swimming mode performance meter to record your underwater movements and suggest ways to improve to reach targeted goals.
The standout feature is the Garmin Move IQ performance tracker. This feature can automatically detect the type of fitness routine you are performing. Based on this detection, you can view the saved event in your Garmin Connect timelines to let you know the metrics achieved even if you didn't plan on recording the activity.
The Vivoactive 4S improves upon past exclusions in this popular Garmin line such as the Vivosmart series, and with this in mind, this makes the Vivoactive 4S a great investment for any type of fitness choice.
Pros:
Keeps track of your energy levels
Easily download songs to your watch, including playlists from Spotify, Amazon Music, or Deezer (may require a premium subscription with a third-party music provider), and connect with headphones for phone-free listening
Record all the ways to move with more than 20 preloaded GPS and indoor sports apps, including cycling, yoga, running, swimming, and more
Get easy-to-follow, animated workouts right on your watch screen, including strength, cardio, yoga, and Pilates
Up to 7 of battery life in smartwatch mode; Up to 5 hours in GPS and music mode
Cons:
Not a durable design
Not many distinctive cycling features
---

If Garmin is a bit too expensive, the Suunto 3 Fitness is a beautifully robust fitness watch with connected features, designed for those who lead an active lifestyle and values health and well-being. The watch creates for you a personal training plan that adapts to your fitness needs. You'll get real-time guidance while exercising to help you at the right intensity.
Based on your personal profile, Suunto 3 creates a 7-day training plan with optimal duration and intensity for each exercise to improve fitness. The planned exercises are easy to activate, and once started, the watch guides you to stay at the right intensity.
The exercise recommendations are based on your current fitness level and recorded training history. The training plan is automatically adapted to your actual activities, so if you miss an exercise, or get excited and do a little more than planned, you don't need to stress about updating the plan manually.
True to Suunto's sports expertise, Suunto 3 is ready for all your sports from running, swimming, and cycling to gym training, hiking, and many more. The watch uses wrist-based cadence for measuring speed and distance in walking and running activities, which means that you can track speed and distance also indoors.
Additionally, the watch measures your stress and recovery throughout the day to help you ensure you have enough in the tank to make it through the day. Easy-to-follow summaries offer a view of your overall activity, helping you balance activity and rest.
Pros:
This fitness tracker sports watch accurately tracks steps, exercise, stress, and recovery; Adaptive training guidance creates custom 7 day plans that help maintain or improve your fitness level
This fitness watch delivers a holistic view of your daily activity, including steps, calories and sleep; Stylish, ultra-soft microfiber strap looks good in the gym or out on the town
Connect to your favorite sports apps and services from the Suunto app to get more from your watch; Share with your sports communities and access specific training analysis and guidance
Combining Scandinavian design with ultra-durable materials, our watches track your sports, daily activity, and sleep to help you keep life, training, and recovery in balance
Founded in 1936, Suunto brings over 80 years of high-quality heritage craftsmanship, relentless accuracy, and pioneering innovation to its watches, compasses, and dive products
Cons:
The 5-button layout can be confusing
Thick band and bezel may be uncomfortable for some users
---
Is a Garmin Watch Worth It?
So, what really makes Garmin watches worth the price? Garmin watches are all about fitness convenience; these watches are a complete evolutionary upgrade in the fitness sector, which means that some previous concerns with other models like Apple have been improved upon for your convenience, such as the inclusion of various types of sports and fitness performance dynamics as opposed to just simple smart notifications you can get on a smartphone.
The technology is improved upon, which goes beyond simple velocity to even pinpoint performance targets in various areas of the body as opposed to just an overall assessment. Garmin watches can be comfortable and lightweight or, the watches can be rugged and bulky depending on what level of fitness you need a watch for.
Here are just a few of the reasons that Garmin watches are well worth an investment for fitness enthusiasts:
Great for triathletes. Garmin watches are designed with users in mind who want the knowledge that their smartwatch will be able to keep up with a wide range of performance statistics across a triathlon. Through updated and improved features to measure cadence, ground contact time, stride lengths, and all of the capabilities that sync with accurate heart rate readings and performance statistics, many Garmin watches are perfect for triathletes.
Comes with preloaded activity profiles. Most Garmin watches are designed to appeal to a wide range of fitness activities. Innovative and detailed activity profiles for swimming, running, bicycling, and triathlons, are all part of the profile selections that you can pick from with many Garmin watches. Most Garmin models also include a range of recommendations if you wish to have some ideas to change up your fitness routine.
V02 Max indicator. When you are training hard, you sometimes have technology that can give inaccurate readings that account for variables outside of your control. Wind, altitude, and outside heat and cold temperature variations can all collide to give a slightly skewed performance reading but the V02 Max indicator in many Garmin watches lists accurate capabilities with this in mind and gives you an accurate reading.
Innovative performance condition technology. Like most models in the Garmin smartwatch line, the watches analyze heart rate, heart performance conditioning, and heart rate variability. This is based on a wide range of different performance types to give real-time assessments of how you are faring during your workout. With additional features to rate how long you can continue before you reach various thresholds.
Multiple GPS navigation protocols. Nearly all Garmin watches are equipped with both Glonass and Galileo GPS which allow it to track in a wider range of environments and terrain than what can be achieved with traditional GPS technology.
The ability to sync music. Apple handily beats Garmin when it comes to music, but there are some Garmin watches that allow you to sync music to your onboard music storage system right inside of the software of the phone. You can sync your Spotify playlist or choose to use a preprogrammed playlist specification if you are on the run and don't have time to sync your favorite songs to the music storage portal.
Routable maps. With many Garmin watches, you can now customize maps and routes with Glonass and Galileo GPS protocols which allow it to track in a wider range of environments and terrain than what can be achieved with traditional GPS technology. The mapping technology is colored and interactive (on more advanced models), which allows you to receive even more detailed and visually attractive routes based on your location.
Final Thoughts
So, Garmin watch vs. Apple watch, which is better? Apple watches are good for those seeking a smaller version of their iPhone on their wrists. This is a convenient and innovative approach, yet when compared to Garmin, the fitness activities and protocols are not as advanced. This is because Garmin tailors its watches to consumers primarily in the fitness niche.
It is difficult to outright call one brand of the watch better than the other because both brands are targeted for different approaches. If we weigh the difference simply between fitness, I would say Garmin is easily the better choice. However, Apple has Garmin beat when it comes to overall smart notifications and features.
> You may also be interested in Garmin Fenix vs Garmin Forerunner and Fitbit vs Garmin!