Using a GPS in your golf game is very important in order to accurately determine the distance to the green, yardages, hazards, and much more. With that in mind, many golfers are split when it comes to what type of GPS device is the most convenient and accurate. There are watches and handhelds for beginners and more advanced golfers, as well as different sizes with each.
This comprehensive guide will provide you with all the information you need to make the best decision on what type of golf GPS best suits your needs. Since there are many types of golf GPS devices, I have decided to break down the list by product line. Read on to learn all of the important details for some of the very best golf GPS devices on the market.
Which Golf GPS is Best?
Of all the products I have researched, the Garmin Approach G80 is a safe enough choice for me to label it the very best. There are just so many useful features to be found in this handheld that I keep coming back to this model over and over again.
This model's features are both innovative and incredibly helpful when on the course. Most of all,  the launch monitor that measures your shot distance, as well as easy access during play is incredibly helpful for helping you judge your swing. It is also easy to bring up and all you have to do is simply press the quick access radar button to open launch monitor functionality.
What is the Best Golf GPS Watch?
If you prefer watches, the Garmin Approach S62 is a stellar choice. This watch has a premium design and the useful round analyzer will measure and record every distance you achieve with stat tracking that can be viewed in the Garmin Connect App.
The fitness tracking offered by this watch is a great way to measure just how much exercise you are getting with a golf game, which can be hard to monitor without a display that keeps track of how hard you are working your body. As previously mentioned, the auto shot round analyzer is perfect to use as a digital scorecard for measuring putts per round and other important dynamics of your golf game.
There are cheaper golf GPS watches on the market but you certainly get a great deal of advanced features in the Garmin Approach S62 (see on Amazon).
Best Garmin Approach GPS Golf Watches and Handhelds 2021:
Garmin is one of the top companies when it comes to producing effective and useful golf GPS devices. Whether you are seeking a golf GPS watch or a handheld, Garmin has all the bases covered.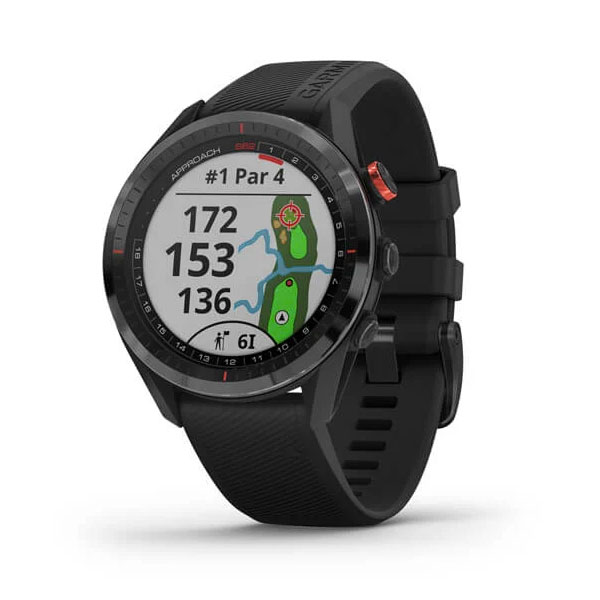 The Garmin Approach S62 is a powerful and top-tier model and one of the best golf GPS devices overall. With this watch, you can get caddie help right on your wrist. This virtual caddie factors in wind speed and direction and suggests a club based on the distance you typically swing with that particular club.
Wind Speed and direction are also a standout feature in the Approach S62. The watch displays wind speed and direction, which makes figuring out which club to use and which direction to swing much easier.
Additionally, the watch comes with 41,000 preloaded courses with full-color course view maps of golf courses from around the world and you can download updates for the course you play most often.
Pros:
Analyze and review your game with the golf performance stats widget; stats are calculated in the Garmin Golf app and then sent to your watch so you can review your handicap index, fairway hit/miss percentage, approach shot hit/miss percentage, and green in regulation percentage
Suggests a club based on the typical distance the golfer hits that club, factors in wind speed and direction, and indicates where the golfer should aim at the map to swing much easier
The hazard view feature allows you to quickly scroll through each hazard on the map and get critical distance information so you know what to avoid
Large 1.3″ easy-to-read color touchscreen display with scratch-resistant ceramic bezel, the rechargeable battery lasts up to 20 hours with GPS and up to 14 days in smartwatch mode
Cons:
Shots are sometimes recorded incorrectly
Layup instructions can be difficult to read
---
On the first view, the Approach S40 is just an incredible looking GPS golf watch. The Approach S40 GPS golf smartwatch with color touchscreen looks great on your wrist and on the course. It shows distances to the front, middle, and back of the green, hazards, and automatically records detected shot distances (lie and ball contact may affect shot tracking).
It also lets you manually adjust to today's pin position for accurate approach shots. With more sensors to improve detection accuracy, the standout AutoShot sensor allows game tracking that automatically measures detected shot distances and records them for post-game analysis on the Garmin Golf app.
You can also sync Approach S40 to your compatible smartphone to receive smart notifications for incoming calls, texts, emails, and other alerts displayed right on your wrist. Simply put, the Garmin Approach S40 is one of the top-tier Garmin golf watches going into 2021.
Pros:
Stylish, lightweight GPS golf watch with a sunlight-readable 1.2" color touchscreen display with metal bezel and quick release bands for easy change of style or color
Preloaded with more than 41,000 courses from around the world
AutoShot detection measures and auto-records detected shot distances; putts are not tracked, and some other shots, such as chips around the green, may not be tracked; pair with optional Approach CT10
Green View feature allows manual pin positioning; quickly reference distances to the front, middle, and back of the green as well as hazards and doglegs
Tracks everyday activities such as steps, sleep and includes built-in multisport profiles
Battery life: up to 15 hours in GPS mode; up to 10 days in smartwatch mode
Cons:
The screen is prone to freezing
GPS may not sync to all types of golf courses
---
When it comes to the Garmin Approach S10, the two thoughts that stand out to most golfers are simplicity and comfort. This model is an easy to use Garmin golf GPS watch and makes for a lightweight accessory when maneuvering around the golf course.
The design pattern of the S10 is lightweight and clear, with easy-to-read data thanks to the ultra-high resolution screen. The data resolution displays numbers in large, translucent white coloring, which complements the easy interface controls of the watch.
There is nothing worse than being unable to read data while on a bright golf course, and the large font of the data is one of the most popular features of the S10.
If you want to stay focused on your game and the course, this is your golf watch. Based on your location, the easy-to-use Approach S10 golf watch automatically chooses the course you're playing from more than 41,000 preloaded courses worldwide with free lifetime updates.
Additionally, it provides yardages to the front, back, and middle of the green as well as hazards and doglegs. Complete a hole, and it automatically transitions to the next hole as you walk from the green to the next tee box. And if you really crush one, you can measure the distance for bragging rights.
One of the original golf watches is still one of the best.
Pros:
The S10 comes with many convenient preloaded maps. The green view, as well as the front, middle, and back, are all conveniently preloaded.
Hazards and doglegs are also easy to view and clear, which provide a means for beginners to have everything they need in full view to master a golf game.
The rechargeable battery included here is another standout feature of the S10. You will be able to play for about 12 hours straight using the golf GPS mode. In the same way, you could extend energy from this battery for two or three weeks approximately. To do this you simply use the clock mode of this unit. This way, you will not be without your watch at any time during the game.
The S10 features a high-resolution monochrome display. 128 x 128 pixels are combined with the appropriate screen size. In this case the screen size of 0.9 inches x 0.9 inches. The total weight of the unit is 36.28 grams.
Cons:
More advanced models are available
Silicone band may not be durable enough for some golfers
---
The Garmin Approach S20 is the golfing partner that doubles as your everyday watch. I use this watch frequently and I consider it a nice upgrade from the simplicity of the Approach S10 and the advanced features in higher Approach models.
The immediate standout feature of the S20 model is the inclusion of the Autoshot round analyzer. This round analyzer will measure and record every distance you achieve with stat tracking that can be viewed in the Garmin Connect App.
Additionally, the S20 is truswing compatible which allows you to analyze information about your swing that you can then use to improve upon later to achieve your best golf game.
On the course, the Approach S20's AutoShot round analyzer tracks shots, measures distance, and records shot locations for post-round analysis on Garmin Connect.
View the details for each round or analyze your cumulative stats over time or by the club, and view your swing data. It's never been easier to track your progress and share it with friends. You can even save swing sessions for later review.
Pros:
Activity tracking features that measure calories burned, heart rate monitor statistics, distances covered, and overall fitness tracking are some of the newer features you can expect when purchasing the S20.
Autoshot round analyzer feature is great to use when judging distances to hazards and other important information about your golf game to help you improve your overall performance.
The S10 provides a decent battery performance but the S20 improves upon this feature substantially. The S20 provides 15 hours of battery life whereas the S10 provided around 12 hours. These 15 hours are ideal if you intend to play golf over an entire summer day.
Includes Approach CT10 sensors to improve shot detection on wedges and putter, automatically recording tracked shots on any club; keep score and view stats for shot distances and accuracy to the fairway or green
Cons:
Additional features can be cumbersome to navigate while out on the course
---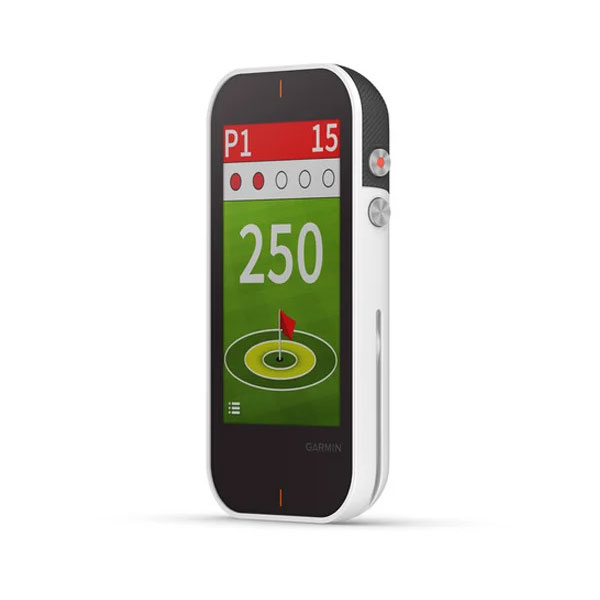 Sometimes, handhelds are just more convenient when out on the golf course. The Garmin Approach G80 is the first all-in-one premium GPS golf handheld with an integrated launch monitor. Garmin radar technology makes it easy to track clubhead speed, ball speed, smash factor, swing tempo, and estimated distance.
A convenient warmup mode provides simple feedback such as ball speed, clubhead speed, tempo, smash factor, and estimated distance. Tempo training helps you evaluate which backswing and downswing timings are best for you, and it provides instant feedback.
Additionally, a handy virtual round allows you to compete and play in a tournament and target practice allows you to work on different parts of your game for short and long drives. On the course, the launch monitor measures shot distance, and for easy access during play, simply press the quick access radar button to open launch monitor functionality.
Touch any point on the sunlight-readable display, and it shows the precise distance to that spot for fairway, hazard, landing area, or the front, middle, and back of the green. It also doubles as a digital scorecard with scoring options for stroke play, Stableford, skins, and match play with adjustable handicaps.
Periodic course map updates are automatically sent to your device which reduces the lack of overall course maps that GPS may not pick up in all areas. This handheld is a stellar choice.
Pros:
Features 3.5" sunlight-readable touchscreen display and slim design with quick button access to radar
Integrated launch monitor tracks clubhead speed, ball speed, smash factor, swing tempo, and estimated distance
Preloaded with more than 41,000 detailed color golf course maps worldwide
Practice and game modes allow you to test your skills and work to improve your game
Rechargeable battery lasts up to 15 hours with GPS
Cons:
Prone to overheating
GPS variants can be skewed without the proper course maps
---
On the smaller end of the Garmin handhelds is the Garmin Approach G30. The smaller size of this gold device is both compact and easy to store. You can slip it in and out of your pocket for tracking without much hassle.
This model has a digital scorecard that makes it easy to keep scores for up to 4 players, and it automatically uploads to Garmin Connect when synced. And with stat tracking, you can keep track of putts, greens in regulation, and fairways hit. With Approach G30, you're always in touch.
It displays smart notifications so you can get alerts from your phone for incoming calls, texts, and emails, and it offers up to 15 hours of battery life on each charge for more time on the links. Pair with the TruSwing golf swing analyzer, and you can train your swing with game-changing metrics, including swing speed and club path angles. By helping you understand what your swing is doing and how it impacts ball flight, you can improve your consistency on each stroke.
Colorful layup arcs at 100, 150, 200, and even 250 yards let you know how far you need to hit when laying up. Additionally, touch targeting lets you touch any point on the sunlight-readable display to get precise yardage to that spot, which includes fairway, hazard, landing area, or the front, middle, and back of the green.
Not bad for a small golf device.
Pros:
Sleek, compact handheld golf GPS with a 2.3-inch color touchscreen display
High-sensitivity GPS acquires satellites quickly to show the distance to greens, hazards and doglegs
Preloaded with more than 40,000 courses worldwide
Full-color course mapping with Touch Targeting feature
Green View allows you to place the pin in the correct location for the day, which improves distance accuracy
Cons:
GPS accuracy can be off in areas with tree cover
The device is prone to freezing up
---
To round out the Garmin line, I have decided to end this line's 2021 recommendations with another small and convenient model that is also popular, the Garmin Approach G10. The Approach G10 golf GPS offers great value and precise distances in a convenient clip-on form. You can wear this device on your belt, on your bag, or in your pocket, this compact device fits anywhere.
It comes preloaded with more than 41,000 international courses and gives precise distances to the front, back, and middle of the green as well as hazards and pin placement on each hole.  The Green View feature shows you the true shape and layout of the green, and you can manually move the onscreen pin to reflect the day's location.
There's also a digital scorecard with stat tracking you can upload to your Garmin Connect account for post-game analysis. The Approach G10 is just an overall convenient and handy small golf GPS device, and sometimes, that is all you need.
Pros:
A compact clip-on device fits anywhere.
Preloaded with more than 41,000 golf courses around the world.
Displays distances to the front, back, and middle of the green, plus hazards.
Green View display shows the shape of the green with manual pin placements.
A digital scorecard lets you easily keep track of your score throughout each round.
Cons:
Weak battery compared to more advanced models
Tracking features can be slow to sync
---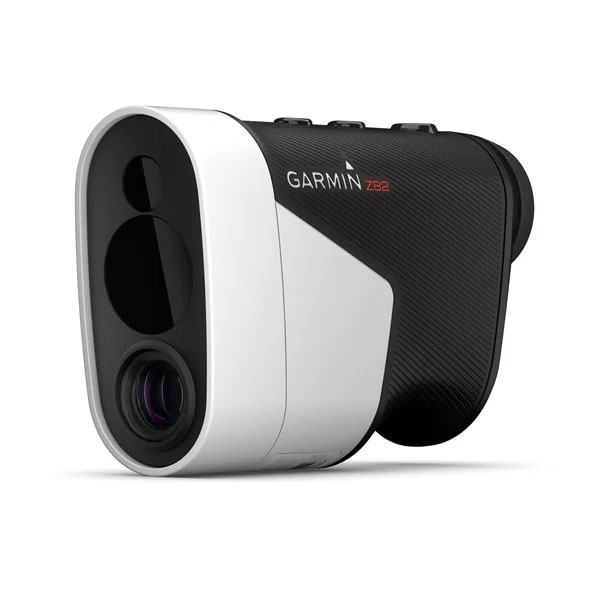 The Approach Z82 is preloaded with more than 41,000 full-color course view maps from around the world plus free course updates. The image stabilization of the rangefinder makes it easier to lock on the flag of any hole, letting you know through vibrational feedback. The Green View feature automatically shows distance to the front and back of the green through the lens, delivering clear, crisp views with map overlays that show the hole layout.
Additional specs include 6X magnification readings with accuracy to within 10 inches of the flag, up to 450 yards/411 meters away. This intense magnification lets you get front/back/middle distances on the green, as well as hazards and layups. A Plays like Distance feature lets you adjust yardages for uphill or downhill shots, plus the on-off slope switch that makes it tournament approved.
A helpful wind speed and direction display helps you figure out which club to use, and take a swing in the right direction. The Laser Range Arc feature draws an arc on the 2-D CourseView map at the distance the laser ranged, while the PinPointer feature will tell you the direction to the pin for easier and more accurate aim.
Pros:
Garmin Approach Z82 Hybrid Rangefinder/GPS, Garmin Pitchfix Divot Tool with Magnetic Ball Marker, PlayBetter Portable Charger, Microfiber Cleaning Towel, Carrying Case & USB Charging Cable
Accurate to within 10" of the flag, from up to 450 yards away.
You can place your eye on the viewfinder, in addition to a magnified view of the hole in front of you, you'll see a full-color digital overlay of the hole you're playing, showing distances to the front and back of the green. Also features Image Stabilization technology that makes it easier to pinpoint your target.
Adjusts distance readings based on uphill/downhill slope and Laser Range Arc feature draws an arc on the 2-D CourseView map at the distance the laser ranged, so you can see everything in play at that distance.
Many additional accessories to make your game even more convenient and accurate
Cons:
Range configuration can sometimes be inaccurate
Quick battery drain can be a problem
---
Best Golf Buddy Handheld Golf Device
GolfBuddy, along with Garmin, is one of the leading brands in the golf GPS and laser rangefinder industry. In golf, accuracy is everything, and GolfBuddy devices give you an edge on the course with GPS and laser rangefinders.
A true standout in the GolfBuddy line is the GolfBuddy Voice 2. Improving upon the features in the first generation GolfBuddy Voice, the Voice 2 comes with increased battery life, shows the Front/Center/Back of the green, and is water-resistant.
The main screen in golf mode displays the distance to the center, back, and front of the green. This screen shows you the shape of the green as well as your angle of approach. It will also display hole number, par number, and right/left green where available.
This unit also comes with a wristband, a clip, and a retractable clip which gives you the freedom to accessorize the device as you wish.
Pros:
A simple audio distance measuring device
Distances to front/center/back of the green
Up to 14-hour battery life (2+ rounds per charge)
Shot distance measurement
Dynamic Green View technology with distance readings from the golfer's perspective
Water-resistant
Automatic course and hole recognition
Male/Female voice options through free GolfBuddy Manager Program
Detachable unit to provide versatility
Multilingual (up to 11 languages, 8 preloaded)
Cons: 
The display can be hard to read
Prone to overheating
---
Best Bushnell Handheld Golf Device
Bushnell is also a company that makes convenient and easy-to-use golf GPS devices. The Bushnell 368821 Phantom Golf GPS displays large, easy-to-read font, center, and back distances.
The Built-in magnet technology allows you to easily mount your Phantom right on your golf cart or any metal surface. This device also comes preloaded with more than 36,000 courses in 30 countries.
What I like best about this device is the magnetic technology that allows you to attach the device directly to your cart. It is not always easy to stop and look at a device or a watch, which is why the convenience offered by this model is attractive.
Overall, the Bushnell 368821 is perfect if you are looking for a small GPS golf device that can track all the basic features needed for golf performance.
Pros:
Bluetooth allows for wireless course updates
Long battery life – play up to 2 rounds before charging
Preloaded with 36,000 courses in 30 countries
Easy-to-use interface
Up to 4 hazard distances per hole
Auto course recognition
Auto hole advance
Cons:
Not always accurate when tracking yardages and hazards
Limited compared to other more advanced devices and watches
---
Frequently Asked Questions
What is the most accurate golf GPS?
An accuracy that typically falls within at least 5 yards is considered to be acceptable as far as GPS standards are concerned with golf GPS devices. But generally speaking, if a device can pinpoint its GPS readings under this threshold, that is always optimal. The Garmin Approach S20 is generally regarded as one of the best golf GPS devices in terms of overall accuracy.
Should I use a golf GPS watch or handheld device?
It depends on what you are most comfortable with. Some golfers find that a golf GPS watch is easier to view and navigate. Other golfers may like the wider screen view that a handheld device offers, as well as the convenience of keeping the handheld in a pocket when it is not needed.
What is the best golf GPS handheld device?
Each golfer will have different likes and dislikes when it comes to handheld golf GPS devices. Some golfers like a smaller device, whereas others appreciate a wider screen view. The Garmin Approach G30 strikes a nice balance between these two size variations and also has a nice slate of innovative features.
What is better, a golf GPS or rangefinder?
Yardage is one of the primary concerns of golfers when it comes to GPS accuracy on a device. GPS can typically record accuracy upward of 3-4 yards plus or minus, which can be a big inconvenience when you need pinpoint accuracy. This is where a laser rangefinder outshines GPS on the golf course. A rangefinder can record nearly pinpoint accuracy with much more precision.
How do I use the Garmin golf app?
The Garmin Golf app provides the information you need to track your game stats and scores to help measure improvement. You can use the Garmin golf app on your compatible smartphone, tablet, or desktop. To use the app, you will first need to download both the Garmin golf app and the Garmin Connect app. Open the Garmin golf app and select the device you wish to pair to the app. Then, you can pair the device through the Garmin Connect app; be sure that Bluetooth is turned on for a successful pairing.
What does the Garmin golf app do?
The Garmin golf app is an essential tool that you can use to track your stats on the course and measure your performance to judge if you need to make any improvement with your game. The Garmin golf app allows you to upload your scorecard for each game that you play. All of your detailed statistics for each game will be available for reviews based on the features available with the device.
Final Thoughts
All of these golf GPS devices represent a cross-section of both watches and handhelds that are beneficial for your golf game. No matter which device you choose, any of these models are sure to provide accuracy in yardage, hazards, and even shot distance. Some models are smaller than others and other models provide many benefits that other models may not offer.
The final decision is all based on what you are looking for in terms of comfort, needed features, and most importantly, GPS accuracy based on your overall golfing level.