Some of the best fish finders on the market today all share a similar range of features. This is to the point where it becomes a matter of innovation and performance statistics that become deciding factors for those looking for a durable and affordable fish finder.
Both Garmin and Humminbird are two brands that specialize in fish finders, but which of these two brands is better?
Garmin and Humminbird marine electronics use traditional sonar as well as waterproof depth sounder readings to offer dual frequency sonar for fish finding. Although Humminbird is a stellar brand, Garmin does edge out the competition, if superior GPS performance is the main lure for buyers.
Are you currently trying to decide which of these two brands to choose from in terms of innovative fish finding? If so, this comprehensive buyers guide will help you narrow down the choices.
Since both brands are incredible in terms of marine technology, your eventual decision may come down to a specific feature that you prioritize over all other features. Read on to find out which brand makes the best fish finder.
Quick Overview: Best fish finder: Garminvs Humminbird
IMAGE
PRODUCT

Built-in sonar
High- sensitivity GPS
Quickdraw contours

View On Amazon →

High-contrast color display
Enhanced auto guidance
Multiple depth range shading

View On Amazon →

Built-in sonar
Garmin cartography
Built-in sail assist features

View On Amazon →

Dual spectrum CHIRP sonar
Keypad control
MEGA side imaging

View On Amazon →

Humminbird Piranhamax 4 DI

Dual bean sonar
Tilt and swivel mount
Down imaging

View On Amazon →
About Garmin fish finders
First and foremost, the most attractive aspect of considering a Garmin fish finder is the availability of the products.
If you've tried to purchase practically any type of marine electronics since the start of the pandemic, you will already know that a lot of items are either out of stock or extremely hard to find.
But Garmin seems to be on top of their marketing and distribution protocols, and when it comes to the fish finder line, nearly all models are in stock.
In my opinion, Garmin fish finders have a much more user-friendly interface than what you will find on other brands. The home screen on any of the brand's fish finders is very intuitive and simple to follow, while also remaining extremely functional.
If you use the incredible Garmin Livescope transducer, you already know how incredible Garmin's interface is.
Additionally, Garmin units are much more easier to network together than other brands. Units only require one ethernet cable or an ethernet box and cable depending on the unit. This is much easier than searching around for the correct cable or dongle adapter with other similar units.
It's literally a plug and play style of networking with great resolution with any Garmin fish finder.
Another standout with Garmin's line of fish finders are the side imaging features, transducer beam angle imaging, as well as the stunning stock maps available.
After Garmin's purchase of Navionics in 2017, the company quickly incorporated Navionics data into their numerous stock mapping options within the mapping software.
The mapping software depth shading capabilities, details thousands of lakes or coastal areas depending on the specific unit's map software, one foot contours and the ability to create your own maps with the quick draw function found on the brand's fish finders.
Updates are also extremely easy when using the active captain app found in advanced features and when in deeper water.
Last but not least, for what you get for the price of a Garmin fish finding model, there truly isn't a better unit on the market than Garmin.
For example, the below-reviewed Garmin ECHOMAP 93 SV can usually be found for around a thousand dollars, and will typically be on sale for a bit lower during Christmas and around the timing of Father's Day, so be sure to look for that.
No other 9-inch unit in the marine technology market, including other fish finders, has all the features that come with a Garmin fish finding unit. All Garmin fish finding units over 7 inches come with a protective screen that is simple to put on.
Most newer Garmin units are able to be removed from the mount without having to unplug wires, which can result in unnecessary wear and tear on the wires and connections.
Garmin fish finders are truly hard to beat.
Our top picks in Garmin fish finder vs Humminbird
Now that you know a bit more about fish finders from Garmin, here are our top picks to consider.
The Garmin Striker Vivid 9SV ramps up the technology beyond traditional sonar with the addition of Clear Vu sonar readings.
Side imaging and down imaging are still two features of the earlier Striker models that are present, but the ability to change colors on contour maps in addition to sonar images is what truly makes this model stand out.
The built-in GPS technologies, when paired with the innovative imaging technology (especially when in side imaging mode), are truly bright and far beyond only average resolution.
The Clear Vu technology on this Garmin Striker model allows you to see structures in addition to high and low frequency GPS technology for finding and catching fish.
Pros:
Sharp and active imaging inside of a top-of-the-line transducer
HD multifunction screen
Rich, vivid colors that come in many varieties and schemes
The side and down imaging is feature dense in addition to the ability for side scanning
A wide variety of Active Captain uses
Cons:
Mid-range networking which can greatly affect performance for many
No active touchscreen functionality
One of the top standout features of the Garmin ECHOMAP UHD 93 SV is the mapping system, which allows you to get stunning views of practically all of the lakes in the U.S.
Many fish finders limit the amount of options available with mapping integration, but this model includes fishing charts, navigation maps and perspective 3D models that sets it apart from the Garmin Striker fish finder series.
Another great feature of this model is that you can put weight points on this unit if you find structures while you are scanning. There is also traditional sonar, split frequency, as well as side vu and down imaging technology along with focused beam angle side scanning as well.
But one of the newest inclusions is chirp sonar as well as dual spectrum chirp sonar readings. Chirp sonar allows for side scanning and bottom scanning technologies, which truly comes in handy when you are in an area with lots of fish.
Pros:
Chirp sonar fish finder
Mega side imaging and chirp mega SI
Custom maps and other advanced features
Superb down imaging and specified beam width
High intensity radiated pulse monitoring
Large screen
Cons:
Some of the navigation features on the screen can be hard to read when in narrow mode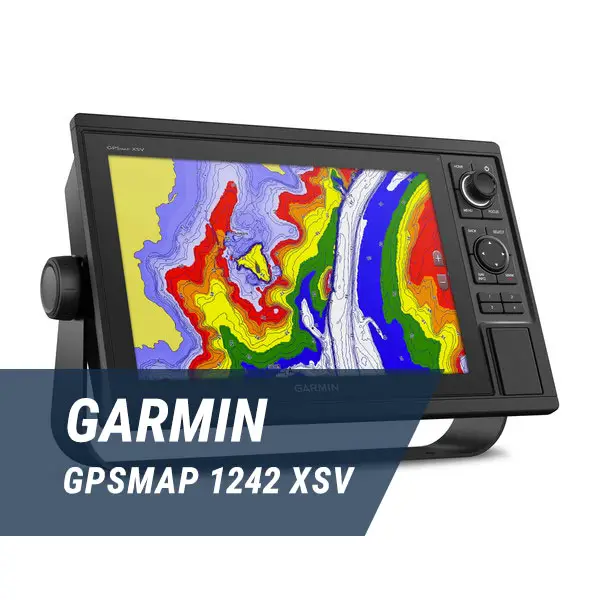 The Garmin GPSMAP 1242 XSV fish finder is a bit older but still packs a punch in terms of its large screen and how much detail you can pick up thanks to its down imaging and other features. This model comes with a superb processor for ultra-fast navigation and the price is right as well.
This model comes with a large amount of variety in terms of navigation options and can also work as a chart plotter as well.
Pros:
Dual fish finder and chart plotter
Panoptix sonar syncing
Great image quality
Great network compatibility
Cons:
No touch screen
Low learning curves
About Humminbird fish finders
One of the great things about a Humminbird fish finder that immediately sets the brand apart from other brands is the mapping.
A Humminbird fish finder has innovative features such as lake master chip, buy it by regions, and the ability to adjust accordingly without changing all of your map settings in the process.
Mega side imaging is also another strong selling point for Humminbird units, especially when comparing Humminbird vs. Garmin. So the lower you set your transducer to the water, the less turbulence you can expect to receive in terms of engine performance.
If you are looking for schools of fish, a Humminbird fish finder is also perfect as a saltwater angler due to the downward imaging capabilities of each and every Humminbird fish finder.
You will also find that when comparing Humminbird vs. Garmin fish finder models that a Humminbird is also a more user friendly overall.
Everything is streamlined and to the point.
Note: Many popular lines of Humminbird marine electronics are out of stock at the moment due to global supply chain issues stemming from the Covid-19 pandemic. We will update this space as some of Humminbird's popular brands become available.
The Humminbird Helix 15 is a fish finder that prioritizes innovation with a user friendly interface and control panel. This model is also well-known for its superb mega imaging capabilities which can even perform well in ice fishing environments.
This fish finder allows you to catch more fish or hone in on individual fish schools in one area. The Helix 15 also has great networking overall.
Pros:
Stunningly accurate in terms of GPS
The ability to split screens is present on this model
Perfect side images and mega images
Cons:
Will not perform well in deep sea angling environments
If you are seeking a unit that prioritizes accurate depth readings, then look no further than the Humminbird Piranhamax 4 DI. This fish finder was primarily designed to provide users with 2D and DI imaging without any GPS technology or navigation related functionalities by far.
This model has a very solid structure overall and a wide screen with a superb pixel matrix. One of the more useful features on this model is that it comes with an LED backlight that provides users with better readability at night or in direct sunlight.
This innovative model is also IP-X7 waterproof, which means it was built to withstand rain, accidental splashes, and even complete immersion in 3.3 feet of water for 30 minutes. This fish finder features a transom mount as well as a temperature sensor, and the transducer works with both 2D and downward imaging sonar.
Pros:
Perfect for maximum depth fishing
Wide screen with superb resolution
Transom mount equipped
This fish finder has a very high and convenient waterproof rating that can withstand virtually any kind of immersion
Cons:
Small screen compared to other units
Bare bones menu layout
Sonar sometimes can get choppy based on boat speed
Innovation of technology: Garmin vs Humminbird
GPS Mapping System
When comparing Humminbird vs. Garmin in terms of GPS units, the only difference that sets Garmin apart is the sheer innovation the company places in GPS mapping to find fish even in scenarios like ice fishing. Even if you start in a small garage and end up out in the deep sea, a Garmin mapping system is miles away more innovative.
Humminbird does quite well in this category since it sources its mapping systems from both NOAA and Lakemaster, which truly opens up many possibilities in terms of locations. On the other hand, since Garmin's acquisition of Navionics, the Lake Vu feature is just as superb as Humminbird's Lakemaster system in my opinion.
GPS Accuracy
Once again, GPS accuracy is more useful and precise with the Garmin marine transducers. Garmin's models are also very adept at chart plotting and scanning, which is even better as it is highlighted on Garmin's superb maps and outstanding color schemes that alert you to all the various data points.
But in terms of navigating the GPS features with ease, I will say that Humminbird models are a bit easier to navigate and much easier in terms of finding what you need without searching through many different user interface points and navigation bars.
User interface experience
The mega imaging is far superior on a Humminbird when comparing user interface in Humminbird vs. Garmin models. Better LCR screens in terms of maximum depth are also better on a Humminbird, but I will say that a Garmin has better imaging overall as well as a more intuitive interface.
A Garmin fish finder may be more innovative overall, but this category belongs to Humminbird since it is so easy to find what you need with a quickness. Nothing is more frustrating when out on the water than when you have to navigate through many different screens to see pertinent information quickly.
FAQs
Can you network a Humminbird to a Garmin?
This typically can be done with any brand of fish finder, but you are much better off just running one transducer on one network. The waypoints can (and likely will) get mixed up, and this can cause a wide variance of fluctuations in terms of sonar and GPS capabilities on both units running on the same network.
If you decide to try this, make sure you at least run the transducers on different frequencies to ensure smooth compatibility.
Which brand has best side imaging?
Humminbird certainly has the best sideways imaging of the two brands. Humminbird also has a much better user rating in terms of side beam and down beam scanning and is also good at not creating a lot of problems when your depth is off.
Humminbird models are also well-known for their superb mega imaging capabilities which can even perform well in ice fishing environments. This is not to say that a Garmin model is not good for sideways imaging at all, but a Humminbird is going to yield better results in this department when comparing the two.
What is sonar on a Garmin fish finder?
Sonar on a Garmin model is the technology that allows your transducer to see the fish and all their activities up to and including the surrounding environment of the bottom and side of the boat.
Garmin truly has all the other brands beat in this category because the images are so crisp and clear in addition to being data-driven and perfectly aligned with pinpoint accuracy in terms of your GPS settings.
Garmin sonar can detect schools of fish at nearly every angle and variation around your boat or vessel, and this is why Garmin sonar is a true standout.
Is Lowrance or Humminbird better?
If you are looking for efficiency and perfect sonar readings, then a Humminbird is certainly a perfect transducer for you. Lowrance is also a great company for transducers and other marine equipment, and in many ways, both Humminbird and Lowrance are similar in their overall features and design schemes.
But Humminbird really dominates the market in terms of mega and sideway imaging, and this is the better brand if you are seeking these features.
Are Humminbird fish finders any good?
Yes, Humminbird fish finding transducers are perfect solid and innovative transducers to use for finding fish. The imaging innovation on a Humminbird is the best in the entire range of fish finders on the market. Users also appreciate the ease-of-use that comes with a Humminbird, and the Lakeview feature in terms of mapping is also a strong standout for many.
Conclusion
In summary, there are positives and negatives to both Garmin and Humminbird. I would say that if you are seeking perfect sonar and GPS, a Garmin fish finder is your best bet. But if you are looking for imaging specifics, especially sideways imaging, a Humminbird is going to be the best brand to consider due to its innovation in this category bar none.
If you enjoy fishing, we recommend you read these: