When you think of the best activity and fitness trackers you automatically think of Garmin or Fitbit. Between these two elite brands, a plethora of sporting and performance wearable devices exist. Plus, with new product launches taking place every few months, deciding which activity tracker is best for you can often feel overwhelming. But when you must decide between one of these two brands, which is truly the best?
If you are looking for a wide range of smart devices, either watches, handhelds, or fitness activity trackers, Garmin is more prolific in this output when compared to Fitbit. With this in mind, Fitbit is known for its streamlined interface and features, which are attractive to fitness and health enthusiasts for this simplicity.
Choosing a fitness tracker is hard, and that's before you've even started to do your research to consider whether you need a GPS, heart rate monitor, sleep tracking device, calorie counter, etc, …the list goes on. But don't despair, as below I will help you to navigate through the key differences and specs of these mighty brands. Read on to find out rather Garmin or Fitbit is the best fitness tracker for you based on your needs.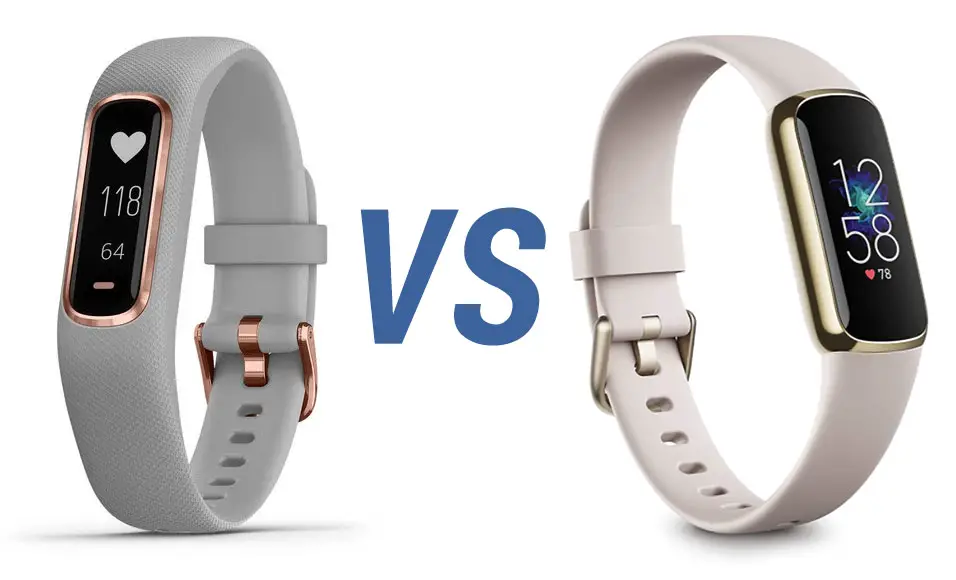 Who Produces the Best Activity Trackers?
Determining which of these two brands produces the overall best fitness trackers is always going to be subjective. Consumers become devoted to brands for an entire range of different reasons, which is why a more targeted focus on fitness tracking and advanced features combined with such categories as user-friendly tracking features, stress tracking features, and how these features are tailored to a wide range of user needs can help produce a more objective comparison.
Let's take a closer look at both Garmin and Fitbit to find out why these two companies came to dominate the fitness tracker market.
History of Garmin and Fitbit
Garmin was founded in 1989 and today is the leading, worldwide provider of navigation systems. It should therefore come as no surprise to find that GPS comes as standard on most of their wearables.
In 2003, following a drop in sales thanks to the launch of the iPhone and google maps app, Garmin decided to diversify their product offering and introduced a range of slick-looking running watches. This area of expertise has continued to grow and today they offer an abundance of all-singing, all-dancing wearables from activity trackers to watches focussed on cyclists, triathletes, golfers, and other hard-core sports enthusiasts.
Garmin at a glance
Which Garmin Activity Tracker should you buy?
Fitbit started as a humble start-up company in 2007 when its owners noticed a gap in the market for affordable activity trackers. Originally only sold directly to customers, today Fitbit can be found in all major retailers – a testament to just how far this brand has come. Inexpensive innovation is at the heart of what they produce and over the past 10 years have developed a range of forward-thinking, smart wristbands for everyday use.
Fitbit at a glance
Which Fitbit Tracker should you buy?
Leading the Way for Others to Follow
The power for hi-tech wearable domination has often flipped between the two brands as new advancements have come to the fore. Garmin introduced their own activity apps, whilst over the years Fitbit has continued to focus on software enhancements.
Also entering the activity tracker market what is starting to become more saturated, are new brands such as Jawbone and Misfit, as well as influential power players such as Apple and Samsung who are chomping at the bit to grab a slice of the wearable pie.
What Is an Activity Tracker and What Makes Them the Best?
Obesity remains an epidemic in America and is only set to continue to increase unless we make a conscious effort to exercise. Activity trackers are a great way to monitor the amount we move and encourage us to gain steps whilst losing calories.
But how different can an activity tracker really be? The answer… very different! There are so many devices on the market, all aimed at offering something different, that choosing between products can be tricky.
Here I will give you an honest opinion on the features that Garmin and Fitbit offer on their activity trackers, as they go head to head in the battle of the wearables.
As steps, distance, elevation, calories, and often sleep monitoring now come as standard for most activity trackers, the main differences lie in the data provided.
This can include location mapping, heart rate tracking, recovery time analysis, V02 max estimations, and pace alerts. Whilst another big differentiator, but perhaps the most important, is the price.
Let's take a look at some similarities and differences between the two brands.
Garmin vs. Fitbit: Similarities and Differences
In the Garmin vs. Fitbit comparison debate, Garmin and Fitbit tend to have more similarities than differences. Each of these can be used to gauge how Fitbit vs. Garmin differs in each core category.
Fitness Tracking Features
Garmin tends to have more instances where innovation and design ideas are implemented on a regular basis. Many of the tracking features added by Garmin are often replicated and enhanced in newer Fitbit models.
Essential tracking features such as calories burned, steps taken, and sleep cycle tracking can all be found in Fitbit vs. Garmin models, with some variations and additions being unique to each brand with each new release.
GPS
Garmin tends to rule the market when it comes to GPS tracking, but Fitbit also regularly updates and adds unique GPS tracking features to all of the trackers as well.
I have found that no brand can truly compete with Garmin in terms of GPS tracking in the fitness device sphere.
Heart Rate Monitoring
Each brand consistently innovates each new device's heart rate monitoring capabilities. Pulse Ox and VO2 max are paving the way for more and more capabilities in this field, and Garmin seems more willing to experiment in this area in terms of creating new and improved ways to track heart rate monitoring.
Music Support
Fitbit offers music support on many devices, but there seem to always be limitations in terms of variability and storage capabilities. Garmin has consistently moved towards implementing music choices on many of its devices.

Fitbit Fitness Trackers
Fitbit made its name from producing activity trackers and although it is starting to branch out into other areas such as smartwatches, its core devices such as the Alta and Alta HR and the Flex 2 offer a fantastic range of fitness metrics and wellbeing tools.
When it comes to monitoring and uploading your fitness activity, Fitbit has partnered with several apps such as Strava, making this simple and easy to share with friends.
Here are three of the newest Fitbit fitness trackers and a review of each model's features.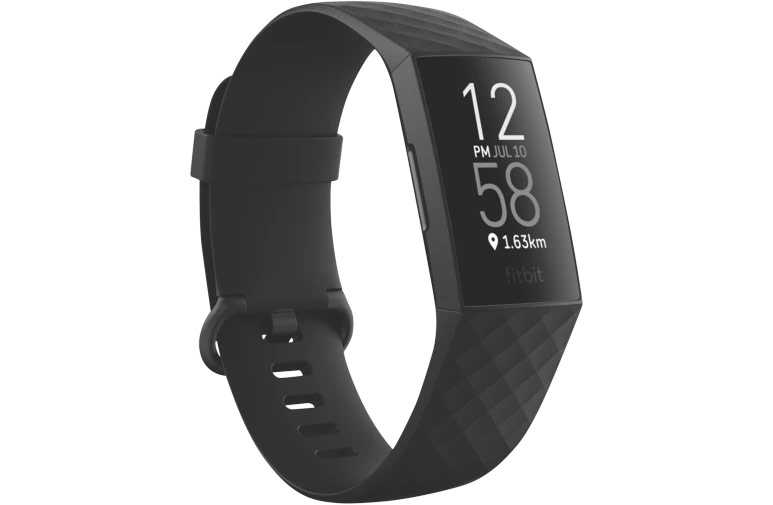 A great thing about Fitbit fitness tracking is that you will always have a reliable device to help you check your limits and potential, and with Fitbit Charge 4, there's no limit to how far you can go.
This sleek, swim-proof tracker is packed with features that help you know your workouts and your body better like GPS tracking, Active Zone Minutes, Sp02, exercise modes, and sleep tracking.
Plus, with convenience features like Fitbit Pay and up to 7-day battery life, you get more convenience on the go and more inspiration to reach your fitness goals.
You can use GPS to see your pace and distance on screen during outdoor runs, rides, hikes, and more and see a workout intensity map in the app that shows your heart rate changes along your route.
With Active Zone Minutes, this cool feature allows you to know when you reach your target heart rate zones during exercise and celebrates when you earn extra minutes outside of exercise.
Furthermore, you can use 24×7 heart rate on the Fitbit Charge 4 to track resting heart rate and better measure calories burned.
For optimal health tracking, you can see your SpO2 nightly average and range on the wrist, and view trends over the past week in the Fitbit app.
You can even track your skin temperature each night to see how it varies from your personal baseline, which is an often overlooked activity tracking statistic.
Pros:
Track workouts in real-time with over goal-based exercise modes.
Swim-proof and water-resistant to 50 meters, so you can track swims, wear in the shower, and more
Multi-day longer battery life lasts up to 7 days and up to 5 hours when using built-in GPS
Track sleep stages and review your in-app 'Sleep Score' for an easy way to see how well you slept
Cons:
Prone to overheating
Wrist discomfort has been reported with prolonged use of the Fitbit Charge 4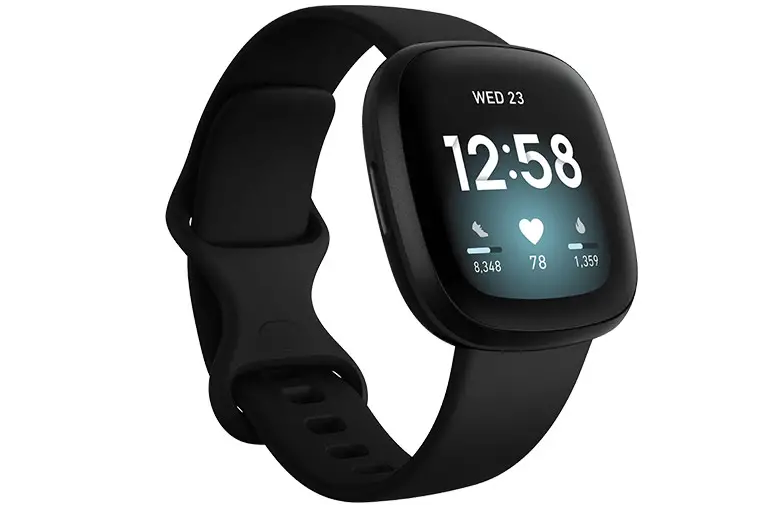 Another newer model in the line is the Fitbit Versa 3, which is a smartwatch with everything you need in a fitness tracker. You can track your pace and distance and leave your phone at home with a built-in GPS.
You can also get call, text, and app notifications, use Google Assistant or Amazon Alexa Built-in, control Spotify, Deezer and Pandora and use the built-in mic and speaker to take Bluetooth calls hands-free when your phone is nearby.
These convenience features related to easy app usage during fitness are a major move forward for fitness tracking devices in general, which the Fitbit Versa 3 has in spades.
Plus with Active Zone Minutes, 20 plus exercise modes, and a 6-day battery life with 12-minute fast charging, you've got all the motivation you need to reach your health and fitness goals.
You can run, bike, hike, and more all while being phone-free and even see your real-time pace and distance with built-in GPS.
The Active Zone Minutes feature is similar to Fitbit Charge 4 in that this feature uses your resting heart rate to gauge exercise effort and gives you a buzz when you step up the intensity so you can make the most of your workouts.
In terms of sleep tracking, the Fitbit Versa 3 allows you to see your nightly blood oxygen levels at a glance with a collection of SpO2 clock faces that you are able to choose from.
Additionally, you can use the Fitbit app to track your trends over time in the 'Health Metrics' dashboard to see when there may be indications of important changes in your wellness.
Pros:
You can use Google Assistant or Amazon Alexa Built-in to get quick news, set bedtime reminders and alarms, control your smart home devices, and more just by speaking to your watch
Use the built-in mic and speaker to take Bluetooth calls hands-free, send callers to voicemail, and adjust the volume
Store and play music and podcasts on Deezer or Pandora, and Spotify all from your wrist
Cons:
There are many limitations on app syncing and storage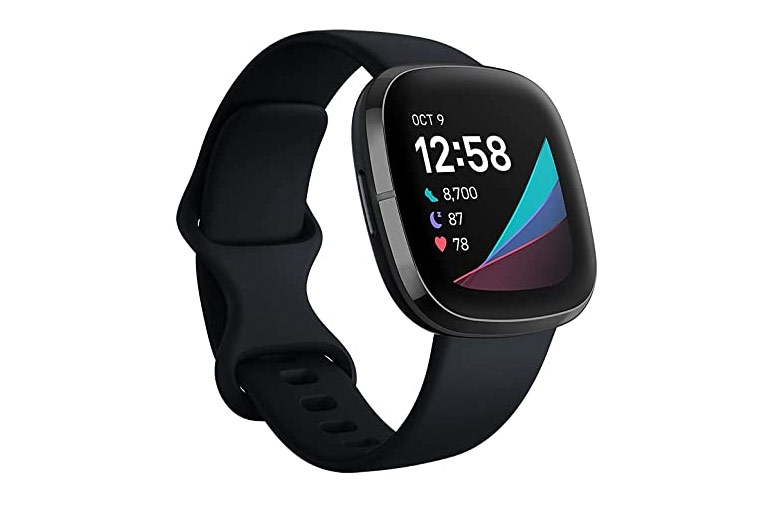 Fitbit Sense is an advanced health smartwatch that helps you tune in to your body and guides you toward better health.
Health monitoring is the big draw with this model and you assess your heart for AFib (atrial fibrillation) right from your wrist, detect and manage stress, better understand your sleep quality, and even keep an eye on patterns in your skin temperature or well-being with SpO2.
Plus, the Fitbit Sense has a 6-month free trial of personalized guidance and advanced insights for new Fitbit Premium users.
A helpful EDA (electrodermal activity) Scan app detects electrodermal activity which may indicate your body's response to stress and a built-in skin temperature sensor logs your EDA each night so you can see when it varies. I have found this feature to be particularly helpful as I sometimes struggle with sleep.
If you have a heart condition, the ability to assess your heart for atrial fibrillation –a heart rhythm irregularity- and easily share results with your doctor, is a perfect way to determine exactly when and to what extent either fitness activity or stress cause AFib irregularities.
You can also see your nightly blood oxygen levels at a glance through a collection of clock faces which you can choose from.
The battery life for Fitbit Sense lasts 6 plus days plus, fast charging gives you a full day's charge in just 12 minutes.
Pros:
Use built-in GPS during runs, hikes, rides, and more to see pace and distance without your phone and use the built-in mic and speaker to take Bluetooth calls hands-free when your phone is nearby
Use Google Assistant or Amazon Alexa Built-in to get quick news, set bedtime reminders and alarms, control your smart home devices, and more just by speaking to your watch
Cons:
Users have reported issues with GPS tracking
Garmin Fitness Trackers
Garmin competes well in the activity tracker arena, even if it places substance over style. Its extensive selection of watches ranges from offering basic functionality such as step counts, mileage and calories, right through to more advanced features such as pre-loaded sports apps.
If you are looking for GPS technology, then Garmin offers an in-built feature on many of its watches, whereas Fitbit uses sensors, which only allows you to track GPS data from your mobile phone.
When it comes to monitoring and uploading your fitness activity, Garmin has cleverly developed its own community app in the form of Garmin Connect.
In the Garmin vs. Fitbit debate, these differences really start to shine through once you look at all of Garmin's many features inside one device. Here are three of the best Garmin fitness tracker models and a review of each.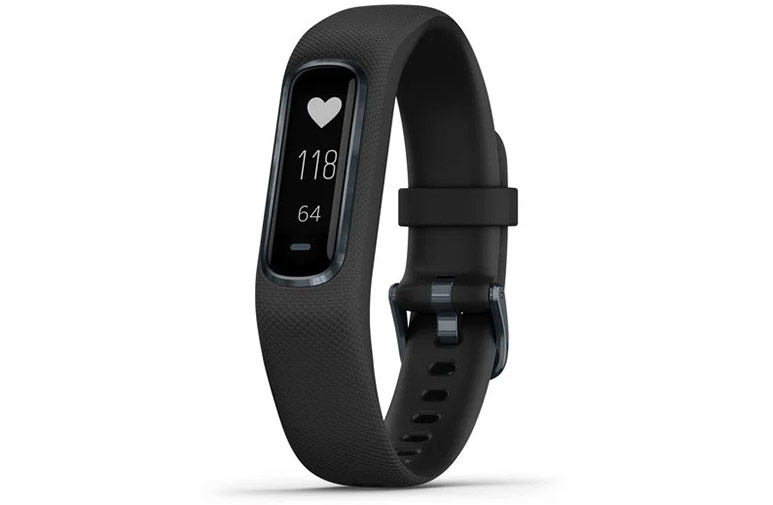 Vivosmart 4 activity tracker combines both style, comfort, and a wide range of useful tracking features in one compact device.
This slim, swim-friendly wearable comes loaded with fitness and wellness features to help you make the most of a healthier, more active lifestyle. A wrist-based Pulse Ox sensor lets you estimate blood oxygen saturation while you're sleeping — or you can spot-check your oxygen levels anytime during the day. 
The way in which the Pulse Ox sensor on Vivosmart 4 estimates your body's blood oxygen saturation level and measurements are dependent upon a number of factors, including your overall health and fitness. Checking your Pulse Ox can help gauge how your body is absorbing oxygen.
You can simply turn on the feature to gauge your SpO2 overnight or use it to take a spot measurement anytime to learn more about your body.
The new Garmin feature of Body Battery energy monitoring on Vivosmart 4 uses a combination of stress, heart rate variability (HRV), sleep, and activity data to gauge your body's energy reserves at any moment, so you can plan your day to optimize times for activity and rest.
The Garmin Vivosmart 4 is worth it based solely on the Body Battery energy monitoring alone.
Pros:
This slim and water-resistant activity tracker blends fashionable design with stylish metal accents and a bright, easy-to-read display
Includes advanced sleep monitoring with REM sleep and can gauge blood oxygen saturation levels during the night with the wrist-based Pulse Ox sensor.
Fitness and health monitoring tools include estimated wrist-based heart rate, all-day stress tracking, relaxation breathing timer, Vo2 Max, body battery energy monitor, and more
Features dedicated activity timers for walks, runs, strength training, yoga, pool swims, and others
Get vibration alerts for all notifications, including calls, text messages, and more
Cons:
Focuses a bit more on health statistics over fitness tracking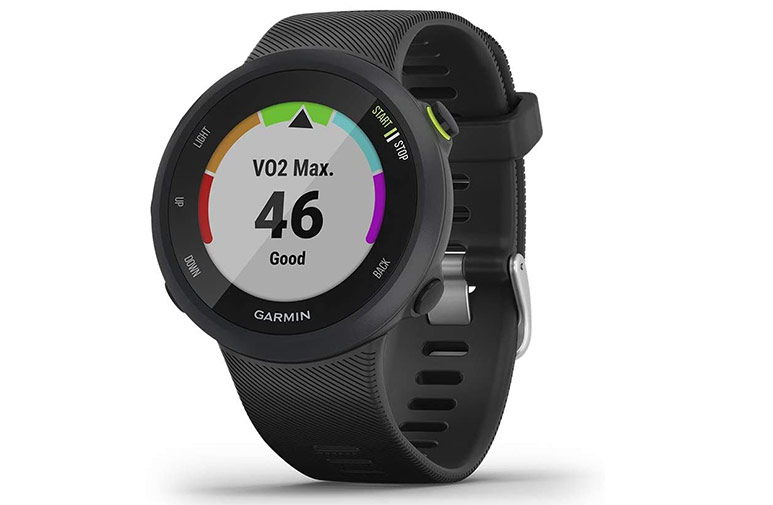 When it comes to Garmin smartwatches, the Forerunner 45 GPS running watch offers extensive activity and wellness tracking features.
You can wear it 24/7 to estimate daily steps, distance, calories burned, and even sleep. This smartwatch also features all-day stress monitoring for wellness tracking during the day.
If your stress level starts to climb, use the relaxation breathing timer for a few minutes of guided breathing, which can help calm your mind and body.
This easy-to-use running watch is perfect for daily runs, training sessions, and even that upcoming 10K you may have gotten talked into.
The built-in GPS tracks where you run and gives you accurate stats, including distance, pace, and intervals. And its intuitive button interface makes it easy for sweaty hands to mark a lap or pause the timer.
Forerunner 45 also estimates heart rate at the wrist, day and night.
If you need an extra push, the Forerunner 45 is compatible with Garmin Coach's adaptive training plans. These plans feature guidance from expert coaches and free training plans that adapt to you and your goals.
Honestly, it's a foolproof way to get to the finish line. As part of your training plan, it can even help you predict your race time. 
If you want the benefits of an activity tracker in a smartwatch, the Forerunner 45 is still a great model within this niche.
Pros:
Gps running watch with Garmin Coach training plan support
Easy to use running watch estimates heart rate at the wrist and features GPS to track your pace, distance, intervals, and more
Works with free Garmin coach adaptive training plans that bring expert, personalized coaching right to your wrist
Connected features include smart notifications for incoming texts and calls, automatic uploads to our Garmin Connect online community, live tracking, and controls for the music playing on your paired compatible smartphone
Safety and track Features include incident detection (during select activities) which sends your real-time location to emergency contacts through your paired compatible smartphone
Sports apps for running, cycling, indoor track, treadmill, elliptical, cardio, yoga, and more
The battery life lasts up to 7 days in smartwatch mode; 14 hours in GPS mode
Cons:
This watch is missing some of the later tracker users like body battery energy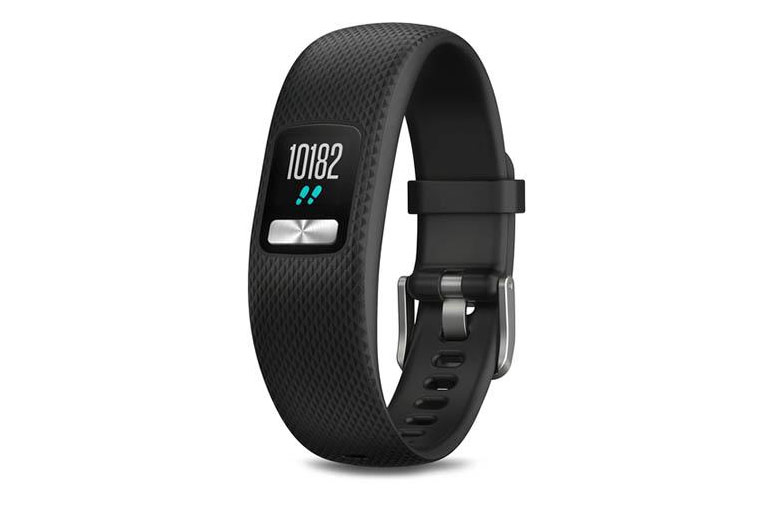 For a more streamlined look, the slim wristband tracker is a more attractive choice for many, and the Vivofit 4 is one of the standout models in this design choice.
Vivofit 4 is available in multiple colors, complements your style with its distinctive design, metal trim accents, and a bright, easy-to-read display.
If you are concerned about battery performance, the display is only on when you need it, which is convenient if you will be on the run all day. And when it's on, it auto-adjusts to ambient light levels, so it's visible even in bright sunlight.
Whether you're going to the office, the gym, the pool, or anywhere in between, vívosmart 4 is the perfect fit for your lifestyle.
The Vivofit 4 lets you know when you are having a calm, balanced or stressful day and everything in between.
Tracking your HRV (the time interval between each heartbeat), this model actually calculates and displays your stress level.
There's also an optional 'Relax Reminder' feature that you can turn on in the Garmin Connect app. If your stress level gets elevated during your day, it will provide a vibration alert on your wrist and display a message ("Take a moment to breathe?") to let you know it's time to relax.
Using the elevated heart rate data collected from your wrist, this model can — with a VO2 max estimate — give you an idea of your current fitness level.
In general, as your aerobic fitness increases, your VO2 max does the same. Based on your VO2 max, Vivofit 4 is also able to estimate your fitness age — a stat that you may be able to decrease over time with hard work and exercise. 
If you want a powerful fitness tracker with an ultra-slim design, the Vivofit 4 is a great model to consider.
Pros:
Fitness and health monitoring tools include estimated wrist-based heart rate, all-day stress tracking, relaxation breathing timer, Vo2 Max, body battery energy monitor, and more
Features dedicated activity timers for walks runs, strength training, yoga, pool swims, and others
Get vibration alerts for All notifications, including calls, text messages, and more 
Cons:
Fitbit vs. Garmin Connect App: Which App Is Best?
Both brands have the main app that corresponds specifically to the device you are using.
Fitbit App
The Fitbit app is more concise and targeted in how it relays all of the essential statistics that you are looking for in one easy-to-read interface.
The Fitbit app is also a bit more like other popular apps in terms of social features and a community aspect amongst other Fitbit users, which is something that Garmin tends to move away from in favor of making the device and Garmin Connect tailored 100% to the individual.
Garmin Connect
Garmin Connect is the main app that ties together every single Garmin device. Each device has its own protocol and unique presence within Garmin Connect, in addition to a range of useful and thoroughly in-depth details regarding every single aspect of a performance metric.
Garmin Connect is also much more prolific in terms of extra and premium features that it regularly offers to all its users.
Summary
Both brands are well-known, well tested, and can more than withstand the job they have been designed to do. So, when it comes to purchasing a wearable, you can't go far wrong with a Garmin or a Fitbit device.
For those completely new to activity trackers, I would suggest investing in a Fitbit as they are affordable, stylish, easy to use, and come with all the basic functionality a first-time user could need.
If, however, you are looking to increase the tempo with regards to your fitness then a Garmin watch makes the perfect training companion. Thanks to a range of in-depth exercise analyses, training plans, and insight, these watches are aimed at keen sports enthusiasts. Garmin also has a nice mix of both trackers and smartwatches based on your preference.
Check out these other popular vs articles: