Mountain biking (MTB) is one of the most exhilarating activities, since it can be either an extracurricular pastime or a competitive sport. Having a superb watch for mountain biking is essential if you want expert data readings, but you can also get just as good – if not better -readings with a biking computer.
Garmin makes all of these devices, and the company's GPS settings are perfect for intense MTB.
The best GPS device by Garmin for mountain biking should come with a companion app in addition to offline maps, Bluetooth connectivity and a range of features that track health and wellness, as well as providing comprehensive cycling tracking statistics.
In this comprehensive guide, we are going to take a look at all the best GPS models by Garmin that are tailored for mountain biking. Most Garmin watches with applicable companion app functionality through Connect are equipped for MTB, but there are some select models to be aware of specifically.
Additionally, biking computers are often considered better, and Garmin has a full line of these as well. Read on to find out more.
Quick Overview: Our Top Picks for Garmin Devices for Mountain Biking
IMAGE
PRODUCT

Top Pick

Turn by turn directions
Cycling dynamics
MTB dynamics

View On Amazon →

Grit and flow
Training status
MTB dynamics

View On Amazon →

Heat and altitude acclimation
Climbpro feature
MTB dynamics

View On Amazon →

Smartwatch

Wrist-based heart rate
VO2Max estimator
For all sorts of sports

View On Amazon →
At a glance: which Garmin is best for mountain biking?
Since there are benefits to be gained from either a watch or a biking computer, determining what the single best model by Garmin for MTB is depends on personal preferences.
In terms of price and availability information due to current supply chain issues, the Garmin Edge 530 is a clear winner.
While you will not find quite as many features on this model when compared to the Garmin Edge 830 or Garmin Edge 1030 Plus, its accessibility is what truly makes it stand out from the crowd.
With the 530 models, you can do everything from Trail forks accessibility synced right to the computers, built-in GPS, and road maps built straight into the device.
The Garmin Edge 530 is also more compatible with third party apps and other accessories than other higher end models.
But any Garmin biking computer is certainly going to be a worthwhile investment, due to all these features highlighted and much, much more.
The Garmin Edge 530 first gained notice in the MTB community for its compatibility with Trail Forks, which is a database of hundreds of thousands of trails. With the 530 model, you can download a chosen trail in Trail Forks and send it to your Garmin, and this will basically show you the course as you are physically riding it.
Another great thing about the 530 model is that you have maps built into the device. For example, say you are not at the trailhead, you can route yourself all the way to the trailhead through the available maps.
This is also a useful safety feature in case your phone dies and you need expert navigation to find yourself back along a trail.
The 530 also has climb breakdowns, and this is a useful feature if you find yourself on a trail and you have no idea what is coming up. This allows you to know exactly where you are and what grade you can expect as you make a climb you may not have been anticipating.
In addition to these useful features, the Edge 530 will also give you a lot of useful stats and data during your ride. In addition to a full breakdown, the screen that shows and transmits the data is fully customizable, so you can view the stuff you really want to see.
Some of these readings include time elapsed, time remaining, how much elevation has been climbed during the ride through a barometric altimeter, miles per hour, and much more.
One of the best features that made the 530 stand out upon release, was the useful post-ride data that was transmitted after your MTB riding session. You will get a flow score, grit score and jumps, which are transmitted to explain how smooth your ride was, how hard it was, and your air time during jumps respectively.
Pros
Great battery life
Great water resistance
Packed with a wide range of features
Easily mountable to bike bars
Cons
No touchscreen functionality
There is a bit of a learning curve when trying to navigate the many features – all with buttons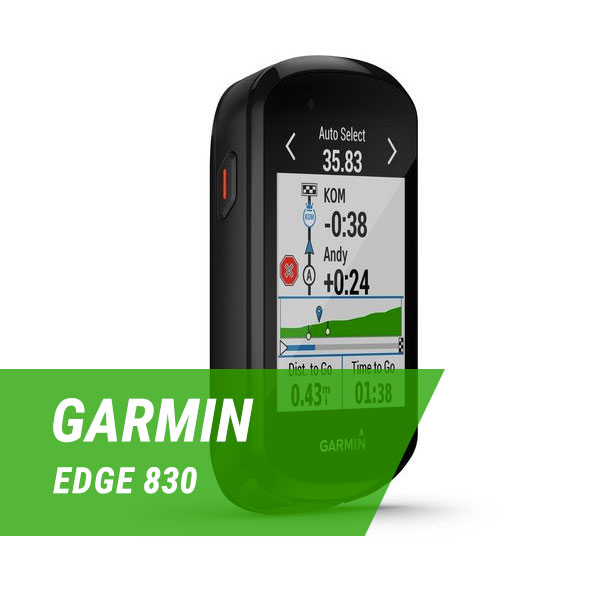 The Garmin Edge 830 is considered a second-tier device, with features and functionality a step below the pricier Edge 1030 Plus, but a bit more feature-packed and advanced over the 530.
To be honest, you may have a difficult time in telling the Edge 830 apart from the 530 because they look nearly identical to one another with the most noticeable difference being that the 830 is a tad bit larger.
First and foremost, if you like touchscreens, the Edge 830 is a big improvement over the 530 model. With the Edge 830 you can enjoy an impressive array of performance data, especially if you opt to take the sensor bundle in which the device comes with three sensors.
Navigation is another strong point with the Edge 830, because you get turn-by-turn navigation with exceptionally detailed routing down to foot pass and bridleways.
The Garmin data in the Edge 830 prioritizes other routes preferred by a wide range of cyclists because they are quieter or more bike friendly over distance. This is controversial to some, but for many mountain bikers, this is actually a welcome feature since it allows a biker to see variations in various distances and trails that allows them to gauge whether they wish to take a trail or not.
The Edge 830 gives you warning through both visuals as well as audio when approaching a turn; if you're not on a mapping screen when a turn approaches, a navigation notification appears over the current screen so you don't miss it.
The Edge 830 utilizes three different satellite systems: GPS, GLONASS, and Galileo, which is standard for most Garmin devices. Galileo and GLONASS give you hitch-free performance, but these features will drain the battery a bit faster over using standard GPS instead.
You can also get recovery time recommendations after a ride, and you can log your water and food consumption to ensure you stay properly hydrated and get sufficient calories.
The battery performance is incredible, and the claimed battery life can last up to 20 hours. The claimed battery life is actually regulated and guaranteed by Garmin, and they also ensure that you can save twice as much if you choose to stay on battery save mode.
The Edge 830 is perfect for serious cyclists who need more reports about their MTB performance beyond the basic performance metrics.
Pros
Great battery life
Great navigation ability
Variety of performance measures
Incredible water resistance with IPX 7
Cons
The route selector can sometimes select inappropriate routes
The buttons could be a bit more tactile, but this is not a hardship if you prefer the touchscreen functionality exclusively
The Edge 1030 Plus is going to be a great choice for a rider who wants great navigational capabilities. The screen of this model is fairly large and touchscreen functionality is also present in this model as well.
The Edge 1030 Plus wins major points for its streamlined setup protocols which will actually pull rider history from other devices if you have them. This is convenient as it will allow you to pick up where you may have left off with a previous Garmin model and begin fresh with all of the new offerings available with this model.
This model also has convenient rerouting options available, which can help you get back on the route from a variety of different circumstances. You can rejoin, skip ahead, or cut across, which allows you to cut off the route and then allows you to rejoin the route further along the way.
The MTB maps and trails feature is also enhanced with the Edge 1030 Plus. What this feature does is that it brings up a trail based on your location. You will then be able to set your search criteria with parameters such as all the available trails in your area.
There is also a new Live Track feature, where the people viewing your live track can not only see where you are at and where you have been, but also where you intend to go if you are using a course.
Pros
Great battery life
Superb Bluetooth connection
Several MTB dynamics including an advanced climbing feature for difficult trails
Daily workout suggestions
LiveTrack
Innovative and streamlined setup
Cons
Expensive
Altitude acclimation can be off at times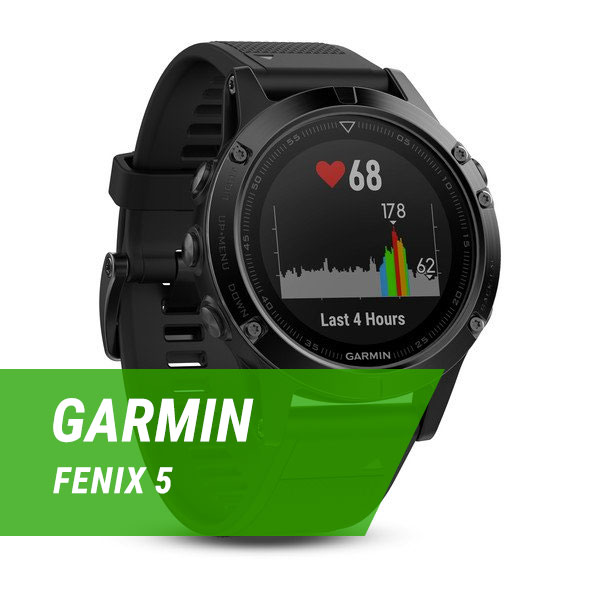 The Garmin Fenix 5 is a great choice for mountain biking if you prefer to use a smartwatch.
This GPS unit (global positioning system) works just like a handheld would work. It will track your GPS mode files, allow you to sync your GPS file with popular apps such as Strava and Garmin Connect, and is waterproof with a strong water resistance, which comes in handy for strenuous treks.
What I like about this watch is that you can have it in smartwatch mode virtually all the time -whether you want to use its GPS tracking features or not.
In terms of MTB, the turn by turn navigation is superb and this watch is great for gravity riding, whether you are riding your Enduro bike downhill or on a rough track.
Garmin watches like the Fenix 5 are also safer in terms of protecting your equipment if you crash.
Also, the Fenix 5 comes with a built-in heart rate monitor that sits on your wrist and reads your heart rate, which is great when using this watch as a fitness tracker while out on the trail.
This is similar to the Apple watch series and other GPS watch models, but with a Garmin watch, the durability of its design and prioritization of fitness and MTB in general, provides a better peace of mind in terms of dedication.
Just like other fitness trackers, the Fenix 5 is a multi-sport, cycling watch that features everything from training metrics to mapping capabilities, which is perfect for a mountain biker.
Since this is a smartwatch, this means that the watch will talk to your phone so you can get all of your notifications, control your music, and more.
Some of the best Garmin watches are more of a lifestyle centric type of offering, which is a bit different and more varied than bike computers, which also makes them super customizable for mountain bike trails.
You can download all sorts of different widgets from different watch faces.
A particular standout is a specialized e-bike smart feature, which is another small app on your watch screen that can show you how far you have been and how much further is left to go based on GPS accuracy when in GPS mode, as well as how much battery life you have left.
If you only opt for one of the many Garmin watches for mountain biking, choose the excellent Garmin Fenix 5.
Read more about the Garmin Fenix 5 here, Garmin Fenix 5 Review – The Ultimate GPS Sports Watch For Athletes.
Pros
Powerful and accurate GPS technology that make this one of the best GPS watches
Superb navigation features including Garmin cycle map and other key features
Excellent heart rate monitor and fitness tracking features
Decent battery life when in regular or smartwatch mode
Advanced training metrics
Pulse ox sensor including training stress score
Trail maps
Garmin pay
Great water resistance
Stainless steel bezel
Free watch faces
Comes with ski maps
Cons
Navigation is not as clear when compared to cycling computers or other handheld GPS device models
Not exactly an affordable watch
Garmin GPS for mountain biking buyers guide (things to consider)
Watch or Handheld?
So why exactly should you choose a computer over something like a GPS watch? Well, you will likely notice some differences if you were to opt for a watch over cycling computers.
With Garmin, all the features are quite similar, but if you like to use something like Strava, you may notice some widely fluctuating differences comparing a watch to a computer.
Handhelds tend to be a bit more accurate in terms of GPS than even the best Garmin watch models due to GLONASS being able to record more smoothly without the interference of your body movements scrambling the signals.
Something like the Garmin Forerunner series, especially the Garmin Forerunner 945, and the Fenix series, are superb GPS smartwatches when in smartwatch mode or just standard GPS mode, so it really comes down to which of these two design models you prefer.
Garmin handhelds also tend to be a bit cheaper than a smartwatch, but if you are buying a smartwatch, then chances are you are also buying it for smart features -so it's a two birds/one stone type of scenario. Like an Apple watch, Garmin wristwatches are also loaded with smart features.
But handhelds are compact and tend to have super simple navigation systems in addition to some useful key features.
Small, Mid-Size, or Large Bike Computer?
With Garmin biking computers, there are several different models that come in small, medium, and large sizes.
A smaller unit will have built-in-GPS, intelligent battery modes, training data, power meters, expert cycling data through Garmin Connect and all the best features of the best cycling computers and most Garmin wristwatches.
Some drawbacks to the small size are down to the lack of detail that larger screen size varieties on other models can offer. A mid-size computer can help to address some of these drawbacks with a good screen size that's not too small but not too large either.
Mid-size computers also tend to have better training load focus readings, due to the better resolution – such as the Garmin Edge 530 that we will review below.
Larger size bike computers are for those who want as smooth and easy a bike ride as possible. MTB requires a lot of concentration, especially when in direct sunlight, which makes the large screen on these models a standout feature.
Always Keep Track of Battery Life
A key point to keep in mind no matter what model you choose is battery life. Always opt for a model that has sustained battery life. You do not want to have to run back to charge your device after 3 or 4 hours, but any Garmin model should be okay in this department.
How do I connect my mountain bike to my Garmin?
Typically, all you will need to do is activate your device and follow the prompts that appear on the screen insofar as filling in and populating all the information that pertains to your bike.
The GPS will automatically pinpoint your location, and this will then populate all of the MTB dynamics that come with your particular Garmin MTB device – be it a wristwatch or a biking computer from the Edge series.
It will also help to set up a Connect profile within the app to see further data statistics and to ensure that all smart features are turned on and syncing to your device accordingly.
How do you go for a gravel ride on Garmin?
All you need to do is access your training portal inside of Connect, click on courses, and then select your starting point. For a gravel ride, you will need to select the option to follow roads, as this will allow you to pick from a variety of roads and tailor your choices to gravel if you wish.
What is the best Garmin watch for mountain biking?
The Fenix 5 is not the only Garmin wristwatch to be compatible with MTB; the Garmin Instinct series, such as the Garmin Instinct Solar Edition can also work well with MTB, but the Fenix 5 has a popular reputation within the MTB community.
FAQs
How accurate are GPS bike computers?
In terms of accuracy as it relates to something like a watch, many users find that a biking computer is much more accurate based on the ability of the computer to sit on the top of the bike to pick up and record data.
Sometimes there can be a lot of interference when using a wristwatch that has GPS, because the computer system is not as large as a biking computer and also is subject to interference from the moving around of the rider.
Are speed sensors more accurate than GPS?
Speed sensors are certainly optimal performance tracking systems for mountain bikers, but I tend to find that speed sensors are nowhere near as accurate as GPS. This is more evident if the GPS in question is something like Galileo or GLONASS.
With that in mind, speed sensors can in fact be more accurate than GPS if you are riding in locations that frequently drop signal or the signal has a hard time connecting to satellites.
Is a cycling GPS worth it?
A cycling GPS is certainly worth the investment, but I will say that this is only true if you are a hardcore, full-time cyclist or mountain biker. Casual cyclists will likely be overwhelmed by the sheer amount of features that come with these devices, and would be better off with something like a basic fitness watch.
Is MTB better with a handheld or a Garmin watch?
A biking computer is typically the best option to choose for MTB. A handheld clamps right onto the handle bars and records a wide variety of performance dynamics that a watch may have difficulty in keeping up with.
Conclusion
In summary, when it comes to choosing between a handheld or a watch, this is truly a matter of personal preference. With that in mind, the Edge 530 is certainly a worthwhile investment and is very affordable. You can get most of the features found on later models on this device, and the inclusion of Trail Forks makes it all the more worthwhile.
If you like mountain biking, then cycling is probably on your route too! Check out these Garmin cycling watches: