There is a common misconception when it comes to fitness watches that claims that smartwatches only track running and training activities. While this is certainly the biggest draw, it is certainly far from the truth.
Many lines of GPS watches can track a multitude of fitness activities, including swimming. For swimming, excellent waterproof assurance is required as well as quality features to track swimming performance.
What is the Best Watch for Swimming?
The Garmin Swim 2 is one of the best waterproof swimming watches. This watch has a reliable five-button interface that allows a user to easily start workouts, view different data, log drills, or change settings without the worry of water interfering.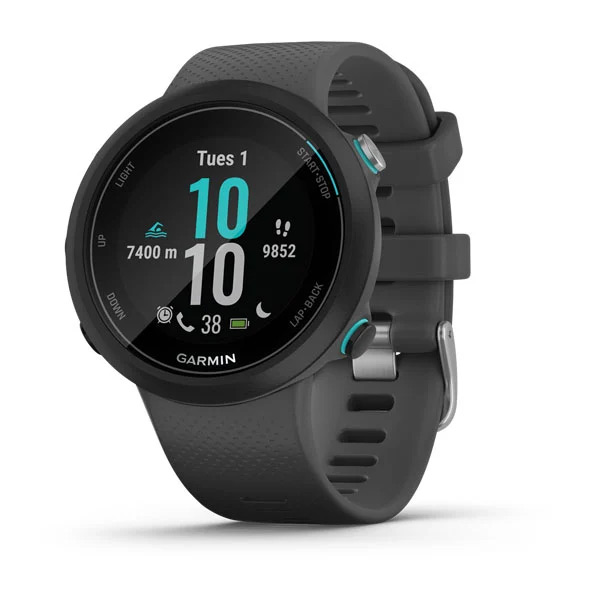 This guide offers you a detailed survey of the best swimming watches. Each watch has different features and levels of accessibility and comfort, therefore, a review of each watch's key features and suitability is also covered.
The best swimming watch will have a range of features that cover GPS performance tracking and health monitoring as well as a strong water-resistant rating. Anybody can use a simple fitness tracker to record swimming performance, but if you are a swimmer, the more detailed and tailored the watch is for swimming, the better.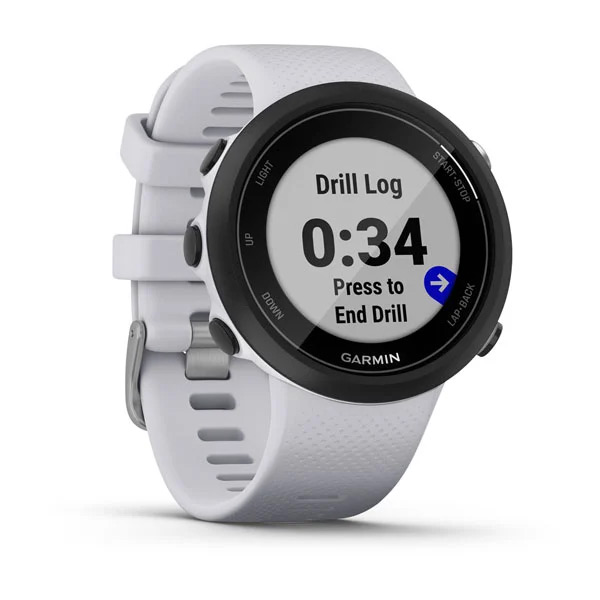 The Garmin Swim 2 falls into first place simply because it tracks swimming performance with precision and has a range of other useful features strictly related to swimming. The Swim 2 was designed to never slow you down in the water due to it's slim and lightweight design. The always-on, full-color Chroma Display technology makes it easy to read, even in direct sunlight.
You can also share your workout data with your coaches, workout buddies, or friends and family. Beyond its swimming capabilities, the Garmin Swim 2 smartwatch offers wellness monitoring features and fitness tracking, which make it great for all-day wear.
Features such as all-day stress tracking and advanced sleep monitoring help swimmers manage their overall health by providing crucial insights that can be used to maximize their training.
Set move goals, track steps, monitor body battery, perform guided breathing, and use it to track workouts including cycling and running or more activities out of the water.
Pros:
GPS swimming smartwatch for the pool and open water
Monitors underwater estimated wrist-based heart rate during swim activities
Pool swim mode: records distance, pace, stroke rate, stroke type, and SWOLF (gauges swimming efficiency)
Cons:
GPS readings can sometimes be inaccurate when open water swimming in lakes or rivers
The watchband is smaller and may be uncomfortable to some swimmers
Best Garmin Watches for Swimming:
In terms of optimal features and GPS accuracy, it's hard to beat the Garmin Swim 2 (see on Amazon), but there is a wide range of GPS watches that come close. Each of the following watches makes for a great fitness tracker but also features a superb swimming mode that easily ranks them as some of the best swimming watches.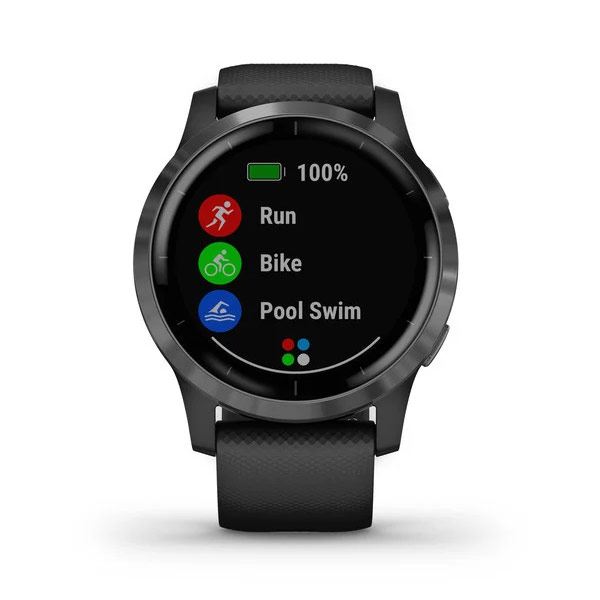 What I like about the Garmin Vivoactive 4 is that although this is a smaller Garmin watch, it's the size and superb swimming tracking features that work in perfect unison with its small and lightweight design. Although small may not appeal to everyone, this watch is a true workhorse and packs quite a punch for its small design.
Additionally, the Garmin Vivoactive 4 now allows for users to keep track of their body temperature. This can be incredibly important depending on the temperature of water users are swimming in. Furthermore, if swimming in open water, in either cold or hot temperatures, this feature can help you gauge when you are pushing yourself too hard or if you are not pushing hard enough in the pool.
Pros:
Easily download songs to your watch, including playlists from Spotify, Amazon Music, or Deezer, and connect with headphones for phone-free listening
Record all the ways to move with more than 20 preloaded GPS and indoor sports apps, including yoga, running, swimming, and more
Get easy to follow, animated workouts right on your watch screen, including cardio, strength, yoga, and Pilates
Cons:
The Vivoactive 4 may be too small for some users. If you are looking for a medium to large watch, this model in the Vivoactive series is not for you.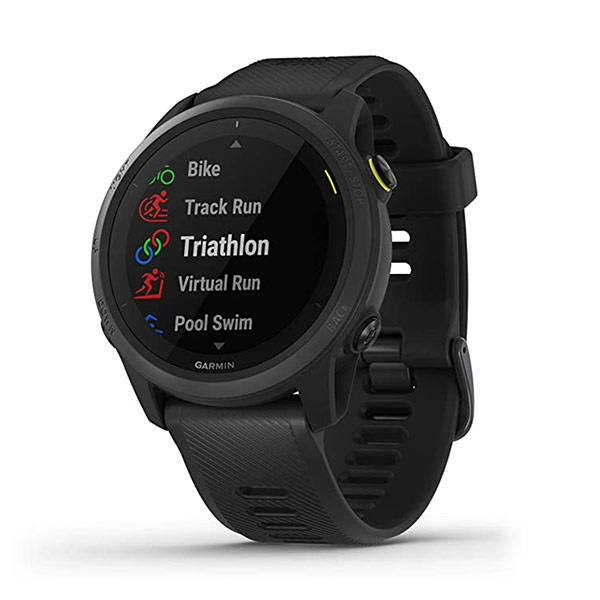 Some of the best swimming watches can function as both waterproof fitness trackers and as a great swim watch. The Garmin Forerunner 745 is also at the top of the selection bracket for its amazing multisport-ready features that are protected against water and sweat.
Whether you're training for a swimming marathon or race or something even longer, you can create your own custom workouts, or download free ones that sync right to your watch. Forerunner 745 also supports Garmin Coach adaptive training plans, which is a great way to receive further guidance or motivation for swimming.
You can even view your overall training load, which measures your swimming volume from the last 7 days and compares it to the optimal range for your fitness and recent training history. As an added benefit, this Garmin watch comes equipped with convenient music storage, which can bring increased stimulation for those times you choose to do other fitness activities. 
The Garmin 745 is one of the best swimming watches in the Garmin Forerunner product line.
Pros:
Premium GPS running/swimming smartwatch with music
Download songs to your watch, including playlists from Spotify, Amazon Music, or Deezer 
Safety and tracking features include incident detection during select activities which sends your real-time location to emergency contacts through your paired compatible smartphone
Cons:
Battery life can deplete quickly when running multiple features and music
Bluetooth connectivity is erratic at times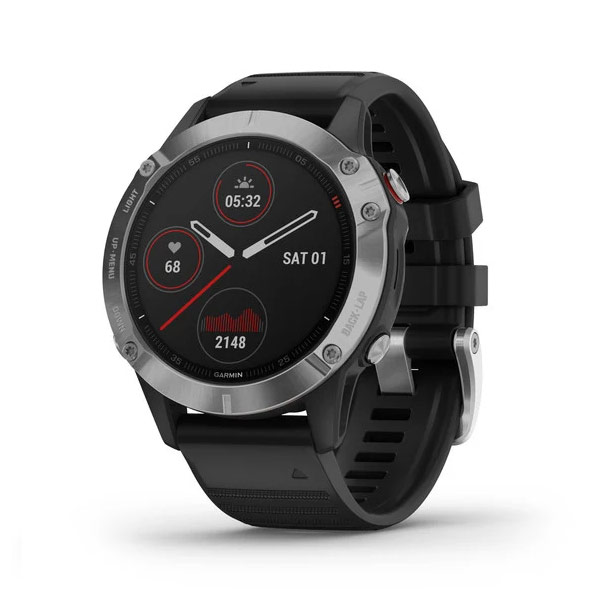 This watch series puts no limits on how far you can swim and includes additional features to track performance metrics in high elevation. The Fenix 6 Series comes in 3 different models, The Fenix 6 Pro, Fenix 6 Pro Sapphire, and the Fenix 6X Pro Solar; all 3 watches have similar features across various aesthetic differences.
This series is designed for all-day wearability, which makes it the ultimate watch for swimmers as well. Additionally, a customizable power manager mode lets you see and control how various settings and sensors impact battery life. There's even a new expedition mode that provides an ultra low-powered GPS mode that will last for weeks.
Essentially, this is the best Garmin watch series for outdoor professional swimmers who spend hours outdoors and prefer to swim off the grid. 
Pros:
Train with a rugged yet sophisticated watch, featuring 1.3 inches display and titanium, stainless steel or DLC coated bezel
Upgraded activity profiles now let you track more, such as specialized grit and flow measurements while mountain biking
Cons:
Expensive
Solar power technology on the Fenix 6 Pro Solar requires lots of outdoor activity exclusively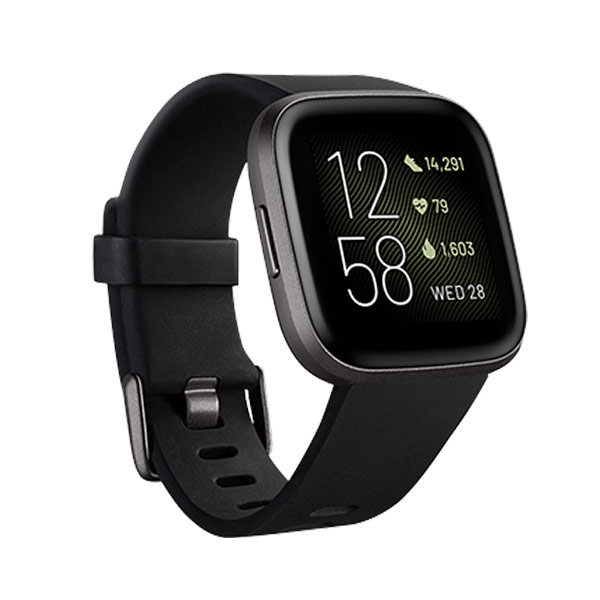 The Fitbit Versa 2 Smartwatch is an optional swimmer's watch that elevates every moment. You can use this watch in the pool or the great outdoors with its modern and versatile design that can withstand whichever setting you prefer. With the always-on display, your information is just a quick glance away no matter where you are or how hard you are training.
Fitbit Versa 2 is water resistant up to 5 ATM which is more than enough for pools and moderately sized lakes or rivers. The built-in voice control allows you to check the weather, set reminders, speak and receive text replies, and more. You can even track the quality of each night's sleep in the Fitbit app by measuring heart rate monitoring, time asleep, time awake, time in deep sleep, and REM sleep.
Additionally, with the 6+ day battery life, you can track your morning, night, and everything in between without needing to stop for a charge. The Fitbit Versa 2 is a perfectly capable swimming watch that won't break the bank.
Pros:
Use Amazon Alexa built in to get quick news and information, check the weather, set timers and alarms, control your smart home devices, and more all through the sound of your voice
Works around the clock with 6 plus day battery life (varies with use and other factors)
Get a call, text, calendar, and smartphone app notifications when your phone is nearby
Cons:
Swimming features are limited at best
The watch can restart at random times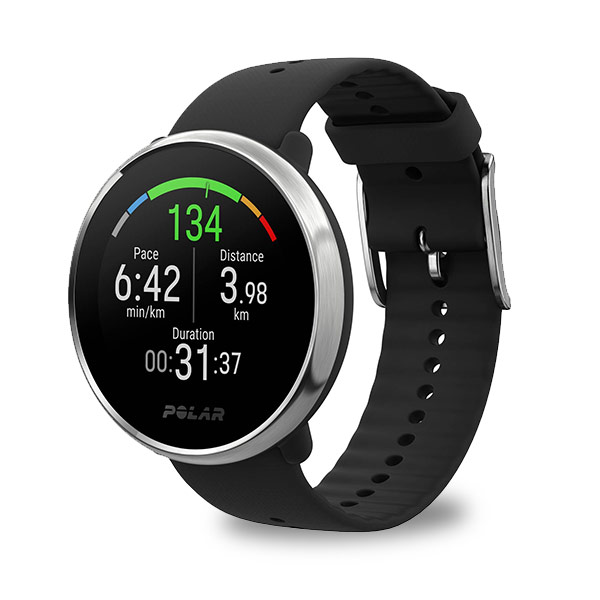 Polar Ignite is a waterproof fitness watch with advanced wrist-based heart rate and integrated GPS. This new-generation workout partner helps you become your true potential and push your limits the right way. Polar Ignite offers you a full view of your day and guidance towards a more balanced life and the screen resolution is best for clear accurate readings during a swim.
Polar Ignite is a great training partner for running, cycling, and other outdoor workouts as well. The integrated GPS tracks your speed, distance, and route. This watch gives you a personalized daily activity goal that motivates you to keep moving throughout the day. You'll see how active you've been, and Polar Flow gives you practical tips on how to reach that 100%.
Polar Ignite is not feature-packed but it is a great waterproof fitness tracker based on clear and transparent screen resolution.
Pros:
This multisport watch allows you to train smarter and discover the winner within yourself. It tracks all the vital activity data including speed, distance, and route tracking, using the integrated GPS and GLONASS.
It's rated to be water resistant up to 50 meters so it is safe to take in the shower or out into the rain
Cons:
The swimming details of the watch are decent but not advanced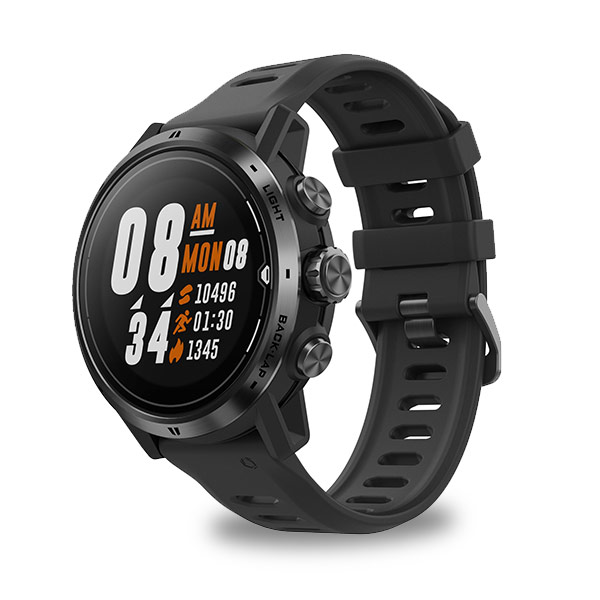 The Coros Apex is another great watch to consider for GPS tracking while swimming. The standout feature of this watch is its superior GPS performance. The navigation tracking allows users to follow a preloaded route when training or swimming in unfamiliar locations, which makes this watch perfect for non-pool swimming.
This watch is water-resistant for up to 100 meters, which is perfect when you want to move beyond the pool and utilize swimming performance tracking at greater depths. If you are doing outdoor swimming, a convenient storm alert will notify you, based on the barometric readings on your watch with a sound and/or vibration to alert you when a possible storm is imminent.
The Coros Apex is a great choice if performance tracking with GPS is useful for you. The watch is comfortable and stylish and comes in a variety of color schemes.
Pros:
Stainless steel bezel finish with sapphire glass
Superior battery life with up to 24 days of regular use, 25 hours in full GPS mode, and 80 hours in UltraMax GPS mode.
Built-in Wrist-based heart rate monitor, barometer, altimeter, and compass. Water-resistant up to 100 Meters/328 Feet
Digital Knob for easy operation by allowing full control of the watch with a single finger.
Industry-leading GPS and distance tracking via GPS, GLONASS, or BDS satellites and proprietary algorithms even in dense woods
Cons:
Watches Without GPS Worth Considering:
If advanced GPS smartwatches are not what you are looking for, there are some great choices available that can adequately track your swimming performance.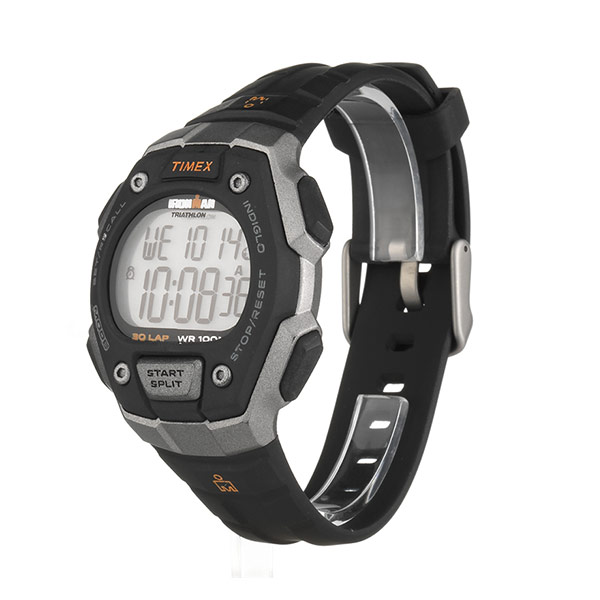 Not everybody is a professional swimmer, therefore, a simple and durable digital watch with a strong waterproof rating is sometimes all that is needed.
Timex's Ironman Classic 30 Watch is built lightweight and sealed for water resistance. You can cross the finish line with a five-button design giving you direct access to timers, alarms, and an INDIGLO night-light that is perfect for night swims.
This watch has a comfortable band and a bright screen. There may be a sharp contrast when compared to a GPS smartwatch, but the Timex Ironman Classic 30 can fulfill all of the needs of a casual swimmer.
Pros:
Adjustable black 16-millimeter resin strap fits up to 8-inch wrist circumference
100-hour chronograph with 30-lap memory; 24-hour countdown timer. On-screen prompts make setting easy forward or backward setting
3 daily, weekday, or weekend alarms; 24-hour military time mode; 3 time zones; Day, date, and month calendar
Gray and black 38-millimeter resin case with acrylic lens; Gray digital display; Indiglo light-up watch dial
Water resistant to 100 meters (330 feet): In general, suitable for swimming and snorkeling, but not diving
Cons:
The band is comfortable but can be very fragile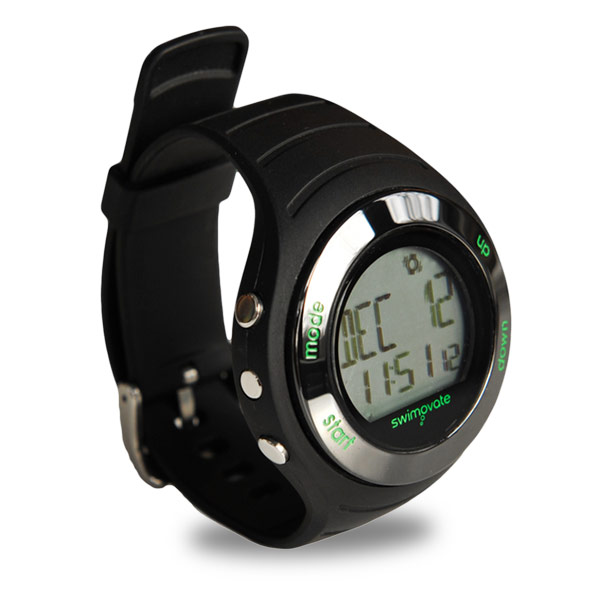 The Swimovate Poolmate is a waterproof fitness tracker that is targeted directly at swimming. It features classic PoolMate lap counting ability, along with a unique user-settable vibrating alarm so you don't need to pause for even a second to know how you're doing; simply set it to buzz when you reach a certain number of laps, distance, or time period during your practice routine.
Additionally, the watch lets you decide when you want to take it to the next level. When you want to get a deeper look at your progress, you can upload all of your swim data to a PC or Mac for further analysis. The watch also features a long battery life of up to 2 years, and the specially designed backplate and battery port allow you to conveniently charge the battery at home on your own.
Not bad for a reasonably-priced swimming tracker.
Pros:
Automatically counts laps, strokes per lap, speed, calories, distance (yards or meters)
Vibrating Buzz pool alarm for laps, distance, or time (intervals)
Up to 2-year battery life on user-replaceable battery
The watch features a time of day (12/24h), dual time zone, day/date, daily alarm
Cons:
Mostly tailored for swimming only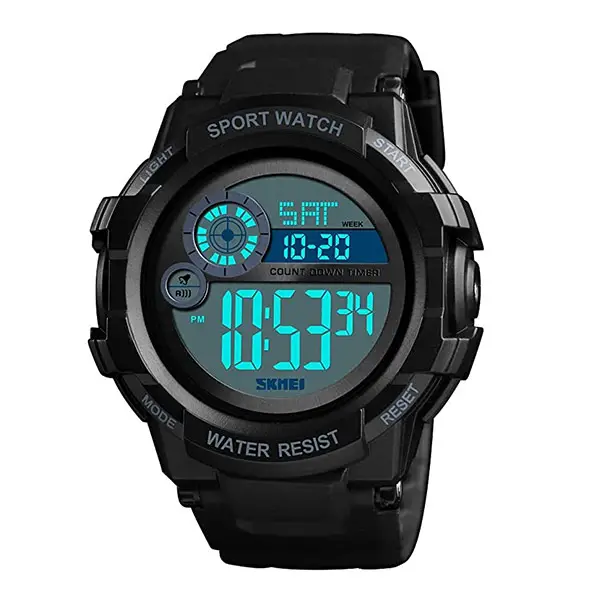 Sometimes when swimming, it can be convenient to have an affordable tracker that just sticks to the basics. The CakCity Digital Sports Watch certainly fits this type. This watch has a fashionable sporty dial design with a military-style outlook.
The watch is inexpensive and certainly not of the caliber of many watches on this list, but this watch's powerful durability and water resistance are incredible for such a small asking price. This watch can accurately track your swimming time and has a comfortable yet durable band.
This is an excellent choice if you just want to keep track of your swimming performance.
Pros:
Perfect for outdoor and indoor pool swimming
Shock resistant
Incredibly durable and long-lasting
Water-resistant up to 50 meters
Cons:
Only suitable for time tracking
No special swimming features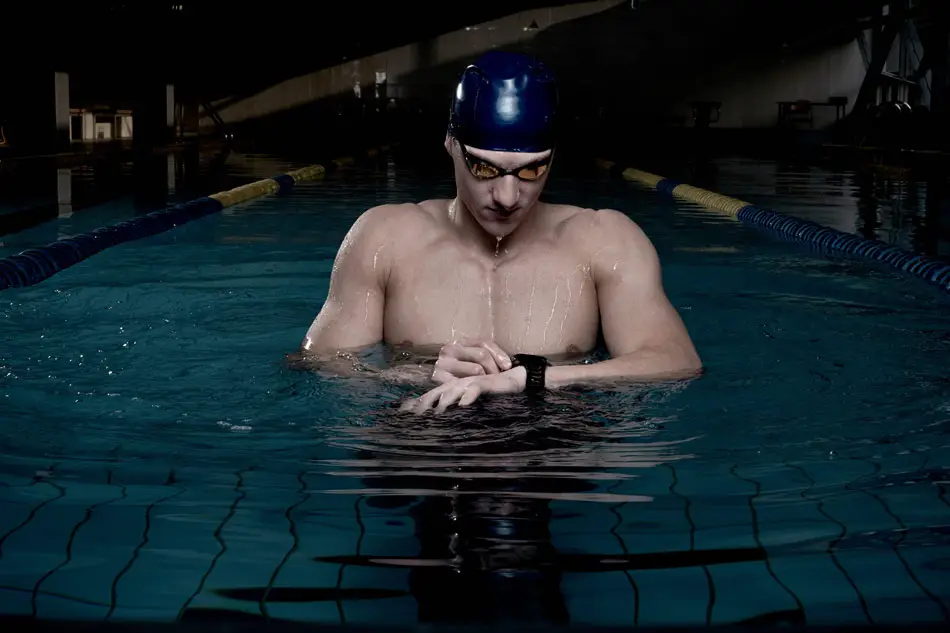 What to Look for When Buying a Swimming Watch (Buyers Guide)
Keep these key details in mind when shopping for swimming watches:
Features. Garmin, for example, tailors its watches for beginners, intermediate level, and advanced levels of swimming and multisport activities, but not all brands have built-in swimming features available. For example, you will not necessarily need a multisport watch if you are just looking for swimming features and vice versa. Be sure to check what fitness level the watch is designed for. There is no need for paying for features you won't need for a while. 
Check for a swimming profile. You can use this guide to help ensure you are buying a great watch for swimming. But just to be sure, always make sure it offers a swimming setting in the activity profiles before purchasing.
FAQs
What is the best watch for open water swimming?
The Garmin Swim 2 is the best watch for swimming in open water. With its reliable five-button interface, you can easily start workouts, view different data, log drills, or change your settings without the worry of water interfering. Furthermore, you can get your swim in without leaving important smart features behind.
What is the best cheap waterproof watch for swimming?
The Timex IronMan Essential is very affordable and has many useful features. This swim watch is water-resistant up to 100m (330ft) and is suitable for open water swims and snorkeling.
How do you track your heart rate when swimming?
To track your heart rate when swimming, consider choosing a watch that prioritizes health tracking features solely for swimming. The Garmin HRM-Swim is a compact heart rate monitor with a unique non-slip design that keeps it in place during push-offs and withstands repeated exposure to pool chemicals. It is compact to create minimal drag through the water and the durable non-slip strap withstands repeated exposure to all swim environments, including swimming pools, salt water, and freshwater.
Final Thoughts
This guide has explored some of the best watches for swimming. Each of these smartwatches is loaded with innovative features that track health statistics, performance metrics, and many additional features to better inform your swimming performance.
The Garmin Swim 2 is the standout watch of this guide for its powerful battery and set of advanced performance features including an incredibly useful swimming mode selection.