Although Garmin Edge Bike Computers are more niche when compared to fitness trackers or smartwatches, a bike computer can still be incredibly convenient. With a bike computer, you do not have to worry about checking your wrist or holding a tracker, everything is right in front of you. Of the various bike computer brands out there, the Garmin Edge bike computer is one of the best.
A Garmin Edge bike computer has advanced training features plus a host of dynamic digital performance monitoring attributes. In addition to training features, a Garmin Edge allows you to train smarter and discover new routes with cycle computer performance metrics.
In this buyers guide, we will tell you everything you need to know about the Edge series. We will also provide in-depth reviews for the very best models in the Edge series to better inform your purchasing decision. These include:
Quick Overview: Best Garmin Edge Cycling Devices
IMAGE
PRODUCT

Top pick

Smart connections
Increased cycling awareness
1.8 inch screen

View On Amazon →

Garmin Cycle Map
Built- in incident protection
2.3 inch screen

View On Amazon →

GroupTrack
Advanced performance monitoring
2.3 inch screen

View On Amazon →

Messages from rider to rider
Advanced navigation
3.5 inch screen

View On Amazon →
A series of frequently asked questions will also provide you with more detail about the series and which models are best based on your desired performance features.
Buyers guide to the best Garmin Edge models
For the best metrics possible, always opt for the higher end models, which we will review below.
The higher end models, either Garmin Edge Explore or Garmin Edge Range, feature new mountain biking metrics in addition to interval training and many are also Bluetooth smart as well
In terms of GPS, always opt for the higher end models as well, such as the Garmin Edge 1030 Plus, the 130, 520, and 820
Best models in the Garmin Edge Series
Which Garmin Edge model is the best for you? Check out our reviews below!
To start things off if you are unfamiliar with Garmin Edge, the Edge 130 is the perfect riding partner. Its compact, lightweight design features a 1.8-inch mono memory in pixel (MIP) display. That means you'll get a completely crisp view of the screen, even in direct sunlight when you'd normally be squinting at your smartphone screen. You can even customize the display to show up to 8 data fields on each screen. 
It may seem rather ordinary looking, but don't let its slight stature fool you, as the Garmin Edge 130 is packed with additional features and gets up to 15 hours of battery life between charges.
Wherever you ride, the Edge 130 bike computer captures your essential stats. With help from GPS, Glonass, and Galileo satellites plus a built-in barometer, it tracks how far, how fast, and even how high you've ridden. 
You can also plan and download your routes with the Course Creator feature from Garmin Connect. The Garmin Edge 130 will guide you with easy-to-read course and turn prompts. It's even smart enough to direct you back to your starting location. The Garmin Edge 130 bike computer is designed to help you amp up your performance so you can strive to improve with every ride. 
It's also compatible with power meters, letting you see how many watts of power you're producing on a flat section or a steep hill. Understanding where you are producing power helps not only with training, it also makes for a more epic ride. And you can make every ride a little more interesting by racing in real-time against Garmin and Strava Live Segments, giving you that extra nudge to really push yourself. 
When using a compatible device, Edge 130 lets you keep your phone safely tucked away and still stay connected to ride data while you're on the bike. Text messages will appear on your device screen so you can see them at a glance and keep right on riding, in addition to a bike alarm and speed and cadence sensors.
You can also know in advance if you're about to get rained out by using the weather page to keep tabs on current weather and forecasted conditions. 
Best of all, you can automatically upload your rides to the Garmin Connect online community, and even customize your device from our Connect IQ store by downloading configurable data fields such as the GU Fuel Reminder or Strava Suffer Score.
Pros:
Compact easy-to-use GPS bike computer
Simplified, rugged design with a 1.8-inch display that's crisp and easy to read in sunlight or low-light conditions
With GPS, Glonass, and Galileo satellites and an altimeter, you'll know how far, fast, hard, and high you've ridden on the longest climbs or on your way through the city
Compatible with Varia cycling awareness accessories, including rearview radar and smart bike lights
Connected features when using a compatible device include smart notifications, weather, and more; live track and assistance Features make it easy to share your location
Cons:
The device has a tendency to freeze up after prolonged use
Battery life is not as great as other Edge models
As we move upward in the Edge Series, the Edge 520 Plus allows you to train smarter and discover new routes with a slight price uptick from the 130. This cycling computer features advanced navigation and challenges built right in, not to mention a bright color screen, preloaded Strava Live Segments, and the cycle map with turn-by-turn directions. 
Whether you're exploring new routes or pushing your limits at race time, Edge 520 Plus has exactly what you need. The preloaded Best Bike Split app allows you to see how changes in weight, power, and drag can affect your goal race time, and it creates the perfect power plan for race day. With the Best Bike Split Race Sync app, your race day power plan will guide you to your best bike split ever. 
To access, simply link your Best Bike Split account with your Edge 520 Plus, and all of your current race plans will be available at your fingertips. The Edge 520 Plus is preloaded with the cycle map and includes turn-by-turn navigation and navigation alerts that notify you of upcoming sharp turns.
And, of course, it's smart enough to guide you back to the route — or back to start — if you deviate from it or decide to head home early. 
There's no need to reach for the phone or worry about your fellow riders when they pull ahead or fall behind. Rider-to-rider messaging (with a compatible smartphone mind you) lets you send pre written notes from your Edge 520 Plus bike computer to theirs. Let your friends know if you'll catch up in a few minutes or if they should go on without you. 
So if you ever have a flat tyre or need assistance, you can send a message to your fellow riders who are paired with GroupTrack so they can find you.
What makes the Edge 520 Plus truly stand out in the line is that it is compatible with ANT+ technology sensors, including speed, cadence, and heart rate. For even more performance data, 520 Plus is also compatible with ANT+ power meters, including Vector 3 (sold separately). This unique pedal-based power meter measures total power, left/right balance, and cadence. 
You can even record cycling dynamics to get a better look at your form, including where your power is being applied on the pedal and throughout the pedal stroke. So it is worth considering this add-on if you want advanced cycling statistics. The battery life is also superb.
Pros:
Advanced GPS bike computer for competing and navigation
Features advanced navigation, including new rider alerts and the preloaded Garmin Cycle Map with turn-by-turn directions–on and off-road
Monitors cycling-specific VO2 max and recovery time when used with option power and heart rate monitors
Tracks Functional Threshold Power (FTP) and cycling dynamics when used with Vector power meters
Longer battery life: up to 15 hours, depending on usage
Cons:
Very common technology, but still a feature-packed product
As we get more advanced in the series, the Garmin Edge 820 is the compact, touchscreen cycling computer for competitors and serious achievers. With this model, you get the accuracy of turn-by-turn GPS navigation and an altimeter to tell you how fast, how high, how far you've gone, and where you've traveled. 
Whether you're training for a race or just trying to reach your personal goals, the Edge 820 gives you high-tech performance monitoring metrics like Vo2 Max, recovery advisor time, and advanced cycling systems. These comprehensive cycling awareness features include built-in incident detection and compatibility with Varia rearview radar. 
Garmin has also added group track, to keep tabs on other riders in your pack, in-ride challenges through Strava live segments, smart notifications, and customization options from connect IQ.
Whether your goal is to beat yesterday with a faster or longer ride or dial in your training for a race, Edge 820 puts the features you crave at your fingertips. 
This compact, touchscreen GPS cycling computer offers advanced performance monitoring, bike-specific turn-by-turn navigation, a new GroupTrack feature, and more. Even when you pull away from the peloton, there's no need to feel alone with this model. 
Pros:
Lightweight and compact with a 2.3-inch high-resolution, capacitive touch display that works with gloves and when wet
GroupTrack feature keeps tabs on everyone in your riding pack
Advanced performance monitoring includes VO2 max, recovery advisor, Strava live segments, FTP, performance condition, and advanced cycling systems
Built-in incident detection included; compatible with cycling awareness accessories such as Varia Vision, Varia smart bike lights (great for night riders), and rearview radar
Bike-specific navigation preloaded with Garmin Cycle Map for turn-by-turn navigation
Cons:
The touchscreen functionality can be spotty in terms of quick responsiveness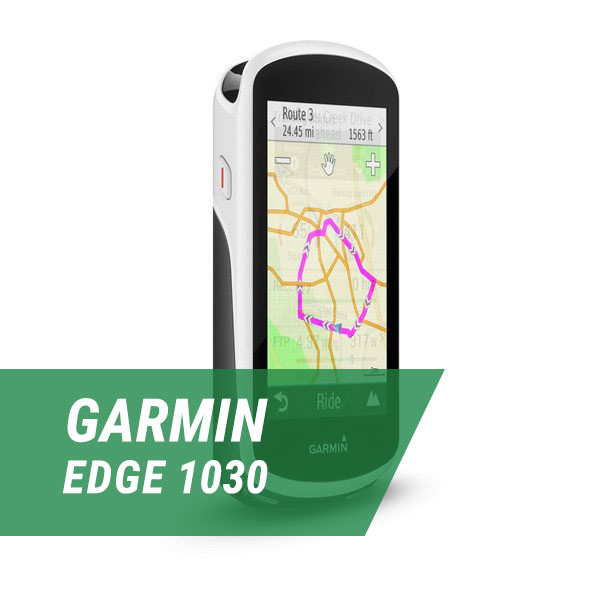 The Garmin Edge 1030 Plus adds new features for a variety of other fitness and sports activities in addition to cycling. This advanced GPS cycling computer helps you set and exceed training goals with structured workouts that sync to your device.
It also provides workout suggestions based on your training load and VO2 max. 
With the ClimbPro pacing guidance to get you through a tough ascent, MTB dynamics that track every epic jump, and the ability to pause your route guidance if you intentionally go off course to explore, the Edge 1030 Plus is ready for any ride.
If you're updating from an older Edge computer, your existing ride profiles and data sync to your new one with no fuss. 
Incident detection and assistance features send your real-time location to emergency contacts, and it's compatible with inReach satellite communicators for two-way messaging. The Edge 1030 Plus also allows you to get more insight into how your body is responding to training. Track VO2 max, recovery, training load, training load focus, and more. 
Pros:
The Edge 1030 Plus is the ultimate GPS cycling computer with a 3.5-inch color touchscreen display that combines navigation, performance, cycling awareness, and smart connectivity
Receive on-device ride and workout suggestions based on your current training load and VO2 max 
Manage your efforts on long climbs with the ClimbPro feature, which shows remaining ascent and grade when you're climbing while following a route or course
Get training guidance by syncing structured indoor or outdoor workouts to your device from the Garmin Connect app or other apps, including Training Peaks and Trainer Road
Track jump count, jump distance, and hang time with mountain bike (MTB) dynamics; other useful MTB features include Grit, which rates the difficulty of a ride, and Flow, which measures how smoothly you descend a trail so you have a score to beat next time
Cons:
The Edge 1030 Plus is big on additional apps necessary to unlock certain features
Navigation directions can be hard to read at times
FAQs
Which bike GPS bike computer has the best battery life?
The Garmin Edge 830 has a highly superior battery life, in addition to vast internal storage that doesn't use reams of battery life.
Is a bike GPS computer worth it?
Yes, these devices are great in terms of the ability to attach directly to a bike and the safety features and all the metrics that are displayed right in front of you.
Is Garmin Edge 530 worth it?
The Garmin Edge 530 is a pricier model, but the advanced features, such as the ability to sync training plans, are a bit more advanced than other edge devices.
What other brands do GPS bike computers?
In addition to Garmin Edge bike computers- Wahoo, Bryton, and Lezyne are some of the most popular brands for bike computers.
What computer do pro cyclists use?
Professional cyclists typically opt for an advanced Garmin bike computer. The Garmin Edge 1030 Plus is one of the most popular for outdoor and indoor bike trainers.
Conclusion
Whether you are someone who likes to put their pedal to the metal along winding roads, prefers to take their mountain bike to new heights or simply uses their bike as a convenient mode of transport, the Garmin Edge collection of GPS bike computers can help you train smarter, navigate easier and assist you with upping the power, thanks to their smart set of power metrics.