Garmin has cornered the smartwatch market for running watches but there are just as many Garmin models that combine astute performance statistics for cycling as well.
What is the Best Garmin Watch for Cycling in 2021?
But what makes a good cycling watch? Most of Garmin's watches that have cycling features have great features in terms of speed and cadence, as well as pinpoint GPS accuracy for outstanding navigational support. With this in mind, what is the best Garmin watch for cycling?
The Garmin Fenix 6 Pro Solar is one of the best Garmin watches for tracking cycling, multisport activities, and expert wrist based heart rate tracking. The GPS navigational support of this watch is also beneficial to cyclists who enjoy cycling in open terrain or in the wilderness.
This guide offers you a detailed survey of 9 of the best Garmin watches for cycling. Each watch has different features and levels of accessibility and comfort, therefore, a review of what fitness level each watch is better suited for will also be included.
Read on to find out more about the best Garmin watches for the two-wheel inclined and which model is the best overall.
Garmin Forerunner, Fenix, Venu and Vivoactive
Without sounding overly enthusiastic, I can say with clear sincerity that Garmin is the crowning achievement when it comes to smartwatches for cyclists. I am a passionate runner but I also enjoy cycling at high speeds, and mountain biking in rough terrain. Each of the following Garmin smartwatches is designed to appeal to cyclists of all fitness levels.
Each watch can accurately track miles and riding distances covered, detailed performance metrics across a range of fitness and health categories, including sleep, as well as helpful features through the Garmin Connect App such as Garmin Pay and enhanced performance tracking.
Since each watch is diverse in terms of battery power and GPS capabilities, the process of selecting which watch is right for you depends on what type of activity you will mainly do with the watch apart from cycling. But if you primarily only go cycling, each model offers top-tier performance tracking Additionally, some of these models can track a wide range of other activities such as running and swimming. Let's take a look at each watch more closely.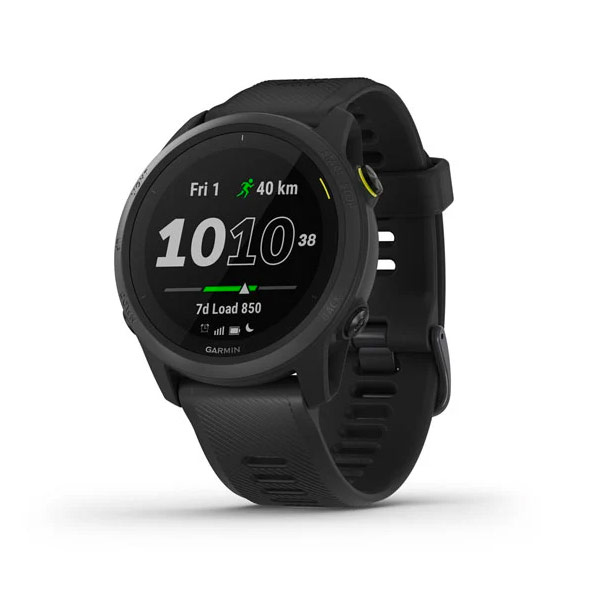 The Garmin Forerunner 745 is a great way to start a Garmin cycling list. The first standout feature of this model is the specialized 'cycling power' setting that allows you to connect to a compatible Garmin power meter, which is sold separately, to work toward a more efficient ride with help from cycling dynamics, FTP, and advanced training methods.
While you cycle, the Forerunner 745 analyzes pace and estimates heart rate and heart rate variability for a real-time assessment of your current ability to perform. A handy race predictor is also included which is a  specialized tool that takes into account your fitness level and training history to help you work toward your race goal and see the impact of training on your predicted finish time.
After each ride, a recovery time tool lets you know when you'll be ready for another hard intense cycling session. It even accounts for training intensity and factors such as estimated stress, daily activity, and sleep.
The Forerunner 745 is a capable and efficient Garmin cycling watch.
Pros:
Switch up your cycling routine whenever you like with preloaded activity profiles for running, triathlon, multisport, pool swimming, track running, and more
Receive on-device run and cycling daily workout suggestions based on your current training load and VO2 max
Get training guidance by syncing structured indoor or outdoor workouts to your device from Garmin Connect or other apps (when paired with a compatible smartphone), including TrainingPeaks and TrainerRoad
Analyze more data to help you reach your race potential, including advanced running, cycling, and swimming dynamics
Cons:
Optical heart rate monitor may not sync properly during cycling mode
Battery life is not as sturdy as other models
---

The Garmin Forerunner 945 is a marked upgrade from the already perfect Forerunner 745. I have written passionately about this watch, and the same level of passion holds steady when analyzing the Forerunner 945's cycling prowess. The Forerunner 945 monitors your cycling performance and can even offer personalized insight, so you can ride smarter, not harder.
The smartwatch tracks your VO2 max and adjusts the value based on heat and altitude. Training status evaluates your recent cycling history and performance indicators to let you know if you're training productively, peaking, or overreaching. You can see how your workouts influence the development of endurance, speed, and power with aerobic and anaerobic training effect feedback, even from cycling statistics.
Recovery time helps you maximize the benefit of your efforts by predicting when you will be ready for your next tough ride. You can even view your overall training load, which measures your exercise volume from the last 7 days and compares it to the optimal range for your fitness and recent training history. Additionally, the new Forerunner 945 training load focus sorts your recent training history into different categories based on activity structure and intensity.
The Forerunner 745 is still a great choice for cycling but the Forerunner 945 takes it to a new level of performance tracking expertise.
Pros:
Performance monitoring features include Vo2 Max and training status with adjustments for heat, altitude Acclimation status, training load focus, recovery time, and aerobic and anaerobic training effects
Full color, onboard maps guide you on your run so you never get lost during your workout
Safety and tracking features include incident detection (during select activities) which sends your real-time location to emergency contacts through your paired compatible smartphone
The battery life lasts up to 2 weeks in smartwatch mode, 10 hours in GPS mode with music, or up to 60 hours in ultratrac mode.
Cons:
Spotty connectivity issues may require frequent power cycles to refresh
---

The Garmin Venu Sq packs quite a punch for such a small watch. This can be beneficial for cyclists who do not wish to have a larger, bulkier watch feel as if it is weighing them down. Apart from an attractive price, the main attributes of the Venu Sq come with the health statistics and tracking that is found in the watch.
When you want to relax or focus after a grueling ride, you can start a breathwork activity, and this watch will track your stress and respiration to help you get a better understanding of how you're breathing. You can also log your daily fluid intake as a reminder to stay hydrated. You can even have an auto goal for hydration that adjusts based on how much sweat you lose during cycling.
The Pulse Ox sensor estimates your blood oxygen, and that can be very handy during a cycling session, specifically a race. Additionally, prompt relaxation reminders will even prompt you to do a short breathing activity when you're feeling stressed. This model may not have innovative performance features but the Venu Sq comes in handy if health monitoring is what you are seeking.
Pros:
Small and compact
Find new ways to keep moving with more than 20 preloaded sports apps, including walking, running, cycling, mindful breathing, swimming, golf, and many more
Use preloaded workouts that include cardio, yoga, strength, and even Pilates, create your own in the Garmin Connect app (requires an app on a compatible smartphone)
Never miss a call, text, or social media alert with smart notifications delivered right to your wrist (when paired with a compatible smartphone)
Cons:
Prone to glitches and spotty GPS reception
May be too small for some cyclists
---

Apart from being a great watch for cycling, the Fenix 6 Pro Solar is just a great watch overall. Building on the craftsmanship for solar power that was seen in the Fenix 6X, the this edition contains a power glass lens material that covers the display screen of the watch. This new and improved panel increases the ability of the lens to absorb UV and transfer this power to the battery pack.
You can now have a full solar charge to the battery that limits charging time, which is perfect for long cycling sessions. In addition to a stellar battery, the Fenix 6 Pro Solar is also packed with superb performance tracking features.
Pace Pro is a more advanced version of the Garmin coaching app that improves upon the features of that app. Additionally, this watch also has barometric altimeter technology to measure altitude and changes in elevation affecting your ride.
The MTB (mountain bike) dynamics of the Fenix 6 Pro Solar allows you to track the details of every ride with mountain biking metrics plus specialized grit and flow measurements that rate trail difficulty and how smoothly you descend, giving you a score to beat next time. You can also view advanced training metrics that include running dynamics, recovery advisor, and more; you can even estimate your heat- and altitude-adjusted VO2 max.
The MTB feature alone is what pushes this watch over the edge when it comes to cycling.
Pros:
Solar Powered Multisport GPS Watch with large 1.4 inches display that uses the sun's energy to extend battery life and assure more on-wrist time for your off-grid activities
Train with a rugged yet sophisticated Watch, featuring 1.3 inches display and titanium, stainless steel or DLC coated bezel
Upgraded activity profiles now let you track more, such as specialized grit and flow measurements while mountain biking
Get improved performance data to help you endure tough challenges, including the acclimation 2.0 widget to analyze additional data and see how your body is holding up to the current elevation
Navigate the outdoors with preloaded TOPO maps, ski maps for 2,000 worldwide ski resorts, multiple global navigation satellite system (GPS, GLONASS, and Galileo) support, and built-in sensors for 3-axis compass, gyroscope, and barometric altimeter
Cons:
Expensive
Solar power technology requires lots of outdoor activity exclusively
---

No cycling session is ever truly complete without a watch that allows music storage, and this watch is all about music. The Forerunner 645 Music has the added convenience of having up to 500 audio files to play at random. Gone are the days of having to use a separate device to hear all of your favorite fitness songs, you can listen with ease during your ride with this model.
The Garmin Forerunner 645 Music is also beneficial if you need some enhanced training during your cycling sessions. The Garmin Coach feature recommends status, effect, and insight dynamics into your cycling history and how it corresponds to any new goals you wish to reach, as well as insights into future recommendations that can then be broken down into distinct categories to ensure that you are dedicating the proper amount of time to each cycling session.
The battery life of the Forerunner 645 Music is also impressive. You can get up to 24-hours of battery life when running the watch in GPS mode and a week when running the watch in regular smartwatch mode.
The Forerunner 645 Music has most of the capabilities of the other models I have mentioned with the added benefit of improved music accessibility. But this model is also great for so many other types of activities as well. The Forerunner 645 Music lets you change things up with ease, thanks to built-in activity profiles for running (indoor/outdoor), cycling (indoor/outdoor), swimming, elliptical, paddle sports, and strength training.
This watch will certainly make a fine choice if you simply cannot decide between other models.
Pros:
Easily download up to 500 songs to your watch, and connect with Bluetooth headphones for phone-free listening
Syncs music from select streaming services for offline listening
Provides advanced running dynamics including ground contact time balance, stride length, vertical ratio, and more
Uses estimated wrist-based heart rate data to offer performance monitoring features, including evaluating your current training status
Cons:
Uncomfortable wrist band
Quick battery drain
---

The Garmin Vivoactive 4 is another stellar Garmin watch that is on the smaller end of the size spectrum. When it comes to cycling, you can now use the convenient cycling power meter to log and display your performance specifics and health targets when you are bicycling. But the Vivoactive 4 has so much more to offer if you wish to change up your fitness routine occasionally.
If you want swimming mode, this model now has a fully integrated swimming mode performance meter to record your underwater movements and suggest ways to improve to reach targeted goals.
The standout feature is the Garmin Move IQ performance tracker. This feature can automatically detect the type of fitness routine you are performing. Based on this detection, you can view the saved event in your Garmin Connect timelines to let you know the metrics achieved even if you didn't plan on recording the activity.
The Vivoactive 4 improves upon past exclusions in this popular Garmin line such as the Vivosmart series, and with this in mind, this makes the Vivoactive 4 a great investment for cyclists or any type of fitness choice.
Pros:
Keeps track of your energy levels
Easily download songs to your watch, including playlists from Spotify, Amazon Music, or Deezer (may require a premium subscription with a third-party music provider), and connect with headphones for phone-free listening
Record all the ways to move with more than 20 preloaded GPS and indoor sports apps, including activity tracking for cycling, yoga, running, swimming, and more
Get easy-to-follow, animated workouts right on your watch screen, including strength, cardio, yoga, and Pilates
Up to 7 of battery life in smartwatch mode; Up to 5 hours in GPS and music mode
Cons:
Not a durable design
Not many distinctive cycling features
---

If you enjoy mountain biking or cycling for hours on end through your region, the Garmin Instinct Solar proves to be a great watch for any outdoor activity. This rugged GPS smart Watch boasts solar charging, giving incredible battery life while outdoors. Additionally, you can monitor how your body uses energy by tracking heart rate, stress, estimated sleep, and Pulse Ox, which helps give you a better understanding of your health and wellness.
Get more out of the sports you love with preloaded activity profiles such as running, biking, swimming, and more. Additionally, the Garmin Instinct Solar is built to the U.S. military standard 810 for thermal, shock, and water resistance (rated to 100 meters). View how various settings and sensors impact your watch's battery life, so you can make battery-extending changes on the fly. This watch is great for hiking and mountain biking; Garmin designed the Instinct Solar to appeal to the rugged outdoor enthusiast, this means that this watch goes far beyond just basic cycling for a  more advanced and tactical experience.
Finally, this model stands out for its comprehensive training plans. The Instinct Solar is one of the watches that includes convenient coaching plans, which works well to help you reach your goals on those days when cycling or any fitness regime seems like a chore.
Pros:
Built-in 3-axis compass and barometric altimeter plus multiple global navigation satellite systems (GPS, GLONASS, and Galileo) track in more challenging environments than GPS alone
Track your activities for running, biking, swimming, strength, and more
Help understand your health and wellness better with all-day health monitoring and Pulse Ox
Monitor how your body uses energy by tracking heart rate, stress, and sleep estimates with Body Battery energy monitoring
Cons:
The solar battery can lag if not allowed enough time to capture UV rays
There are far too many instances where multiple buttons need to be pressed to navigate properly.
---

Like the Garmin Vivoactive 4, the Vivoactive 3 is a smaller watch that packs in many useful features. With help from Elevate wrist-based heart rate technology, vívoactive 3 lets you monitor key aspects of your cycling routine and reveal any stress statistics to show how your body responds under various circumstances.
For example, it's able to estimate your VO2 max and fitness age, which are two indicators of physical fitness that can often improve over time with regular exercise.
It also tracks your heart rate variability (HRV), which is used to calculate and track your stress level. The Vivoactive 3 can make you aware when physical or emotional sources cause your stress level to rise so you can find a way to relieve the pressure.
Feel free to take this watch outdoors in all kinds of weather during cycling. Not only is it safe for swimming and showering, but it's Garmin Chroma Display is also easy to read, even in direct sunlight, and housed under extra-durable Corning Gorilla Glass.
It also features a side swipe interface, which makes for quick scrolling and swift navigation of menus and widgets when you are cycling. Whether you scroll with your thumb or index finger, you can choose how to wear it. Comfortable, convenient, and easy to see, the Vivoactive 3 just fits perfectly when you are cycling hard to keep your riding schedule fresh and invigorating.
Additional features allow you to create your own custom running, cycling, cardio, or strength workouts and download them to your watch. Then, your Vivoactive smartwatch will keep track of the exercises, reps, sets, and rest time for you. This watch is another tough decision to pass over when you are narrowing down your decision.
Pros:
Personalize your watch with thousands of free watch faces, apps, and widgets from our Connect IQ store
More than 15 preloaded GPS and indoor sports apps, including yoga, running, swimming, and more
Monitor your fitness level with VO2 max and fitness made estimates, plus keep an eye on how you handle stress
Get connected features such as smart notifications, automatic uploads to Garmin Connect, Live Track, and more when paired with a compatible smartphone
Battery life lasts up to 7 days in smartwatch mode; 13 hours in GPS mode.
Cons:
The GPS settings can be difficult to set properly
---

Just like the Garmin Fenix 6 Pro Solar, the Garmin Fenix 5 Plus is an amazing watch for cycling. For athletes and outdoor adventurers, the Fenix 5 Plus watch is the high-performance way to beat your cycling worries of yesterday and bring your maps and music along. This rugged, premium-crafted watch features routable color mapping, estimated wrist-based heart rate,  and convenient music storage for up to 500 songs.
Whether you're in the city or on the bike trail, the Garmin Fenix 5 Plus provides built-in mapping and navigation features to help keep you oriented and on course. Full-color TOPO mapping comes preloaded with map data optimized for at-a-glance navigation and location tracking. The watch also features Trendline popularity routing, which uses billions of miles of Garmin Connect data to help you find and follow the best trails and routes for your ride.
When you're pushing your limits, you need a decisive edge to help diversify your cycling routine. The Fenix 5 Plus delivers sophisticated training features to monitor your form and performance. Tap into physiological metrics, cycling dynamics, and more to track your workout stats, measure your progress, and fine-tune your form. Training status automatically evaluates your recent cycling history and performance indicators to let you know if you're overtraining, maintaining, or peaking.
You can also view your overall training load, which measures your exercise volume from the last 7 days and compares it to the optimal range for your fitness and recent training history.
Pros:
Premium multisport GPS smartwatch that estimates heart rate at the wrist and includes color TOPO maps featuring Trendline popularity routing to help you find and follow the best paths
Fit for adventure with rugged design that features stainless steel or diamond-like carbon (DLC) titanium bezel, buttons, and rear case
Easily store and play up to 500 songs on your watch, and connect with Bluetooth headphones for phone-free listening
Garmin Pay contactless payment solution (available for supported cards from participating banks) lets you make convenient payments with your watch
Built-in navigation sensors include three-axis compass, gyroscope, and barometric altimeter as well as multiple satellite system (GPS, GLONASS, and Galileo) network capabilities to track in more challenging environments than GPS alone
Battery performance lasts up to 10 days in smartwatch mode and 8 hours in GPS mode with music
Cons:
The watch power cycles frequently
The heart rate monitor can be glitchy at times
---
Buyers Guide
Keep these key details in mind when shopping for a Garmin cycling watch:
Fitness level. Garmin tailors its watches for beginners, intermediate level, and advanced levels of cycling and multisport activities. For example, you will not need a tactical series watch if you are just starting a daily cycling routine and vice versa. Be sure to check what fitness level the watch is designed for. There is no need for paying for features you won't need for a while.
Comfort. You may not normally think of a watch as an uncomfortable accessory, yet this can and does change when you are doing intense exercise like cycling. Most Garmin watches are designed with silicone bands so as not to cause skin discomfort during perspiration, yet there are some models that use leather or even metal. Be sure to get the right watch that suits your level of comfort.
Features. It is true that almost any Garmin watch you decide on will have a basic level of performance and GPS tracking features. GPS protocols like GLONASS and Galileo can be incredibly useful when cycling outdoors and especially if cycling in the wilderness. Heart rate monitors are industry standards for fitness-oriented smartwatches. Make sure you check the specs of each watch to ensure it has what you want.
Price. Garmin smartwatches are some of the best in the industry for fitness tracking. The price points can also vary widely across all the different series and models. Beginner's watches will typically be on the lower end of expense, whereas more advanced and feature-packed models can cost upwards of hundreds of dollars. Know what fitness level you are at and make the best decision based upon what you need the watch for.
Check for a bike setting. You can use this guide to help ensure you are getting a Garmin watch for cycling. But just to be sure, always make sure it has a bike setting in the activity profiles before purchasing.
Which Garmin Cycling Watch Is Best?
This is a hard choice to make since both the Garmin Forerunner 645 Music and the Garmin Fenix 6 Pro Solar have super fast response times when you are cycling. I found that the Fenix 6 Pro Solar represents one of the most seamless and efficient pairing systems between the sensors on my mountain bike and the watch via Bluetooth.
With that said, I also really enjoy the Forerunner 645 Music. This was the first Garmin watch I purchased based solely on the inclusion of music storage. The Fenix 6 Pro Solar is a bit more of an advanced watch, and just really pairs well with practically any activity–but I do have a soft spot for the Forerunner 645 Music.
At the end of the day, the Fenix 6 Pro Solar finds a nice balance between a cross-section of all the features with each of these models. It falls at the higher end of the price spectrum once the overall costs of all 9 models are aggregated, which is worth the cost due to the watch's durability and overall performance.
The performance tracking features find a perfect balance between beginner, intermediate, and advanced fitness levels. The battery performance is superb and more than enough no matter what GPS mode or length of cycling session you undertake.
But you could easily flip a coin between the Fenix 6 Pro Solar or the Forerunner 645 Music; I admire both watches equally.
FAQs
How do I set my Garmin Watch for cycling?
For beginner and intermediate Garmin models, you will likely need to hit the 'run' button on the side to open up the settings tab. Scroll down until you reach the primary settings tab and then scroll down until you reach 'activity profiles.' You can then select the feature for biking or cycling to enable this mode for the Garmin watch.
What is the most accurate Garmin running watch?
The Garmin Forerunner series is one of the best in the Garmin line and the Garmin Forerunner 945 consistently wins high marks in terms of GPS accuracy, innovative performance tracking metrics, and seamless notifications across the Garmin Connect App.
How do I use my Garmin watch for running?
To use your Garmin watch for running, the process is mostly universal across all Garmin running models. Go into the settings tab and open the Apps setting. Then, choose which app you want to add your running session to and select the 'add new' feature to calibrate your time and customizable settings.
What is the best Garmin watch for running and cycling?
Any Garmin running watch is certain to please runners and cyclists but the best models usually have premium music features available. The Garmin Forerunner 245 Music and the Garmin Forerunner 645 Music have advanced performance tracking features and superior music capabilities, including music storage.
How many years does a Garmin watch last?
A Garmin smartwatch can typically last for upwards of 5 years if well the watch is properly maintained. The battery life of each model varies but you can typically get several hours of battery in GPS mode and upwards of a week on one charge outside of GPS mode.
Is the Garmin Venu good for cycling?
The Garmin Venu is a watch in the Garmin line that prioritizes simplicity over advanced features. The Garmin Venu is capable of basic performance tracking and GPS features, and its comfort is one of the standout features for many cyclists.
Final Thoughts
This guide has explored some of the best Garmin watches for cyclists. Each of these 9 smartwatches is loaded with innovative features that track health statistics, performance metrics, and many additional features with the Garmin Connect App. The Garmin Fenix 6 Pro Solar is the standout watch of this guide for its powerful battery and set of advanced performance features and the Garmin Forerunner 645 Music is ideal for cycling alone.
With that said, any of these watches will make your cycling sessions more informative and enjoyable.