If there is one thing you can count on with Garmin fitness watches, that is consistent and evolving product evolution. The Garmin Forerunner series always strives to improve upon its previous model, with special features and enhancements that match the changing needs of athletes and fitness enthusiasts. With the Garmin Forerunner 945, is this commitment to product improvement on display?
Garmin Forerunner 945 Review
The Garmin Forerunner 945 expands the Forerunner line with increased performance metrics, maps, and safety and tracking features. This model also adds a long sought after feature that allows you to sync your favorite music to your watch, which has been missing from previous models.
| | |
| --- | --- |
| Overall Rating | 98/100 |
| Ease of Use | 99/100 |
| Ease of Assembly | 100/100 |
| Affordability | 94/100 |
| Comfort | 99/100 |
This sports and fitness watch scores high marks in all the important key points for rating a fitness watch. This article will explore everything that needs to be known about this GPS running watch, including its pros and cons as well as if the Forerunner 945 is worth buying for your fitness needs. Read on to find out more…
Pros of The Garmin Forerunner 945:
The ability to sync music. Unlike other Forerunner models, the Forerunner 945 allows you to sync music to your onboard music storage system right inside of the software of the phone. You can sync your Spotify playlist or choose to use a preprogrammed playlist specification if you are on the run and don't have time to sync your favorite songs to the music storage portal.
Routable maps. With the Forerunner 945, you can now customize maps and routes with Glonass and Galileo GPS protocols which allow it to track in a wider range of environments and terrain than what can be achieved with traditional GPS technology. The mapping technology is now colored and interactive, which allows you to receive even more detailed and visually attractive routes based on your location.
Pulse oximetry data. Like most models in the Garmin Forerunner series, the Forerunner 945 also analyzes heart rate, heart performance conditioning, and heart rate with oximetry data to provide variability based on a wide range of different performance types to give real-time assessments of how you are faring during your workout and how long you can continue before you reach various thresholds.
Comes with preloaded activity profiles. The Forerunner 945  is designed to appeal to a wide range of fitness activities. Innovative and detailed activity profiles are now expanded for swimming, running, bicycling, and triathlons, which are all part of the profile selections that you can pick from with this model. This model also includes a range of recommendations if you wish to have some ideas to change up your fitness routine.
Great for triathletes. The Garmin Forerunner 945 is designed with users in mind who want the knowledge that their smartwatch will be able to keep up with a wide range of performance statistics across a triathlon if need be. Through updated and improved features to measure cadence, ground contact time, stride lengths, and all of the capabilities that sync with accurate heart rate readings and performance statistics.
Cons of the Garmin Forerunner 945:
Subpar battery life when compared to other models. Unfortunately, the Forerunner 945 just doesn't do well with battery life capabilities, especially compared to other models in the series. This can be expected though due to the increased amount of superior features that have been added to the Forerunner 945.
Doesn't work well with other apps. One of the convenient abilities that come with some smartwatches is the ability to customize the watch with other apps that track running or jogging in ways that you enjoy. With the Forerunner 945, you have to use its features exclusively.
Expensive. The Forerunner 945 is not moderately expensive like some other models, it is downright expensive. This is to be expected with the addition of many new features, however, the price is substantial for this model.
Garmin Forerunner 945 Key Features
The Garmin Forerunner 945 features many new updates to previous models. For one, the watch itself is completely changed in its design scheme from a more square-shaped design to a circular shape with new key stats showing on the screen, which is more in line with traditional smartwatches and is well-calibrated to handle the influx of new features.
But perhaps the biggest standout of the Forerunner 945 is the ability to sync music to the wristwatch. Gone are the days of having to use a separate device to hear all of your favorite fitness songs.
What is also great about this model is the two available sizes that you can choose from, 42mm or 39mm. Not all runners wish to have a large and bulky wristwatch, even though the display screen is the same size, which works well with the many different types of performance capabilities that are compatible with this model.
Additionally, the Forerunner 945 has pushable buttons, which eliminates the need to go through an app to change settings, you can now interchange settings and customizations through a simple push of a button.
With just five convenient button settings, you are able to navigate the menu and customize the watch with a few simple pushes to your desired settings. There are no complex patterns to figure out with this model, you will likely have the routine down pat after one running session.
The Garmin Forerunner 945 is brimming with many additional features, and the improvements upon the design scheme of the watch are also great. With new additions to measure training effect, recovery time, and race predicting for triathlons, the Forerunner 945 stands atop the series as one of the best models of the Forerunner brand.
Should You Buy the Garmin Forerunner 945?
The Garmin Forerunner 945 is all about variety; variety in fitness selections and variety when it comes to what you need to be tracked and monitored and how. The Forerunner series is all about running and jogging, but this model is the one that many Garmin enthusiasts have been waiting for.
The Forerunner 945 is all about improving upon past exclusions in this popular Garmin line, and with this in mind, this makes the Forerunner 945 a great investment as this will likely turn out to be the only Forerunner model that you will ever need considering that the long-awaited ability to sync and stream music is now well-insulated into the watch.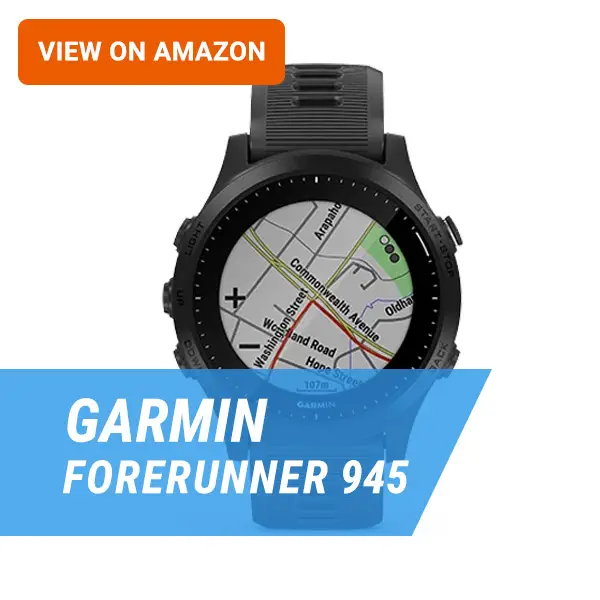 Why the Garmin 945 Is Worth It
The Forerunner 945 is all about convenience; this model is a complete evolutionary upgrade in the line, which means that some previous concerns with other models have been improved upon for your convenience, such as the inclusion of various types of sports and fitness performance dynamics as opposed to just running or jogging.
As well as a music upgrade, the inclusion of pulse oximetry data for more comprehensive and dynamic performance readings, and even financial convenience with the inclusion of a convenient app for Garmin Pay contactless payments.
The technology is improved upon, which goes beyond simple velocity to even pinpoint performance targets in various areas of the body as opposed to just an overall assessment. The watch is comfortable and lightweight, therefore, you can rest assured that this model is definitely worth the purchase.
The Downsides
The Garmin Forerunner 945 does not have many downsides to mention, yet the substantial price is likely going to be the big sticking point to many potential buyers. This can be easily overcome once you consider some of the useful and innovative technologies that you get with the Forerunner 945.
Some users report difficulty in properly calibrating the new and improved altitude acclimation protocols of the watch, yet this feature can be easily remedied by being sure your watch is connected to Garmin Connect Mobile during your fitness session.
Frequently Asked Garmin Forerunner 945 Questions
What is the difference between the Garmin Forerunner 945 and the other Forerunner models?
The biggest difference with the Garmin Forerunner 945 is related to size variations and improvements and upgrades in terms of hardware and software. The Forerunner 945 is also fully capable of syncing music which is made easier with the inclusion of music storage.
Is the Garmin 945 water-proof?
The Garmin Forerunner 945 is water-proof up to 50 meters, therefore, you can safely shower or even swim with this model. Care should be taken not to completely submerge the watch in water beyond 50 meters as the increased pressure could damage the watch.
Is the Forerunner 945 touchscreen?
The Forerunner 945 is not a touchscreen. The watch has pushable buttons on the left and right which allow the user to better adjust and set variations based on desired performance dynamics and statistical readings.
Can you listen to music on the Garmin Forerunner 945?
Yes, for the first time in the Forerunner series, not only can you listen to music, but you can also sync music to your watch, including connecting your Spotify account to your watch.
How does the Garmin Forerunner 945 work with Spotify?
In your Garmin Connect App, you can now access connectivity sync via Wifi from your Spotify account to your Garmin Forerunner 945. You can easily play your desired Spotify playlists right on your watch.
Final Thoughts
If you are looking for a smartwatch that makes the process of checking your performance statistics easy to navigate with enhanced performance features and project charts, then the Garmin Forerunner 945 is certainly a model worth considering. There are very few downsides to this watch, and the sheer compatibility enhancements of this model are hard to resist.
Rather you enjoy running and jogging or, swimming, bicycling, or triathlons, Forerunner 945 is certainly one of the highlights of the Forerunner series, made all the better by the new and improved addition of musical storage.