Finding a fitness tracker for small wrists is not always easy, and this is because there are many factors that can affect the wrist based on either the band or the weight.
In addition to this problem, there is also the need to prioritize needed features in tandem with finding just the right fitness tracker.
With this in mind, and taking into consideration all of the many fitness trackers on the market, what specs make up the best fitness tracker for small wrists?
The best fitness trackers prioritize superb activity tracking with great battery life in addition to their adaptability to those with small wrists.
The minimum and maximum length should be tailored to those with small wrists while still maintaining the durability of a more weightier fitness watch.
In this round-up review, we will take a look at the best fitness trackers for small wrists. We will look at the fitness data, activity tracking, sleep tracking features, the ability to synchronize accurate data, in addition to the advanced features of 6 different popular fitness trackers for those with thin wrists. These include:
Quick Overview: Our Top Fitness Trackers for Small Wrists
IMAGE
PRODUCT

Wrist-based heart rate
Advanced performance metrics
Improved satellite reception

VIEW ON AMAZON

Safety and tracking features
Smart notifications
Light- weight

VIEW ON AMAZON

Stress tracking
Preloaded workouts
Women's health tracking

VIEW ON AMAZON

Amazon Alexa Built- in*
24/7 Heart rate tracking
6+ Day battery life

VIEW ON AMAZON

LTPO OLED Always-On Retina display with Force Touch 
Accelerometer
Ambient light sensor

VIEW ON AMAZON

Running coach
Heart rate tracking
Water resistant

VIEW ON AMAZON
We will also explore some frequently asked questions about fitness trackers that correspond to smaller, more compact watch bands.
Read on to find out more:
Review summary of the best fitness trackers tailored for small wrists
Here are 6 reviews of the best fitness trackers for small wrists.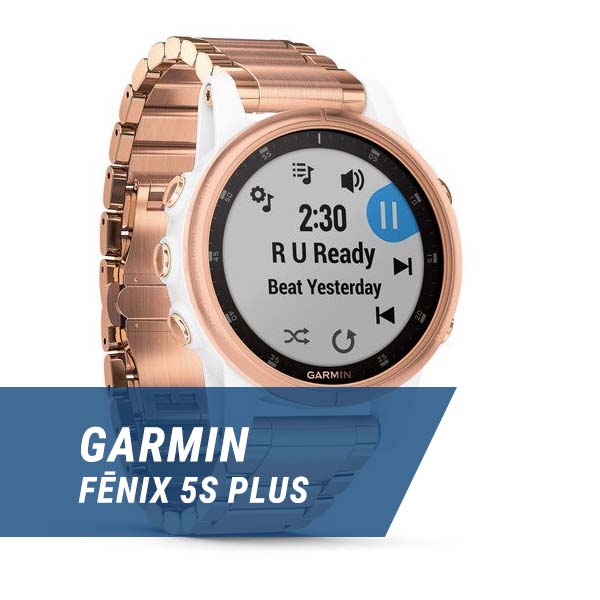 Much like the Garmin Venu Sq, the Garmin Fenix 5S Plus fitness tracker is meant to stand alone as a smaller alternative to the Fenix 5 and the Fenix 5 Plus models, which makes it a better alternative for those with smaller wrists. The Fenix 5S Plus decides to go for the simpler and sometimes better approach. 
This is especially true when compared to the more rugged Fenix 5 and Garmin Fenix 5 Plus models. But the Fenix 5S Plus fitness tracker benefits in this area from its smaller display screen, which is what makes it my favorite fitness tracker.
The heart rate monitoring and performance tracking comes through in large, easy-to-read notifications that do not require much back and forth when selecting the appropriate screen.
With new additions such as Climb Pro, enhanced navigational capabilities, and additional Wi-Fi capabilities not available to the Fenix 5 and Fenix 5S, the Fenix 5S Plus fitness watch is one of the best models in the Garmin Fenix line.
With these superb features also comes a hefty price tag; the Fenix 5S Plus is the most expensive of the three '5' models. But, if you can look past the expense, you will certainly feel the most satisfied with the model that improves upon the features seen in the Fenix 5 and Fenix 5S.
The smaller frame and lighter weight is perfect for smaller wrists. 
Pros:
Smaller-sized multisport GPS smart watch that estimates heart rate at the wrist and includes color TOPO maps featuring trendline popularity routing to help you find and follow the best paths thanks to great tracker features and display size
Accurate HR monitoring
Fit for adventure with bold designs that features a large 1.2-inch sunlight-readable display and stainless steel bezel, buttons and rear case
Easily store and play up to 500 songs on your watch, and connect with Bluetooth headphones
Cons:
The backlight feature has difficulty working on some settings
Garmin Forerunner 45S (Best Sports Watch and Fitness Tracker for Small Wrists)
The Garmin Forerunner 45S is a small and compact wristwatch in the Forerunner line, designed for users who want a smaller watch.
With improvements in GPS accuracy and user interface, this model prioritizes easy navigation and comfort with the innovation of the Forerunner line still intact. 
What makes this model stand out to most users is the small size of the watch making it perfect for smaller wrists.
The Forerunner 45S is only 39mm, which means that this model is the essential model for users with smaller wrists who still want to use a watch in the Forerunner series.
The Forerunner 45S GPS tracker fits snug and comfortable around the wrist, with a silicone base to decrease wrist burn during workouts. 
Additional benefits include customized maps and routes with GLONASS and Galileo GPS protocols which allow it to track in a wider range of environments and terrain than what can be achieved with traditional GPS technology.
The mapping technology is now colored and interactive, which allows you to receive even more detailed and visually attractive routes based on your location. 
Like most models in the Garmin Forerunner series, the Forerunner 45S GPS tracker also analyzes heart rate, heart performance conditioning, and heart rate with oximetry data.
This provides variability based on a wide range of different performance types to give real-time assessments of how you are faring during your workout and how long you can continue before you reach various thresholds.
The Forerunner 45S  is designed to appeal to a wide range of fitness activities tailored to those who need a smaller and more compact band.
Innovative and detailed activity profiles are now expanded for swimming, running, bicycling, and triathlons, which are all part of the profile selections that you can pick from with this model. 
This model also includes a range of recommendations if you wish to have some ideas to change up your fitness routine.
Pros:
Smaller-sized easy-to-use running watch estimates heart rate at the wrist and features GPS tracking to track your pace, distance, intervals and more
Works with free Garmin Coach Adaptive training plans that bring expert, personalized coaching right to your wrist. 
Smartphone compatible where its excellent features come through on an easy-to-read display size
Connected features include smart notifications for incoming texts and calls, automatic uploads to the Garmin connect online community, live tracking and controls for the music playing on your paired compatible smartphone
Safety and tracking features include incident detection 
Cons:
The Forerunner 45S just doesn't do well with battery life capabilities, especially compared to other models in the series. This can be expected though due to the increased amount of superior features that have been added to Forerunner 45S.
Garmin Venu Sq (Best Budget Friendly Fitness Tracker)
The Garmin Venu Sq looks much more different than any other Garmin watch, and that is immediately recognizable in its small and compact size, which makes it a favorite of fitness enthusiasts.
The frame is square-shaped and features a decent enough 1.3-inch display hidden under Corning Gorilla Glass 3 lens.
The thick bezel is blended well with the display, making it feel like the screen is bigger than it really is. All of this spells good news for those with smaller wrists.
Thanks partially to the fiber-reinforced polymer case, the Garmin Venu Sq weighs only 37.6 grams and sports a silicone strap that's comfortable to wear.
In terms of design, the Garmin Venu Sq fitness device is miles away from the design scheme of many Garmin models, and this just may be the best watch of the brand for small wrists. In fact we have this very watch for our 11 year old daughter.
The Venu Sq is more of a one-size-fits-all type of watch, the frame is small to accommodate the smaller band which can also flex according to the wrist it is attached to.
The Garmin Venu Sq is brimming with many additional features, and the improvements upon the design scheme of the watch are also great. 
Although you will not be able to change the band, the comfort of the silicone base will make it seem like the watch is not even weighing down on your wrist.
Pros:
Fits wrists with a circumference of 125-190 millimeter
See everything clearly on a bright color display that includes an always-on mode, perfect for quick glances
You can monitor everything from your Body Battery energy levels with incredible battery life, respiration, hydration and stress to sleep, your menstrual cycle, estimated heart rate and more
Find new ways to keep moving with more than 20 preloaded sports apps, including walking, running, cycling, mindful breathing, swimming, golf and many more
Use preloaded workouts that include cardio, yoga, strength and even Pilates, create your own in the Garmin Connect app
Water resistant
Cons:
One of the unfortunate missing features from the Garmin Venu Sq is the swimming mode technology that is a feature of many other brands of fitness smartwatches. This model is only truly compatible with software that tracks and displays results with running and jogging.
Fitbit Versa (Best Basic Fitness Tracker for Small Wrists)
Fitbit is known for its line of advanced fitness trackers, and the Fitbit Versa may just be the lightest and most versatile of all Fitbit fitness trackers and watches to date.
It's a watch that stands out from the crowd in terms of design and functionality and its large display screen offers unlimited possibilities for staying fit and healthy.
This design scheme alone makes it perfect for those with smaller wrists and this advanced activity tracker does so much more than just tell you the time.
Other key features of this activity tracker include a Housing Pure Pulse technology that can continuously monitor your heart rate throughout the day, alerting you of stressful periods and taking you through some much-needed guided breathing exercises. This feature alone makes it one of the best in terms of heart rate monitors.
As well as all of the essential tracking analysis, the Versa can track your cycle as well as your sleep and is waterproof for up to 50 meters.
Its smartphone capabilities allow you to not only receive call notifications but to respond to texts, make contactless payments and download up to 300 songs.
Much like the Fitbit Inspire model fitness tracker, you can also add your favorite apps whether that be for fitness, finance or sport and even design your own clock face on this activity tracker. Although all of this can be draining on the battery, the Versa still offers you 4 days of life.
The band is light and comfortable, which is a must for fitness trackers for small wrists.
Pros:
Store and play 300 plus songs, utilize on screen workouts that play on your wrist and coach you through every move and track swim laps and floors climbed
Track your all day activity with a 24/7 heart rate monitor, and sleep stages, all with a 4 plus day battery life (varies with use and other factors) and a slim, comfortable design with a lightweight, anodized aluminum watch body. 
Syncs with MAC OS x 10.6 and up, iPhone 4s and later, iPad 3 gen. And later, Android 5.0 and later and Windows 10 devices. Syncing range: up to 6.1 meters
Use 15 plus exercise modes like run or swim (Fitbit versa is water resistant to 50 meters) to record workouts and connect to Smartphone GPS for more precise real time pace and distance
Access your favorite apps for sports, weather and more and get called, calendar, text, and app alerts
Superb sleep tracking features
Best fitness step count tracker
Cons:
Expensive
No GPS (although can use Connected GPS functionality)
No altimeter
4-day battery life
Apple Watch Series 5 (Best Fitness Tracker for Smart Notifications)
There wasn't much of a change in design between the Apple Series 4 and the Apple Series 5 activity trackers, but in terms of wrist adaptability, the Apple Watch Series 5 is probably the standout watch in the Apple Series of fitness trackers in terms of compatibility for those with smaller wrists. 
But the watch is lightweight and the band is comfortable with a case material made of titanium, a prized material in watchmaking that has superb strength-to-weight ratio and is lighter than stainless steel.
The Series 5 is available in two beautiful brushed finishes, the natural titanium has a custom-engineered surface which helps maintain its color and resist staining, while the space black titanium achieves its deep color from a diamond-like coating. 
Other key features of the Series 5 include an innovative new display that allows the time and important information to remain visible at all times.
Each watch face has been carefully optimized for display and to preserve battery life, the screen intelligently dims when a user's wrist is down and returns to full brightness with a raise or a tap. 
Several advanced technologies work together to deliver this feature, including the industry's only low-temperature polysilicon and oxide display (LTPO), ultra-low power display driver, efficient power management integrated circuit and an ambient light sensor.
This combination of hardware innovation and incredible software design allows Apple Watch Series 5 to offer all-day 18-hour battery life.
If you like the Apple series, and you want the best model in terms of wrist comfort, opt for the Apple Watch Series 5. 
Pros:
Built-in cellular lets you receive calls, send texts, and check your email — even without your phone
You don't have to raise your wrist or tap to see the time or important information. With large Retina Oled display, your watch face is always visible
The viewing area stretches deep into the curved corners and is over 30% larger than the Apple Watch Series 3 display
The Apple Watch Series 5 has built-in GPS and is swim proof
With the ECG app, you can take an ECG similar to a single-lead electrocardiogram right from your wrist with this innovative heart rate monitor
The optical heart rate monitor can monitor your heart rate and alert you to a high or low heart rate through your phone's GPS
This model is one of the best fitness tracker devices in terms of music, and allows you to store your favorite music, podcasts, and audiobooks on your watch, and stream it all — including the entire Apple Music catalog — even without your phone
Cons:
The battery life of the Series 5 is not all that great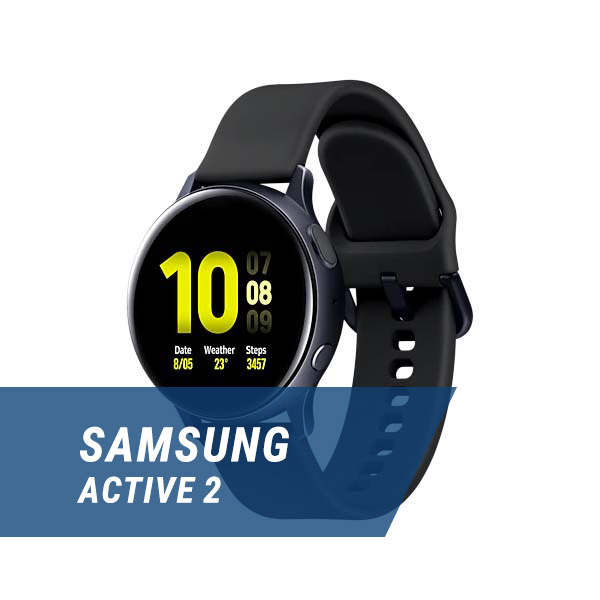 Samsung Active 2 (Best Fitness Tracker for Reasonably Long Battery Life)
The Samsung Galaxy Watch Active 2 fitness tracker is designed to help you learn more so you can achieve your fitness goals.
This watch goes beyond tracking steps and calories to offer actionable insights on everything from your running style to your heart rate and calories burned.
In addition to these standout features, the watch is also comfortable and conforms easily to smaller wrists. 
This watch connects seamlessly via Bluetooth to your favorite apps so you can keep moving and a sleek, small design means you can wear the Galaxy Watch Active2 everywhere from the gym to the pool to your bed.
This watch is light enough to wear anywhere comfortably, and  comes in aluminium or stainless steel and with a variety of face bands and finishes so it goes with anything for maximum aerobic performance.
Additional key features of Samsung fitness trackers allow you to get automatically alerted if your watch detects a high or a low heart rate with accurate heart rate monitoring.
A built-in sleep tracker offers valuable insights on how to get a better night's sleep. It also monitors your stress level and helps you recently with the integrated calm app.
Pros:
Better insights to reach your fitness goals including calories burned and activity and motion sensor
Get more out of every mile thanks to built-in pace coaching (always a welcome feature on fitness trackers) on the Galaxy Watch Active2
Its advanced sensors keep your pace to help you better achieve your run goals
Cons:
The calories counting feature may not always be accurate
Which brand has the best fitness tracker for small wrists?
As you can see, it is hard to deny that Garmin fitness trackers are truly the best in terms of fashioning the smallest fitness tracker with amazing features for a small wrist.
What really appeals to me about Garmin activity trackers, apart from the brand's consistent high rankings within the fitness industry, for small wrists are the features.
Not only do they cover all the essentials such as steps, calories and distance, but they also measure things like sleep patterns, stress levels and heart rate.
Additionally, Garmin activity trackers can provide you with guided breathing exercises and an overall well being score, which is not always found in many fitness trackers for small wrists.
Its simple yet subtle waterproof design means that you could wear one all day long – in fact I often forget my Venu Sq is on my wrist at all.
FAQs
What is the thinnest fitness tracker?
Within the fitness industry, a thin fitness tracker is often desired over a bulky one. The thinnest fitness tracker on the market is the Fitbit Flex 2. This fitness tracker is mostly a heart rate monitor, but its automatic all-day activity and sleep tracking also shows you how your entire day adds up, and the handy SmartTrack automatic exercise recognition records your exercises for you. 
This fitness tracker/heart rate monitor measures 2.37 x 8.75 x 2.37 inches and 5.61 ounces. As mentioned, this is mostly a heart rate monitor instead of a fitness tracker, but the ultra-thin design is perfect for those with thin wrists.
Will a Fitbit fit a small wrist?
es, a Fitbit fitness tracker will certainly fit those with a small wrist. In fact, this brand is likely the most popular in terms of creating fitness tracker devices and heart rate monitor devices for those with smaller wrists.
Which Fitbit fits a small wrist?
early any Fitbit fitness tracker will fit a person with a small wrist. But the Fitbit Flex 2 is probably the best fitness tracker to consider.
Which Garmin watch is the smallest?
In terms of a Garmin fitness tracker, the smallest is likely within either the Venu or Vivo line of models. But the absolute smallest is the Garmin Lily fitness tracker.
This small and thin fitness tracker comes in a lightweight watch case that measures just 34 mm, which means you'll only notice it on your wrist because it looks so good. It is also packed with all of the typical fitness tracking that you can expect to find in these types of devices.
This watch is both fashionable and comfortable.
Which brands for small wrists have the best battery life?
Finding a fitness tracker with long battery life is sometimes elusive with most fitness trackers since many fitness trackers tend to focus on packing a device with several powerful features in lieu of backing up the battery life.
The best fitness tracker brands in terms of battery life are Garmin and Fitbit, but Apple also scores high marks in this category as well.
Summary
Finding the best fitness trackers for thin wrists are one of the many challenges people with small wrists face when looking for smaller fitness tracking devices.
Other fitness trackers tend to prioritize features such as long battery life and built-in GPS, while spending a lot less time on design and compatibility for small wrists.
In this review of the best fitness tracker models for those with small wrists, we have taken an in-depth look at 6 different fitness trackers.
Whichever model you choose, make sure the activity fitness wrists band has adjustable strap holes to allow you conveniently tighten according to the size of your wrists.
Quick links to the best trackers for small wrists: