Boat transducers are incredible marine electronic systems and make going out to fish an easier and more fun sport depending on which fishing structure you prefer. Of all the companies that make boat and fish transducers, Garmin has transducer models that are easy to distinguish from fellow competitors thanks to the innovation and sophistication for quality the company is known for.
With this in mind, what makes the Garmin Panoptix Livescope stand out?
The Garmin Panoptix Livescope uses ClearView sonar technology to provide fishermen with precise and crystal clear bottom definitions of lakes, rivers, and seabeds to make better-informed judgments when fishing. This technology greatly improves upon the 2D technology seen with the older Panaoptix model.
Are you trying to decide between purchasing either an original Panoptix LVS32 transducer or a Garmin Livescope? Do you need further details to ensure you make the best decision based on your own specific needs for a transducer purchase?
If so, this comprehensive guide is for you. This guide will explore some key details about both of these separate transducers, in addition to the Panoptix Livescope that finally manages to combine all the details that make both models great.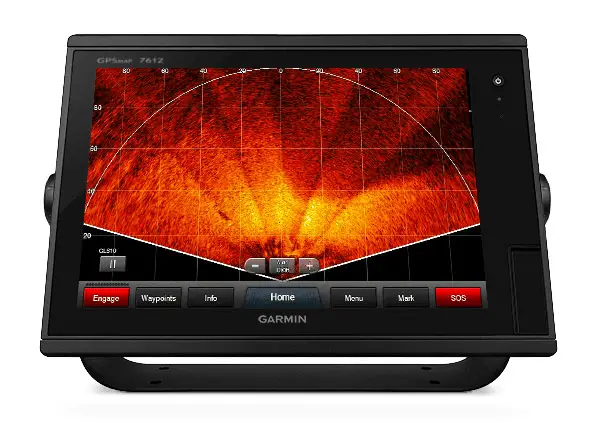 Is Garmin Panoptix still worth the money?
Long before the Garmin Livescope emerged, the Garmin Panoptix was the original trolling motor barrel mount to use sonar images through real-time scanning sonar for fish finders. This is largely because the display unit and sonar data are still both innovative and easy to read.
When you are in shallow water, the Panoptix allows you to see highly detailed, easy-to-interpret live scanning sonar images of structure, bait, and fish swimming below and around your boat in real-time, even when your boat is stationary.
Furthermore, with just one transducer, you can easily adjust to fit your fishing techniques; point forward to see around your boat, or point down to see directly below your boat. The Panoptix allows you to see incredibly sharp real-time scanning sonar images up to 150-feet down and away.
Basically, the Panoptix is still a stellar item when it comes to perspective view in the original sonar style, but the Livescope does have a better screen resolution for fish finders and even has a resolution that mimics real-world visuals within the water as compared to the heat colors and temperature grades with the Panoptix.
What is the difference between Garmin Panoptix and Garmin Livescope?
The Garmin Panoptix uses a lower frequency when compared to Garmin Livescope, and features a different technology as well.
The Panoptix has a longer coverage range of about 100-150 feet of sonar views, which makes it somewhat better than the Livescope, since the Livescope system's main attraction is a better resolution with a loss of range.
But the screen resolution is undoubtedly the number one difference between the two, and you can practically see the fins of the fish with the Livescope compared to blobs-like images on the original Panoptix.
With the Livescope system, you can see right down to the bottom of the seabed, and it doesn't matter what structures or obstructions like rocks may be in the way of the scanning sonar livescope system.
Which Is Better?
All in all, the Garmin Livescope System is the better motor shaft mount when compared to the Panoptix. It can display charts, navigation, and sonar in a split-screen view, or separately in full screen.
Rotary dial and keypad controls make navigating through menus, creating routes, and accessing temperature, speed, depth readings, and battery voltage effortless. Some key features the Garmin Livescope contains are simple menus plus an easy-to-use rotary dial, perspective mode mount, and keypad controls.
A great feature is the pre-selected split screens that allow you to keep important display unit data in views such as display depth, position, battery voltage, and transom mount, and trolling motor shaft mount. The transducer is included in the box and is fully programmed and ready to use.
There is also a great amount of smooth navigation between menus, which is pretty important when at sea.
This chart plotter also features intuitive menus, so you can quickly find the information you need when you need it, and rotary dial and keypad controls make navigating from screen to screen effortless on the display unit, as compared to the more stationary and less luminescent resolution on the old Panoptix Livescope system.
You can confidently put away the instruction manual; with Garmin Livescope you simply turn on your display and go without having to worry about consulting directions or a manual to ensure you have the right programmed controls in place that sync with the trolling motor.
This allows you to always stay on course and know where you are and where you are going. Since this trolling motor mount comes pre-loaded with base maps, you have everything you need to enjoy your day on the water with a perspective view for fish swimming.
Two of the most noteworthy, standout features of Garmin Livescope are:
An attitude heading reference system (airs) that stabilizes sonar view on chart plotter screen, even in rough conditions
Simple plug-and-play Garmin Marine network cable makes it easy to install and seamlessly integrate with your compatible Garmin chart plotter or applicable adapter cable
Features and benefits of Garmin Livescope (Buyers Guide)
Fishing is really what the fisherman makes of the sport, and bait and lure are still important for those wanting some mystery when fishing. But when it comes to modern-day fishing, nobody knows the waters you fish better than you and your Livescope forward.
While you are trolling the shorelines and the depths, Livescope's mapping software creates HD fishing maps of the places you've been. No special knowledge is required to use this innovative feature.
Additionally, you can use the built-in Wi-Fi to pair with the ActiveCaptain app for smart notifications, access to Quickdraw Contours Community data, and more.
Some of the most amazing sonar technology and sonar images
One feature that truly stands out to me is that you can get nearly photographic images of what passes below and beside your boat with CHIRP ClearVü and CHIRP SideVü scanning sonars. This truly comes in handy when compared to the more traditional sonar blurbs that are featured in the Panoptix model.
This is because the scanning sonar gives you a nearly photographic, wide image of what passes below your boat, all in one transducer, on one power cable, in one Garmin GPSmap.
The Livescope forward sonar gives you a crisp, clear view of what lies off to each side of your boat as well. You can clearly see structures, submerged objects, and best of all, fish. Livescope forward sonar also provides remarkable target separation and all this sonar technology is combined into one transducer to help you retrieve more fish of multiple species in real-time.
The built-in, high-sensitivity Garmin GPSmap finds and maintains your position anywhere you go on the water. The GPS allows you to mark waypoints for different locations. So for example, if the fish are biting in 1 spot, you can mark it, and return to it on your next trip. You can also mark docks, boat ramps, and other locations on the lake, and create routes back to them for your next trip.
The Garmin GPSmap also allows the Livescope to show your speed on screen, so you can be sure you're trolling at the right speed for the lure you're using or in wake-controlled areas.
The Panoptix Livescope fishfinder makes fishing a breeze, and it's built to work in any environment, including wet conditions. The bright, sunlight-readable display gives you a clear view of what is below your boat, even on the brightest days.
The intuitive user interface makes it simple to navigate to whatever feature you need, so you are ready for anything on the water.
Attitude Heading Reference System
The Attitude Heading Reference System calibration can make or break a transducer, and the AHRS in the Garmin Livescope is consistently in range and level.
AHRS consists of either solid-state or microelectromechanical systems gyroscopes, accelerometers, and magnetometers on all three axes of the transducer to achieve this pinpoint precision.
The key difference between an inertial measurement transducer unit and an AHRS is the addition of an on-board processing system in an AHRS which provides attitude and heading information versus a browser, which just delivers sensor data to an additional device that computes attitude and heading.
In addition to attitude determination, an AHRS may also form part of an inertial navigation system network, which further reduces oversight and real-time updates on your part.
What is needed for Garmin Livescope?
The Garmin Livescope comes with the transducer, transom mount, trolling motor barrel mount, trolling motor shaft mount, power cable, network cable, adapter cable, and the applicable documentation to guide you through the installation process between your boat and your compatible chart plotter.
The installation process is not difficult granted that you follow the correct settings and modes. Take a look at this detailed, step-by-step video to walk you through the setup and installation process of the Garmin Livescope.
Garmin Livescope – is it really worth the money?
If you are looking to move beyond a 2D image, and connect to a forward-thinking transducer unit that offers superior image quality and structure, the Garmin Livescope is definitely worth the total cost of the purchase.
The Livescope is pricey, but the technology allows you to gain a better insight into a wide range of fish species, specifically bass, and although not an easy search and find device, it does allow you to study fish to know how to lure them better.
In other words, you cannot count on the Livescope alone to make you a better fisherman, but this device can help you cut down some of the work it takes to find fish.
If you are a tournament angler or any other type of angler, the Livescope truly is a must – thanks to the advanced practice the device can provide you with.
Additionally, rather you choose shallow or off-shore modes, your search time is cut in half if not completely eliminated thanks to the ClearView sonar technology and its amazing resolution.
Spending endless hours out on the water looking for perfect fishing sites is not all it is cracked up to be for some fishing enthusiasts, and that is why a device like this is truly revolutionary in how it takes away the cat and mouse element of fishing and allows you to practice your skill instead of wasting time.
The Garmin Livescope is a great idea, but an expensive idea, and best-suited for anglers.
You might also be interested in: Garmin vs Raymarine