The use of launch monitors for golfing has risen substantially in the last few years, and leave it to Garmin to integrate all the useful aspects of a lunch monitor with a premium GPS device in the Garmin Approach G80. Rather you are looking to improve your golf game playing statistics or compete in virtual tournaments with other players, there is something to be found for every player in this convenient device.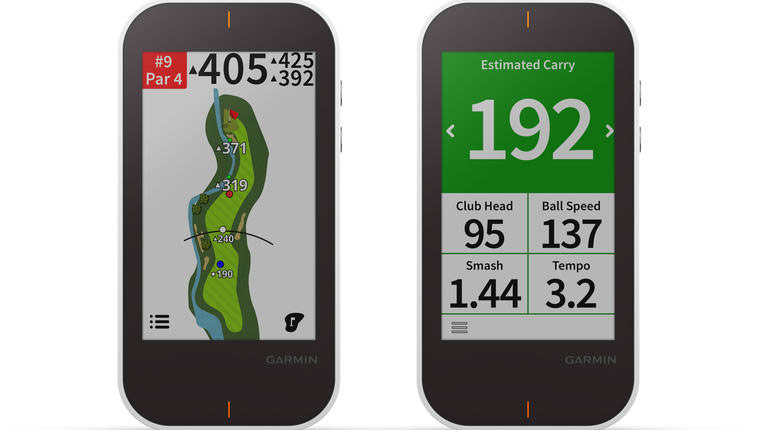 With this in mind, what are the standout features of the Garmin Approach G80?
The Garmin Approach G80 has a range of new features that allow you to track clubhead speed, ball speed, smash factor, swing tempo, estimated distance, and much more. The launch monitor technology is complemented by useful features like practice mode and virtual round simulation as well.
In this Garmin Approach G80 review, we are going to provide information about every aspect of the G80. From its form and battery life to in-depth analysis of its features, to the ins and outs of the launch monitor technology and everything in between. Read on to find out more about the Approach G80 and whether the handheld is worth its price.
Garmin Golf Range
Which Garmin golf GPS should you buy?
What Is the Garmin Approach G80?
The Garmin Approach G80 is a GPS device and golf launch monitor–it's actually both of these concepts rolled into one if you are struggling to find the right words to describe the G80 like many. The Garmin G80 is a warm-up tool, a tempo trainer, a virtual round simulator, and much, much more.
The Approach G80 resembles a cell phone with a 3.5-inch screen length with a convenient big numbers mode if you have problems with your eyesight. The device is handheld and can easily fit into your pocket when traveling and when not in use.
The Approach G80 has 15 hours of battery life and you can easily hook it up to your Garmin golf app for superior and well-calibrated live scoring results.
The Garmin Approach G80 comes preloaded with 41,000 courses worldwide available in full-color course mapping technology. This device also comes with a range of practice mode features as well as games where you can actually load courses onto the launch monitor and play around to your liking and interest.
Additional features include plays like distance and a pinpointer feature which is really useful out on the course if you've got a blind shot.
But what truly makes the Approach G80 stand out is the performance tracking aspects of the model.
There is built-in radar technology that offers clubhead speed, ball speed, swing tempo, ball speed smash factor swing capture, and the Garmin Approach G80 will give you a distance estimate granted you have a clear line of GPS capture between the device behind you and your swing.
How to Set Up the Garmin Approach G80
Setting up the G80 for use involves powering on the device and exploring all of the device's features which we outline below.
But the main setup for the device involves the proper pairing of the device to the Garmin Golf app.
To do this, all you need is your Approach G80 and your smartphone. Begin by downloading the Garmin Golf app and open the app once it is installed on your phone.
Sign in with your Garmin account or follow the directions to create an account. Then, open the settings menu and select add Garmin devices. Select the Approach G80 and make sure you select settings and Bluetooth on your Approach G80. Once this is done, select the option to pair your device with your Garmin Golf app.
You are now ready to use your Garmin Approach G80.
Features of the Garmin Approach G80
Any Garmin Approach G80 review will need to spend an entire section discussing the stellar features that come with this handheld. From ball, speed smash factor or smash factor swing tempo, and club head speed, all the way to the launch monitor capabilities and battery life, the Approach G80 is certainly worth its cost in terms of features.
Let's take a look at what stands out.
Fast-Loading GPS
There is great accuracy to the GPS within the Garmin Approach G80. You can actually adjust to where the pin is located on a map. The GPS also includes the ability to basically set as far deep into the green as the pin might be, as well as if the pin is in the front, center, left, and you can even change the pin based on what you are seeing in front of you.
Overall, this allows you to be very precise with your yardages, and the preciseness is very accurate, amazingly accurate even.
Of course, all of this will depend a good deal on the course you are playing at since many courses will actually use the center green apart from the current pin position. But with the Garmin Approach G80, these uncertainties and inconsistencies are greatly reduced due to the sheer accuracy of the GPS in this handheld.
Additionally, there is a feature known as plays-like distance, which allows you to get the total accurate distance including any elevation changes. For example, if the pin is above you or below you, the G80 is going to give you a distance in what it plays like.
Form Factor
Although shaped like a cell phone, the G80 itself is fairly small. You can carry the device easily in your pocket or use one of the included attachment accessories to clip to your belt, the cart, or any attachment of your choice.
The screen is very bright, even in bright sunshine, which is something that any golfer can appreciate when the sun is blazing. Alternatively, the screen will dim when you are in areas where the light is not as bright, and this is meant to conserve battery and reduce glare.
The screen is very easy to see even from far away distances, and when you have the device set in big numbers mode, this is very useful when you need to record shot distances.
The Garmin Approach G80 comes with two buttons on the side of the device. The top button will lock the screen if you're out playing and want to keep the device inside of your pocket without losing any of the data on the screen.
The bottom button is an automatic switch to the warm-up mode which is the mode for tracking the ball and carrying factors.
Overall, the G80 is small and designed to be user-friendly. The device is meant to be sat on top of a golf ball for easiness in recording additional features we will explore below.
Launch Monitor
Launch monitors are some of the best GPS gold devices in terms of recording swing distances and club head speed results. The Approach G80 is a launch monitor, and this feature opens up so many great and useful data analysis features to help you improve your game.
On the side panel of the G80 rests the launch monitor feature, and you will need to prop the device on top of a golf ball to allow it to rest steady and sync accordingly with your swing tempo.
Basically, the launch monitor records your hits and swings through estimated carry along with estimated carrying and roll so if your ball actually went a certain distance and then rolled out further, all of this is recorded and saved in the Garmin Golf app.
You are also given club head speed through the launch monitor, ball speed smash factor swing and your smash factor swing tempo.
You can launch into the launch monitor on the G80 at any time. For example, if you are playing a round of GPS distance, you can hop right into the launch monitor without affecting your game.
The launch monitor feature can also be used practically anywhere.
Virtual Round
The virtual round feature of the G80 is a ton of fun. Once you tap into the virtual round, you can choose either tournament round or course mode.
The tournament feature basically allows you to play against many other players at a course of the device's choosing. This is a fun mode to try at some point when you have enough players and are willing to spend some time competing.
Course mode allows you to choose between one or multiple players. Once you select course mode, tap into one player if you will be playing solo and you can then search nearby which will give you a selection of courses that are nearby or you can choose from 41,000 courses to dive into a game.
When you do get into the round, basically all you are doing is playing the distance; the way this is done is by putting the device down on the ground to your side on top of a golfball and letting it pick up the distance you are hitting the ball.
You are then given data relaying how many strokes it takes based on how close you get to the pin, and the device gives you one, two, or three putts based on that distance.
Essentially, any course that is available through the GPS, is available in the device.
I personally find this to be great for the range. It allows you to thoroughly practice the course you have selected. You can hit your drive off of the first tee or if it's going to be less than that, you can always hit an iron just to get an idea of what the course is going to be like.
Tournament mode is also great to play with against friends or even total strangers.
Either of these selected modes can break up the monotony in a normal range session where you're just continuously hitting.
Practice Mode
One of the most popular features on the Approach G80, and one of the centerpieces of any Garmin Approach G80 review, has got to be the target practice feature.
Target practice mode is designed for 1-2 players and is basically a game that allows you on your own or if you are playing against another player to basically play into specific targets that are set by distances.
The distances can be set from 50 to 70 or 100; however far you want. You can set in custom distances which allows you to essentially put in any distance you want or, you can just select any of the pre-made distances that are pre-programmed in the device.
Once you choose your distances and you dive into the game, each player has five chances at the selected distance and is awarded points based on how close they come to that distance target.
Once you play all the distances, you are then given a total amount of points, and if you're playing against someone else or even if you're playing yourself and trying to see if you can beat a previous record, you will then get a point total to judge your current and previous scores.
Target practice can be very beneficial, and can even help improve irons and wedges, or any statistics that you feel like you need to work on.
Battery Life
The Approach G80 has nearly 15 hours of overall battery life that comes from one full charge. Rather you take the device outside for multiple sessions, play indoors for hours on end, turn the device on and off continuously, you can get a full day of golfing and then some out of one full charge on the Garmin Approach G80.
You do not have to worry about battery performance as you work to improve your game.
Pros and Cons of the Garmin Approach G80
Pros:
Features 3.5" sunlight-readable touchscreen display and slim design with quick button access to radar
Integrated launch monitor tracks clubhead speed, ball speed, smash factor, swing tempo, and estimated distance
Preloaded with more than 41,000 detailed color golf course maps worldwide
Practice and game modes allow you to test your skills and work to improve your game
Rechargeable battery lasts up to 15 hours with GPS
Cons:
Prone to overheating
GPS variants can be skewed without the proper course maps
FAQs
How accurate is Garmin Approach G80?
The GPS on the Approach G80 is incredibly accurate and manages to record data with only slight discrepancies in distances, typically only a handful of numbers off, if at all. The estimated carry function is consistently found to record precisely accurate recordings.
Does the Garmin Approach G80 work indoors?
Yes, you can use your G80 indoors, and this is typically a favorite pastime for those wishing to utilize the virtual round features of the device. Be sure to accurately place the launch monitor onto a golf ball and place it with a clear view of you and your swing in order to get the most accurate readings when indoors.
Does the Garmin Approach G80 require a subscription?
Unlike devices like SkyCaddie, the Approach G80 does not require any sort of subscription to access all of the features available with the device.
Can you use Garmin Approach G80 without a ball?
Yes, you do not need a ball to unlock some of the features available with the G80. You can get accurate data from club head speed and swing tempo without using a ball at all.
Is the Garmin Approach G80 a launch monitor?
Yes, the Approach G80 is both a GPS golf device and a launch monitor all in one. You can use the launch monitor anytime you wish and this will not interfere with any game that you may be working on at any given time.
Does Garmin Approach G80 measure swing speed?
Yes, the Approach G80 can measure swing speed.
How does Garmin Approach G80 measure swing tempo?
The G80 uses radar technology to accurately measure and record swing tempo distances from short or far distances.
Approach G80 Review Summary
The Garmin Approach G80 is one of the premier golfing handhelds in the field of launch monitors, and this is due to the incredible amount of useful features. The GPS, launch monitor accessibility, and overall features are all first-rate.
Rather you want to play a handy virtual round that allows you to compete and play in a tournament or, target practice that allows you to work on different parts of your game for short and long drives, this product is well worth its substantial price tag.
Check out other related posts: