Garmin is fast-becoming the Rolex of fitness smartwatches. This is certainly due to the high quality and distinctive features of each watch but also because Garmin consistently releases new models and series with each passing year. Of all the Garmin watch lines, the Fenix and Forerunner lines are arguably the most popular, and with so many useful features, it's easy to see why.
Which GPS smartwatch is best for you? Garmin Fenix or Forerunner?
The Garmin Fenix Series is perfect for users who primarily undertake rugged, outdoor fitness activities across multiple sports. The Garmin Forerunner Series is a more lightweight and easily accessible line of smartwatches that is geared towards fitness enthusiasts of a more normal and less-rugged outdoor terrain.
Both the Garmin Fenix and the Garmin Forerunner Series will appeal to users who want the same kinds of features but in more targeted ways. You won't need a Forerunner if you will be training in the mountains, just as a Fenix would be overkill for basic sporting activities or even triathlons. This guide will explore both lines through an analysis of each line's key features.
Read on to find out the best models in both the Garmin Fenix and Forerunner product series.
What Is the Difference Between Garmin Forerunner and Fenix?
The Garmin Forerunner Series and the Garmin Fenix Series are two different Garmin models that basically set out to achieve the same goal: to provide expert fitness tracking with superb quality and targeted user needs. The Garmin Fenix Series includes all of the normal Garmin watches features like GPS navigation, performance tracking, and sleep monitoring but aims the targeted use of the line's watches to those seeking outdoor adventure.
Battery life is significantly amplified in the Fenix Series, with solar charging lenses and a more innovative screen resolution design. Fenix models are for those who spend lots of time outdoors, long beyond simple training sessions. For those who are seeking a more streamlined and less rugged watch that still includes notifications and advanced training features, this is where the Forerunner line truly shines.
The Garmin Forerunner Series makes running, cycling, and swimming a truly convenient process, and you can have all of the conveniences that you get indoors with a treadmill outside in the great wide open. The GPS sensors in Forerunner models are advanced but not overwhelming like in the Fenix Series, with Glonass and Galileo now improving upon the bare GPS features on some of the previous models.
During your chosen activity with either the Fenix or Forerunner, you can simply look down at your watch to see your pace, distance, and elapsed time. Simply press the lower buttons if you wish to see what your current heart rate is and to change different intervals to make note of any special laps or milestones you want to keep track of during your training session.
You may be interested in: Best Garmin Running Watches
If you are seeking a more lightweight watch, then the Forerunner line is certainly going to earn high points with you. Forerunner's feel light as a feather on the wrist, and you do not have to worry about the watch degrading due to sweat or moisture or vigorous movements.
Signals and milestones are called out and alerted in both series, which means that you do not have to constantly lift the watch to your face and press buttons to see the progress you are making. This convenience is one of the hallmarks of the Garmin Forerunner Series, and each model aims to make the process of checking stats easy and comprehensive, therefore, you can focus on your fitness performance without many distractions.
With all of these convenient features in play, the Garmin Forerunner Series is certainly a line worth considering if this is your first model. It also makes an attractive upgrade if you are looking to upgrade your Garmin watch. But the real upgrade choice is to consider a watch in the Garmin Fenix Series. Both Garmin Forerunner and Fenix will provide you with expert features for performance tracking, albeit in different ways and designs.
Which Garmin Fenix Should You Buy?
Nearly all sales in the Garmin Fenix Series are concentrated in the Fenix 5, Fenix 6, and the Instinct Series. Each series is similar in terms of its intended use for rugged outdoor terrain, yet each series is different in terms of what features it offers. Let's take an in-depth look at each watch. We will start with the Garmin Fenix Series since this is the line that offers some of the top models in the Garmin product line as a whole.
If you like to do your multisport activities strictly outdoors or, if you want a watch that can harness the power of the sun for long battery life (Fenix 6X Pro Solar), then the Garmin Fenix 6 is the watch series for you. This watch series puts no limits on how far you can train and includes additional features to track performance metrics in high elevation. The Fenix 6 Series comes in 3 different models, The Fenix 6 Pro, Fenix 6 Pro Sapphire, and the Fenix 6X Pro Solar; all 3 watches have similar features across various aesthetic differences.
A first-of-its-kind pace pro feature helps keep your pacing strategy on track, providing grade-adjusted guidance as you run a course. You'll even have preloaded topo maps and ski maps for more than 2,000 worldwide ski resorts. Other highlights of the 3 models include enhanced wrist heart rate, smart notifications, pulse ox sensing, Garmin Pay contactless payments, and more.
This series is designed for all-day wearability, which makes it the ultimate watch for triathletes as well. Additionally, a customizable power manager mode lets you see and control how various settings and sensors impact battery life. There's even a new expedition mode that provides an ultra low-powered GPS mode that will last for weeks.
Essentially, this is the best Garmin watch for outdoor professional athletes who spend hours outdoors and prefer to train off the grid.
All Fenix 5 Series watches are packed with sophisticated training features to help monitor your form and performance. You can tap into physiological metrics, running dynamics, and more to track your workout stats, measure your progress, and fine-tune your form. Training status protocols of the 5 models in this line (Fenix 5, Fenix 5S, Fenix 5S Plus, Fenix 5X, Fenix 5X Plus, and Fenix 5 Plus) automatically evaluate your recent exercise history and performance indicators to let you know if you're overtraining, maintaining, or peaking.
An anaerobic training effect metric helps you see how your training is improving your ability to push the limits. You can also view your overall training load, which measures your exercise volume from the last 7 days and compares it to the optimal range for your fitness and recent training history. Special preloaded activity profiles are provided for swimming, running, biking, hiking, skiing, rowing, paddleboarding, and more.
For added motivation, you can download advanced workouts and training plans from Garmin Connect. Every Fenix 5 Series watch features multi network (GPS, GLONASS, and Galileo) satellite reception to track in more challenging environments than GPS alone. In addition to map-based guidance, each watch also provides a set of ABC (altimeter, barometer, and compass) sensor capabilities for outdoor navigation. The built-in altimeter provides elevation data to accurately monitor ascent and descent for activities such as hiking, while the tilt-compensated three-axis electronic compass keeps your bearing — whether you're moving or not.
When the terrain gets steeper and you have some serious climbing ahead, the Garmin Fenix 5 Series has special ascent features that can really help. The ClimbPro page provides real-time information on current and upcoming climbs. See the climb gradient, distance, and elevation gain for each ascent segment as well as a progress marker that shows how much farther you have to go. On strenuous climbs, a helpful Pulse Ox Acclimation sensor provides additional information. This sensor uses light beams to gauge the absorption of hemoglobin in your bloodstream, so you can assess how well your body's oxygen levels are adjusting to the thinner air at higher altitudes.
Crafted of premium-grade materials, each watch in the Garmin Fenix 5 Series is available in a variety of finish choices, including PVD-coated stainless steel bezel with a treated silicone watch band, or for those who want the comfort of a lighter weight metal that's 30% stronger than steel. On either version, a bright, high-resolution, full-color Garmin Chroma Display with LED backlighting assures great readability in all ambient conditions. And transflective technology that reflects and transmits light at the same time enables the watch face to become even more readable under intense sunlight. For added scratch resistance, all Garmin Fenix 5 series models incorporate a high-strength domed sapphire lens.
The Fenix 6 Series is amazing if you train in rugged terrain, but the line of Fenix 5 models are great if you want to go rugged or train locally on slower days.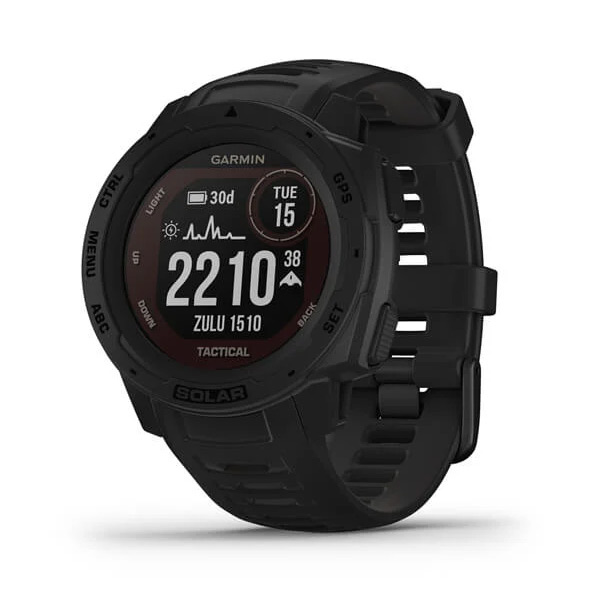 In keeping with the solar-charging seen in the Fenix 6 Pro Solar (this is a common inclusion in many advanced models), the biggest standout of the Garmin Instinct Series is the inclusion of advanced performance tracking features through solar-powered GPS. Many of these, such as MGRS (military grid reference system), is perfect for outdoor enthusiasts who take adventures into rugged mountains or tough terrain.
When it comes to performance tracking capabilities, the Garmin Instinct line has features that could make any outdoor survivalist proud. The Instinct line is essentially one watch that is available in many different variations, with the standout model being the Garmin Instinct Solar.
The Garmin Instinct Solar has standard GPS, Glonass, and Galileo. When combined with the solar charging lens of the watch, GPS accuracy and power are top-notch in this watch. The GPS also syncs seamlessly to other performance tracking features to present detailed data based on location for a variety of activities. Overall, the GPS of this watch is in line with most GPS watches designed for use in rugged terrain.
In addition to flawless GPS, one of the main features of the Instinct Solar is definitely the power of the battery. This model is designed for solar power charging capabilities, which are activated by UV rays with adequate outdoor experiences. You can now enjoy longer periods outdoors without having to worry about quickly finding a charging station to keep your watch running.
You will get nearly all of the same features of the Instinct Solar in the regular Instinct models as well, so why not opt for the model that has the best battery life of the series?
Key Fenix Series Features
3-axis compass, gyroscope, and barometric altimeter readings. The navigational capabilities of the Fenix 6 Series are given a superior upgrade with a three-tiered compass that complements the GPS functionality, as well as a gyroscope for enhanced health readings and performance suggestions, and the inclusion of a barometric altimeter for elevated performance statistics.
Innovative GPS. With the Garmin Fenix 5 and 6 Series, you can now have all of these great GPS features like pace, distance ran, and customizable intervals that light up with frequency during your run. Gone are the inconveniences of having to keep a mental note of your distance running.
Adaptive training. Another standout feature of the Fenix 5 and 6 Series is the adaptive training plans through a Garmin coach of your choice are available to help guide you through your run. The Fenix 6 Pro, in particular, is one of the watches that includes this convenient coaching, which works well to help you reach your goals on those days when running or any fitness regime seems like a chore.
Interval training tracker. The Garmin Fenix Series allows you to track your intervals with accurate and real-time notifications. This is incredibly helpful if you will be tracking the number of steps or runs you will be taking either daily or during a fitness session. Additionally, the timer allows you to see exactly how long you have spent on an activity, which can also be tailored to specific movements.
Heart rate monitor. Many watches that are fashioned for runners and joggers promise technology that can monitor your heart rate, yet this can be an inconvenience in most models. With the Garmin Fenix Series, the smart technology keeps in sync with your heart rate through your wrist, which displays on the screen for easy monitoring with more advanced readings that are exclusive of the Fenix line.
---

Which Garmin Forerunner Should You Buy?
The Garmin Forerunner Series has many more available models to choose from. The Forerunner product line is also nicely balanced in terms of entry-level, intermediate, advanced, and multisport models. There is a watch for whatever your fitness level falls at. Let's take a look at some of the best Forerunner watches based on your fitness level.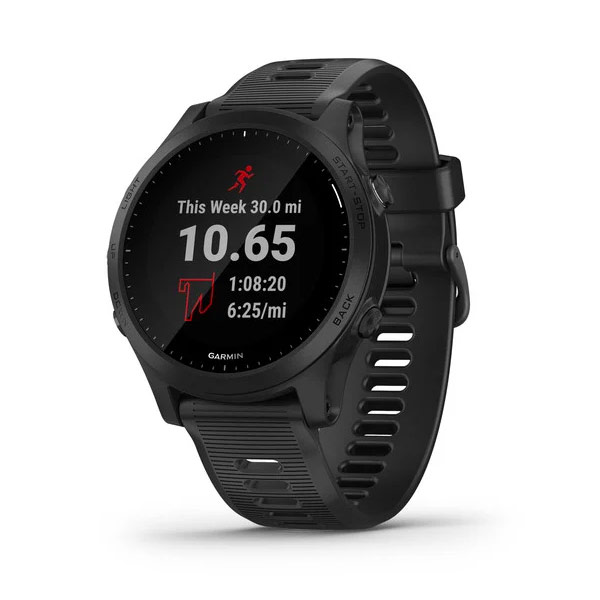 The Garmin Forerunner 945 monitors your overall performance in key activities and can even offer personalized insight, so you can train smarter, not harder. The Garmin Forerunner 945 is one of the star watches of the Forerunner series and a standout in sports watches overall.
The smartwatch tracks your VO2 max and adjusts the value based on heat and altitude. Training status evaluates your recent fitness history and performance indicators to let you know if you're training productively, peaking, or overreaching. You can see how your workouts influence the development of endurance, speed, and power with aerobic and anaerobic training effect feedback, even from quicker and less-intense training sessions.
Recovery time helps you maximize the benefit of your efforts by predicting when you will be ready for your next tough session. You can even view your overall training load, which measures your exercise volume from the last 14 days and compares it to the optimal range for your fitness and recent training history. Additionally, the new Garmin Forerunner 945 training load focus sorts your recent training history into different categories based on activity structure and intensity.
The Garmin Forerunner 945 has 14 days of battery life, which is one of the major points of interest for many users. This model is the pinnacle of the Forerunner series and is certain to meet whatever fitness need you may have.
Pros:
Performance monitoring features include Vo2 Max and training status with adjustments for heat, altitude Acclimation status, training load focus, recovery time, and aerobic and anaerobic training effects
Full color, onboard maps guide you on your run so you never get lost during your workout
Safety and tracking features include incident detection (during select activities) which sends your real-time location to emergency contacts through your paired compatible smartphone
The battery life lasts up to 2 weeks in smartwatch mode, 10 hours in GPS mode with music, or up to 60 hours in ultratrac mode.
Cons:
Spotty connectivity issues may require frequent power cycles to refresh
---

No training session is ever truly complete without a watch that allows music storage, and these 2 watches are all about music. The Forerunner 245 and 645 Music has the added convenience of having up to 500 audio files to play at random. Gone are the days of having to use a separate device to hear all of your favorite fitness songs, you can listen with ease during your ride with these models.
The Garmin Forerunner 245/645 Music is also beneficial if you need some enhanced training during your fitness sessions. The Garmin Coach feature recommends status, effect, and insight dynamics into your training history and how it corresponds to any new goals you wish to reach, as well as insights into future recommendations that can then be broken down into distinct categories to ensure that you are dedicating the proper amount of time to each training session.
The battery life of the Forerunner 245/645 Music is also impressive. You can get up to 24-hours of battery life when running the watch in GPS mode and a week when running the watch in regular smartwatch mode.
The Forerunner 245/645 Music has most of the capabilities of the other models I have mentioned with the added benefit of improved music accessibility. But these models are also great for so many other types of activities as well. The Forerunner 645 Music lets you change things up with ease, thanks to built-in activity profiles for running (indoor/outdoor), cycling (indoor/outdoor), swimming, elliptical, paddle sports, and strength training.
Either watch will certainly make a fine choice if you simply cannot decide between which model. The main differences between the Forerunner 245 and 645 Music are in additional sensors. The Forerunner 645 Music has a few more useful features for elevation tracking (barometric altimeter) and a gyroscope feature.
Pros:
Easily download up to 500 songs to your watch, and connect with Bluetooth headphones for phone-free listening
Syncs music from select streaming services for offline listening
Provides advanced running dynamics including ground contact time balance, stride length, vertical ratio, and more
Uses estimated wrist-based heart rate data to offer performance monitoring features, including evaluating your current training status
Cons:
---

The Garmin Forerunner 35 is slim and lightweight, which is perfect for daily runs, training, and racing. It features built-in wrist-based heart rate as well as GPS that tracks your distance, pace, intervals, and more. And since all these stats are captured by the watch, your watch is all you need — no phone, no chest strap. Just put on the Forerunner 35 and go.
You can monitor key aspects of your running and fitness progress by tracking distance, calories, pace, and more. The elevate wrist heart rate technology monitors your heart rate at the wrist 24/7 so you can run without a chest strap. When paired with a compatible smartphone, Forerunner 35 pulls text, social media, and other notifications, and it alerts you on your wrist. Going on runs with walking breaks is easy, thanks to the run/walk mode.
Let your watch tell you when it's time to slow down or speed up. Stay fit, stay connected, and share your progress with Forerunner 35. It also doubles as an all-day activity tracker to give you steps and calories. You can meet your fitness goals with help from various Sport profiles, intervals, and vibration alerts to keep you motivated, and useful features such as auto pause and run/walk activity mode.
The Garmin Forerunner 35 running watch has what you need to take your running to the next level. It is the absolute best choice to introduce yourself to the Forerunner line, and the inexpensive cost is also convenient.
Pros:
Built-in GPS built in to acquire satellites quickly to track how far, how fast, and where you run, even under tree cover. No phone required
24/7 heart rate monitoring warm gives you heart rate all day and night
Vibration alerts helpful vibration alerts notify you of running prompts, activity tracking milestones, smart notifications, and virtual pacing progress.
Updated display new high resolution display that is perfect for indoor/outdoor viewing. Fits wrists with a circumference of 140-200 millimeter
Smart connectivity auto uploads, smart notifications, live track, music controls, and automatic SW updates
Cons:
---
Key Forerunner Series Features
V02 Max. This feature is useful for measuring the amount of oxygen you use during exercise. This is perfect for such a high-intensity activity as running as it gives you a performance recommendation as well as a health indicator.
Glonass and Galileo GPS. These GPS indicators track pace, distance ran, and customizable intervals that light up with frequency during your run. Gone are the inconveniences of having to keep a mental note of your distance running.
Accessible interface. With the Forerunner series, you can simply press one of five convenient buttons to see everything that you need to see during your fitness session.
Additional Activity Profiles. Most models in the Forerunner line contains innovative and detailed activity profiles that are now expanded for swimming, running, bicycling, and triathlons. These are all part of the profile selections that you can pick from in many Forerunner models. This feature also includes a range of recommendations if you wish to have some ideas to change up your fitness routine.
Triathlon ready. There are some superior Garmin watches for triathletes but the Forerunner series certainly set the bar high and covers all the basics. The Forerunner line is packed with improved features to measure cadence, ground contact time, stride lengths, and all of the capabilities that sync with accurate heart rate readings and performance statistics.
FAQs
Is the Garmin Fenix 6 accurate?
The GPS accuracy on the Fenix 6 Pro is recalibrated and improved upon from the earlier Fenix models. The navigation and GPS reader can accurately record positions for upward of 3-10 meters. A strong satellite signal is essential.
Which Garmin Fenix is best?
In terms of available features and advanced technology, the Fenix 6 Pro Solar is the best of the series. This edition has a bigger and more comfortable display. Additionally, solar technology makes for incredible savings and convenience for the battery life of the watch.
Should I get Fenix 6 or 6X?
The Fenix 6 Pro Solar is a variant in the Fenix line that focuses on solar technology for longer battery life. The Fenix 6X Pro has a large display screen and the manual controls are a bit easier to navigate. It all depends on which feature you prioritize the most.
Is the Fenix 6 too big?
The Fenix 6 Pro Solar is not uncomfortably big. The lens is, in fact, larger, but this is essential to incorporate solar technology for the battery. Many users report that the size of this model strikes a nice, mid-range balance between small and large.
What is the difference between Garmin 235 and 245?
The main difference between the Forerunner 235 and 245 models comes down to size. The Forerunner 235 is a bit larger in its case dimensions at 45mm, while the Forerunner 245 is smaller and more compact at 42mm.
Is the Garmin Forerunner 245 better than 645?
The Garmin Forerunner 245 Music is going to appeal to consumers who wish to have the enhanced music storage features for a much lower price than what is seen with the Forerunner 645. Additionally, the Forerunner 245 Music has many of the same features seen in the 645 models.
How do you listen to music on a Garmin Forerunner 245?
Listening to music on the Forerunner 245 Music can be done by simply holding down any of the buttons to pull up the music controls. You can then select the music control panel and choose to listen to your music by selecting my music.
How does Garmin 245 Music work?
The Garmin Forerunner 245 Music storage works by allowing you to download music from a device or from one of the supported app syncs, like Spotify and Deezer. Once you are inside the Garmin app, there are protocols that allow you to sync music to your watch which is then available for up to 500 songs.
Final Thoughts
In summary, the best way to think of the Garmin Fenix Series is to think of rugged, outdoor adventures like mountain biking, hiking, or even military-style training in the wilderness. The Fenix Series is not going to appeal to all users, and many of its advanced features may feel like overkill. This is where the more accessible Garmin Forerunner Series makes up the difference.
The Forerunner Series is smaller and more lightweight, and still has many of the quality features you can find in the more advanced Garmin Fenix series including activity-tracking features, training status, and a wide range of useful health monitoring statistics. As to which series you should consider making a purchase from – this is all based on the type of outdoor activities you frequently engage in.
I would say that the Garmin Fenix 6 Pro Solar is the best model in the Fenix line based on its excellent sensor-tracking capabilities and battery power. For the Forerunner line, the Garmin Forerunner 945 is perhaps the best representation of the Forerunner Series in general.
First time here?
You may also be interested in some of our other related and popular posts: