Triathletes need a watch that can track a wide range of sporting and training activities. But a watch that can improve upon these basics and provide specific features for a triathlon can be found in select Garmin watches. Triathletes need a watch that can record transitions, time, distance, and GPS accuracy at an expert level, and Garmin can offer all of this and more.
Since there are many multisport watches, what is the best Garmin triathlon watch?
The Garmin Fenix 5 Plus is the best GPS triathlon watch in terms of advanced performance tracking features. This watch is equipped with special features that respond to fitness activity in a specialized triathlon mode, which is useful for triathletes who regularly engage in multisport activities and competitions.
This guide offers you a detailed survey of 5 of the best Garmin watches for triathletes. Each watch has different features and levels of accessibility and comfort, therefore, a review of what fitness level each watch is better suited for will also be included. Read on to find out more about the best Garmin watches for both casual and professional triathletes and to discover which Garmin watches are best for triathlons.
Best Garmin Triathlon Watches (updated for 2021)
What can a Garmin watch provide a triathlete? The answer is quite a bit, certain Garmin watches are available that feature multisport performance and health tracking. But for a triathlete, that is not always enough; not to mention, a basic multisport watch is not always convenient for tracking, measuring, and evaluating comparisons across different activities.
Each of these 5 featured watches can accurately track miles and distances covered, detailed performance metrics across a range of fitness and health categories, including sleep, as well as helpful features through the Garmin Connect App such as Garmin Pay and enhanced performance tracking that you can easily compare across activities.
Since each watch is diverse in terms of battery power and GPS capabilities, the process of selecting which triathlon watch is best for you depends on the types of activity you will mainly do with the watch. But if you primarily only do two activities at most or, a full-scale triathlon, each model offers top-tier performance tracking. Additionally, some of these watches have convenient competition tracking features. Let's take a look at each watch more closely.
In my experience, the Garmin Fenix 5 is the holy grail of triathlete watches. This watch goes far beyond just being a multisport watch and is the most convenient triathlon watch in the Garmin line. The Fenix 5 is packed with sophisticated training features to help monitor your form and performance. Enhanced readouts for training status and training effect shows aerobic and anaerobic benefits of your workout across different sports and activities.
The VO2 max estimator crunches data, including your running, swimming, and cycling speed, beats per minute, and heart rate variability, to estimate the maximum volume of oxygen you can consume per minute. Additional fitness metrics include a recovery advisor with a recovery timer and recovery check, plus a race predictor that estimates your ideal finish time based on your current VO2 max number. Whatever sport you want to track, Fenix 5 has it covered with built-in multisport activity profiles and performance metrics plus smart notifications.
Pros:
Premium multisport GPS watch with elevate wrist heart rate technology
Fit for the outdoors with rugged design that features stainless steel bezel, buttons, and rear case
Put key stats at your fingertips with the performance widget that shows the effects and progress of your workouts
Connected features include smart notifications, automatic uploads to Garmin Connect online fitness community, and personalization through free watch faces and apps from our Connect IQ store
Outdoor sensors, including GPS and GLONASS satellite reception and 3-axis compass with gyroscope and barometric altimeter that are perfect for triathletes
Cons:
Pace calculation feature can be erratic
Expensive
---

The Garmin Forerunner 945 is also at the top of the selection bracket for its amazing triathlete-ready features. Whether you're training for a marathon or something even longer, you can create your own custom workouts, or download free ones that sync right to your watch. Forerunner 945 also supports Garmin Coach adaptive training plans, which is a great way to receive further guidance or motivation for multisport activities.
As part of your training plan, it can even help you predict your race time and offer many different types of activities. It features an estimated wrist-based heart rate and a wrist-based pulse ox sensor that monitors blood oxygen saturation levels to support advanced sleep monitoring and altitude acclimation.
You can even view your overall training load, which measures your exercise volume from the last 7 days and compares it to the optimal range for your fitness and recent training history. As an added benefit, this Garmin watch comes equipped with convenient music storage, which can bring increased stimulation rather you are doing one activity or an intense triathlon.
Pros:
Premium GPS running/triathlon smartwatch with music
Download songs to your watch, including playlists from Spotify, Amazon Music, or Deezer
Performance monitoring features include Vo2 Max and training status with adjustments for heat, altitude Acclimation status, training load focus, recovery time, and aerobic and anaerobic training effects
Full color, onboard maps guide you on your run so you never get lost during your workout
Safety and tracking features include incident detection during select activities which sends your real-time location to emergency contacts through your paired compatible smartphone
Cons:
Battery life can deplete quickly when running multiple features and music
Bluetooth connectivity is erratic at times
---

The Garmin Forerunner 735XT is also a solid choice for triathletes. This GPS running watch with multisport features has a wrist-based heart rate tracking so you can run freer on race day. For advanced running dynamics, VO2 max, and more, add the chest strap and train your heart out.
Best of all, these features are compatible across multiple types of sports and activities. Whether you're training for your first 5k or your first marathon, we have a training plan for you. With professional expertise, we've crafted a variety of 12-week training plans suited for all levels and distances. For real-time coaching, you can even schedule the workouts and send them to your Forerunner 735XT.
The Forerunner 735XT is not the most advanced Garmin triathlon watch, but the innovative features and superb racing dynamics will serve efficient needs for a triathlon.
Pros:
GPS running watch with multisport features
Estimates heart rate at the wrist so you can run freer on race day.Shock resistant. Battery life in smartwatch mode lasts up to 11 days. GPS mode for up to 14 hours. UltraTrac mode up to 24 hours without wrist heart rate
Provides advanced dynamics for running, cycling, and open water swimming, including ground contact time balance, stride length, vertical ratio, and more
Offers VO2 max estimate, lactate threshold (when used with a chest strap heart rate monitor), race predictor, and recovery advisor
Features smart notifications, automatic uploads to Garmin Connect, live tracking, and more
Cons:
Optical heart rate sensor is prone to glitches
---

The Garmin Forerunner 245 is a bit similar to the Forerunner 945, but the benefits for triathletes are decent enough for a bit lower price tag. For triathletes, the Forerunner 245 offers personalized training and recovery insight for smarter training decisions, helping you prepare for your next race.
It keeps tabs on your VO2 max and understands how heat and altitude impact your performance. The higher your VO2 max, the higher you can expect to perform, which is exactly what is shown by the performance condition metric. Training status evaluates your recent exercise history and performance indicators to let you know if you're training productively, peaking, or overreaching.
You can see how your workouts influence the development of endurance, speed, and power with aerobic and anaerobic training effect feedback. The Forerunner 245 watch also has the tools you need to improve your training form. The watch measures crucial running metrics such as cadence, stride length, ground contact time and balance, vertical oscillation, and vertical ratio. These measurements are the key to understanding your form, so you can bring your best in every sporting activity and at every race.
Additionally, your Forerunner 245 Music can start tracking these metrics with the addition of a compatible heart rate strap or the compact Running Dynamics Pod, which clips right onto your waistband. Featuring guidance from expert coaches and free training plans that adapt to you and your goals, it's a foolproof way to get to the finish line. As part of your training plan, it can even help you predict your race time.
What about when you want to switch it up? Forerunner 245 also has triathlete-friendly activity profiles for cycling, pool swimming, indoor rowing, and even for using the elliptical or stair-stepper. Forerunner 245 is an excellent choice.
Pros: 
Evaluates your current training status to indicate if you're undertraining or overdoing it; Offers additional performance monitoring features
Get free adaptive training plans from Garmin coach, or create your own custom workouts on our Garmin Connect online fitness community
Safety and tracking features include incident detection (during select activities) which sends your real-time location to emergency contacts through your paired compatible smartphone
Cons:
GPS syncing can be glitchy
The heart rate monitor is also prone to glitches
---

If you like to do triathlons outdoors, and you want a watch that can harness the power of the sun for long battery life, then the Garmin Fenix 6 Pro Solar is the watch for you. This watch puts no limits on how far you can train and includes additional features to track performance metrics in high elevation. Its unique power-replenishing feature extends battery life, so you'll have more on-wrist time to enjoy the watch's color mapping, music streaming, and other advances.
A first-of-its-kind pace pro feature helps keep your pacing strategy on track, providing grade-adjusted guidance as you run a course. You'll even have preloaded topo maps and ski maps for more than 2, 000 worldwide ski resorts. Other highlights include enhanced wrist heart rate, smart notifications (when paired with a compatible smartphone), pulse ox sensing, Garmin Pay contactless payments, and more.
This watch is designed for all-day wearability, which makes it the ultimate watch for triathletes. Additionally, a customizable power manager mode lets you see and control how various settings and sensors impact battery life. There's even a new expedition mode that provides an ultra low-powered GPS mode that will last for weeks.
Essentially, this is the best Garmin watch for triathletes who spend hours outdoors and prefer to train off the grid.
Pros:
Solar Powered Multisport GPS watch with large 1.4 inches display that uses the sun's energy to extend battery life and assure more on-wrist time for your off-grid activities
Train with a rugged yet sophisticated watch, featuring 1.3 inches display and titanium, stainless steel or DLC coated bezel
Upgraded activity profiles now let you track more, such as specialized grit and flow measurements while mountain biking
Get improved performance data to help you endure tough challenges, including the acclimation 2.0 widget to analyze additional data and see how your body is holding up to the current elevation
Navigate the outdoors with preloaded TOPO maps, ski maps for 2,000 worldwide ski resorts, multiple global navigation satellite system (GPS, GLONASS, and Galileo) support, and built-in sensors for 3-axis compass, gyroscope, and barometric altimeter
Cons:
Expensive
Solar power technology requires lots of outdoor activity exclusively
---

Last but not least, there is the Garmin Forerunner 935 as an honorable mention. What's great about the Forerunner 935 is it lets you change things up with ease thanks to built-in activity profiles for running (indoor/outdoor), cycling (indoor/outdoor), swimming (pool/open water), cross-country skiing, paddle sports, trail running, hiking, strength training and many more. For brick workouts and du/triathlon races, the auto multisport feature lets you switch sports with just one button press.
Forerunner 935 will help you monitor your training and recovery so you can better prepare for a race or training cycle.  The training status is a crucial performance monitoring tool for triathletes that automatically evaluates your recent exercise history and performance indicators to let you know if you're training productively, peaking, or overreaching. The anaerobic training effect metric opens a window of insight to a critical dimension of training as this helps to measure muscle strain or stress as well as muscle workout dynamics.
This premium GPS running/triathlon watch helps you fine-tune your training and recovery to be a better athlete. For the competitor in you, it features useful Strava live segments so you can turn every run or ride into a virtual competition. Forerunner 935 also has smart notifications, automatic uploads, and Connect IQ compatibility for custom watch faces and apps.
The standout feature to me is the inclusion of Strava and Strava Premium members can sync running and cycling segments to their 935 for live feedback during their activities. Also get alerts for segment starts and finishes, view leaderboard rankings, and see how your current effort compares to your PR. The Forerunner 935 is a perfect choice for triathletes.
Pros:
Offers advanced running and multisport features in a comfortable watch you can wear all day, and it only weighs 49 grams
Provides elevation changes with a built-in barometer; altimeter and electronic compass help you keep your bearings
Evaluates your training status to indicate if you're undertraining or overdoing it and offers additional performance monitoring features
Provides advanced dynamics for running, cycling, and open water swimming, including ground contact time balance, stride length, and more.
Cons:
Performance tracking analysis for swimming can be glitchy
---
Which Garmin Triathlon watch is the best?
Every watch mentioned above is going to be efficient for triathletes but I have found that the Garmin Fenix 5 to be the best overall based on the convenience provided. The Garmin Fenix 5  is designed with users in mind who want the knowledge that their smartwatch will be able to keep up with a wide range of performance statistics across a triathlon if need be.
This is evidenced by updated and improved features to measure cadence, ground contact time, stride lengths, and all of the capabilities that sync with accurate heart rate readings and performance statistics. Fenix 5 is designed to appeal to a wide range of fitness activities. This includes innovative and detailed activity profiles for open water swimming, running, bicycling, and triathlons, all of which are part of the profile selections that you can pick from with this watch.
This watch also includes a range of recommendations if you wish to have some ideas to change up your fitness routine. Each of these watches will provide great results, but the Fenix 5 goes above and beyond and could very well be the quintessential Garmin watch for triathletes.
Triathlon Watch Buyers Guide
Keep these key details in mind when shopping for a Garmin triathlon watch:
Fitness level. Garmin tailors its watches for beginners, intermediate level, and advanced levels of multisport activities. For example, you will not need a triathlete watch if you are just starting a daily running session and vice versa for just one activity. Be sure to check what fitness level the watch is designed for. There is no need for paying for features you won't need for a while.
Comfort. You may not normally think of a watch as an uncomfortable accessory, yet this can and does change when you are doing intense exercise like a triathlon. Most Garmin GPS watches are designed with silicone bands so as not to cause skin discomfort during perspiration, yet there are some watches that use leather or even metal. Be sure to get the right watch that suits your level of comfort.
Features. It is true that almost any Garmin watch you decide on will have a basic level of performance and GPS tracking features. GPS protocols like GLONASS and Galileo can be incredibly useful when performing a triathlon outdoors and especially in the wilderness. Heart rate monitors are industry standards for fitness-oriented smartwatches. Make sure you check the specs of each watch to ensure it has what you want.
Price. Garmin smartwatches are some of the best in the industry for fitness tracking. The price points can also vary widely across all the different series and models. Beginner's watches will typically be on the lower end of expense, whereas more advanced and feature-packed watches can cost upwards of hundreds of dollars. Know what fitness level you are at and make the best decision based upon what you need the watch for. If you are seeking a triathlete Garmin watch, the prices can vary.
Check for a triathlon setting. You can use this guide to help ensure you are getting a Garmin watch for triathletes. But just to be sure, always make sure it has a triathlon setting in the activity profiles before purchasing. This setting is not mandatory but it will make the triathlon experience so much more convenient.
FAQs
Which Garmin watch is best for a triathlon?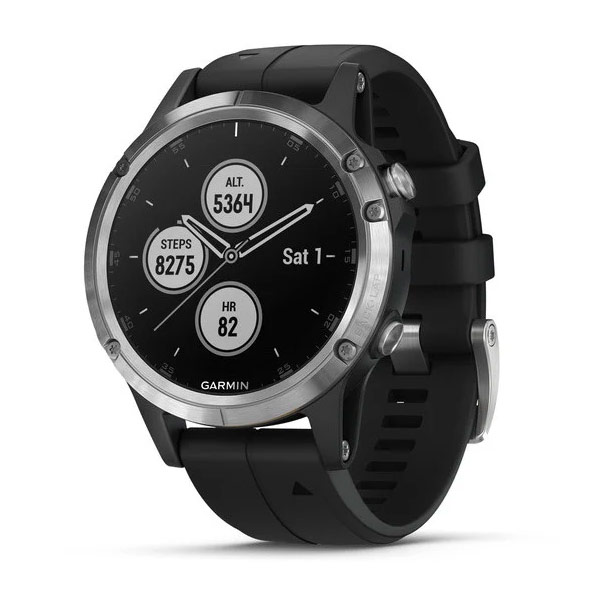 Garmin has many GPS multisport watches but the best of the line is the Garmin Fenix 5. This watch has a built-in triathlon mode that can accurately track triathlete performance specs across swimming, outdoor and indoor cycling, and all forms of running. The triathlon mode can capture important information for triathletes including crucial transition times.
What watch do pro triathletes use?
Professional triathletes will typically look for a watch that has stellar performance tracking features overall. But the addition of a mode within the watch that can track performance across multiple activities such as running, open water swimming, cycling, and a variety of other sports is a key selling point. Also, any features that allow for competition tracks are ideal for professional triathletes.
Is the Garmin Venu good for a triathlon?
The Garmin Venu series of watches are acceptable for triathlon training. With this in mind, there are some negatives about this watch when using it as a multisport watch. Swimming tracking does not compute well with the Venu watch; the model's tracking features do not calibrate and report accurate information due to being underwater. For this reason, another Garmin triathlon watch is a better choice than the Garmin Venu.
Do I need a triathlon watch?
You do not necessarily need a triathlon watch, and no watches are marketed solely for triathlon use. But the convenience of having a watch that can track a wide range of multisport activities with health statistics, performance metrics, and even competition tracking is well worth the investment for these tools alone.
How do I use my Garmin watch for a triathlon?
If you have a Garmin watch that has triathlon mode, such as the Garmin Fenix 5, the first step is to be sure to pair any sensors you may be wearing to the watch. Be sure to allow the watch to scan for the appropriate GPS signals in your area; once this is done you can select the activity you wish to complete or just use the triathlon mode if available. If you have transitions turned on, these will record separately. Use the lap button to resume or choose new activities to be recorded. Once finished, select save.
What is the most accurate Garmin running watch?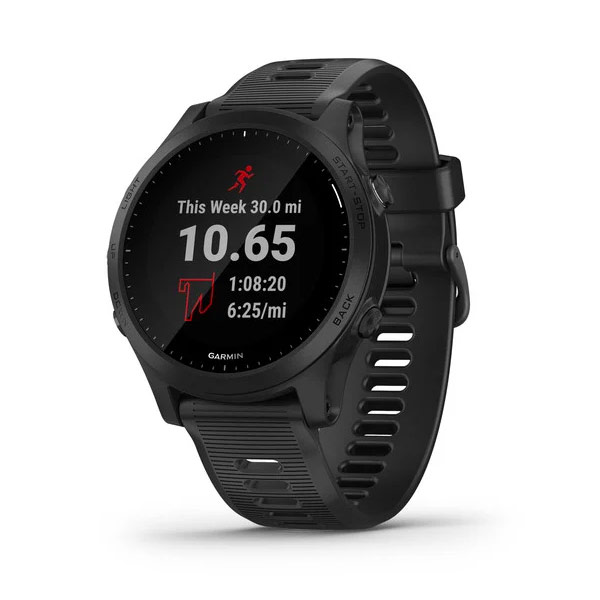 GPS accuracy is important for triathlons and the Garmin Forerunner series is one of the best in the Garmin line for GPS accuracy. The Garmin Forerunner 945 consistently wins high marks in terms of GPS accuracy, innovative performance tracking metrics, and seamless notifications across the Garmin Connect App. The Garmin Fenix Series is also versatile and durable in terms of GPS accuracy when tracking multisport activities outdoors. The Garmin Fenix 5 and the Garmin Fenix 6 Pro Solar are solid choices for syncing GPS accuracy during multiple triathlete activities.
Final Thoughts on the Best Garmin Triathlon Watches
This guide has explored some of the best Garmin watches for triathletes. Each of these 5 smartwatches is loaded with innovative features that track health statistics, performance metrics, and many additional features with the Garmin Connect App. The Garmin Fenix 5 is the standout watch of this guide for its powerful battery and set of advanced performance features including an incredibly useful triathlon mode selection.
With that said, any of these watches will make your triathlon sessions more informative and enjoyable. The Garmin Fenix 5 and the Fenix 6 Pro Solar are the best for outdoor use in terms of battery performance and have all the bells and whistles.
Other GPS triathlon watches worth considering:
Garmin are not the only brand that's popular among triathletes for their training and tracking. Check out these other well known multisport watches: