Garmin is a trusted brand when it comes to golf GPS but there is a wide range of Garmin golf devices that fall into the watch or handheld category. Furthermore, there are even some standard Garmin fitness watches that also offer convenient golf features as an added feature. Since there is a wide canvas of Garmin devices to choose from for Golf GPS, which Garmin watches have Golf GPS?
Garmin GPS golf watches span models that are both tailored to golf specifically and various fitness trackers that feature golf. The Garmin Approach Series is by far the largest selection of Garmin GPS golf watches while the Fenix 6 Pro Solar is the standout Garmin fitness tracker that features golf. 
This comprehensive product roundup will explore the most popular and useful Garmin GPS watches for golf. Each watch has an array of distinctive features that allows it to stand out on its own from the many other Garmin watches with golf. Additionally, this guide will also take a look at one additional golf GPS watch outside of the Garmin brand to round out the comparison. Read on to find out which Garmin watches have golf GPS. 
Garmin GPS Golf Watches
So what is a golf GPS watch anyway? Smartwatches that are made exclusively to track golfing performance or that have an additional golf tracking feature in the form of a wristwatch fall into this varied category. 
No other company makes a golf GPS watch quite as good as Garmin. Whether you choose one of the golf exclusive models in the Approach Series line or, you prefer to have a convenient golfing feature as part of a broader fitness tracker, Garmin has you covered. 
Let's take a model-by-model look at some of the best Garmin GPS golf watches.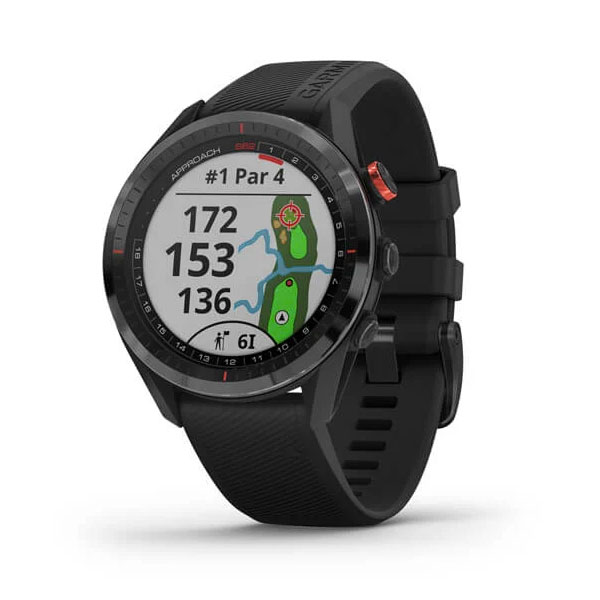 There is no better way to start this guide than with the Garmin Approach S62. Whether you just got done with a game and find yourself in the clubhouse, or you want to hit the town, Approach S62 is great for everyday wear. This watch comes preloaded with more than 41,000 full-color course view maps of golf courses from around the world. 
You can download updates for the course you play most often and the watch even displays wind speed and direction (when paired with a compatible smartphone), which makes figuring out which club to use and which direction to swing much easier. If you like to change watch bands as often as you change your course, no problem, you can choose from interchangeable QuickFit bands. 
With a large 1.3" easy-to-read color touchscreen display you can make your experience that much better. Additionally, you can download custom watch faces, apps, and widgets from the Connect IQ Store, and customize your watch face with any photo from your mobile device. The standout feature for me is the caddie help you can get right on your wrist. 
Virtual Caddie factors in wind speed and direction and suggests a club based on the distance you typically swing with that particular club.
The features of the Garmin Approach S62 are a golfer's dream and that is easy enough to land this watch in the top-recommended position.
Pros:
Large 1. 3" easy-to-read color touchscreen display with scratch-resistant ceramic bezel and interchangeable QuickFit bands
More than 41, 000 full-color CourseView maps preloaded from around the world
Virtual Caddie suggests club based on the typical distance the golfer hits that club, factors in wind speed and direction, and indicates where the golfer should aim at the map
Hazard View allows you to quickly scroll through each hazard on the map
Plays like Distance feature accounts for uphill and downhill shots
PinPointer feature tells you the direction to the pin when you have a blind shot so you can know where the pin is —even if you can't see it
Green View feature allows manual pin positioning; quickly reference distances to the front, middle, and back of the green as well as hazards and doglegs
Cons:
The watch can sometimes sync inaccurate information in chaotic weather conditions
Font can be difficult to read in bright sunlight
Not far behind the Approach S62 and right before exists the durable and innovative Garmin Approach S60; with this watch, you can look good on and off the course. The Approach S60 golf watch gives you the critical information you need for your round that is displayed on a large, 1.2-inch sunlight-readable color touchscreen so you can master your game. And with convenient QuickFit bands, you can change your style without tools to match your activity, so you're always in fashion. 
With up to 10 hours of battery life, while golfing or, up to 10 days in watch mode, your Approach S60 is sure to keep up with you. In fact, you can use it for more than just golfing with preloaded activity profiles for running, cycling, swimming, and more. And with activity-tracking features, including the move bar, vibration alerts, calories, and steps, the Approach S60 will help you stay fit, day in and day out. 
Additionally, you can sync the Approach S60 to your compatible smartphone to get smart notifications for incoming calls, texts, emails, and other alerts. Connect in more ways, too, including the Garmin Golf app, which allows you to compete on leaderboards on over 40,000 courses with friends. You can download custom watch faces, apps, and widgets from the Connect IQ store and customize your watch face with any photo from your mobile device with the Face It app. 
With more sensors to improve detection accuracy, the useful AutoShot game tracking automatically detects along the fairway and records distances for post-game analysis on Garmin Connect. This model is perfect as a slightly less expensive alternative to the Garmin Approach S62.
Pros:
Sleek GPS golf watch that reflects your passion on and off the course. 
Quick Fit 22 mm watch band compatible
Large, 1.2 inches Sunlight-readable color touchscreen display. 
Available outdoor recreation profiles: Skiing, Snowboarding, XC Skiing, Stand Up Paddleboarding, and rowing when you want to give your golf game a break
Quickly get your location using GPS to show precise yardages to greens, hazards, and doglegs, on full-color course maps. 
Bezel material of either polymer or ceramic
Convenient Quick Fit bands for fast style changes without tools. 
Battery life- up to 10 hours in golf mode; up to 10 days in watch mode
More than 40, 000 preloaded courses from around the world. 
Cons:
GPS navigation glitches were improved upon with Approach S62
When it comes to the Garmin Approach S10, the two thoughts that stand out to most golfers are simplicity and comfort. This model is easy to use Garmin golf GPS watch and makes for a lightweight accessory when maneuvering around the golf course. The design pattern of the Approach S10 is lightweight and clear, with easy-to-read data thanks to the ultra-high resolution screen. 
The data resolution displays numbers in large, translucent white coloring, which complements the easy interface controls of the watch. There is nothing worse than being unable to read data while on a bright golf course, and the large font of the data is one of the most popular features of the Approach S10. If you want to stay focused on your game and the course, this is your golf watch. Based on your location, this golf watch automatically chooses the course you're playing from more than 41,000 preloaded courses worldwide with free lifetime updates.
Additionally, it provides yardages to the front, back, and middle of the green as well as hazards and doglegs. Complete a hole, and it automatically transitions to the next hole as you walk from the green to the next tee box. 
The Garmin Approach S10 may seem dated at first view but this watch is still popular for its ease of use and non-confusing reporting of accurate data.
Pros:
The S10 comes with many convenient preloaded maps. The green view, as well as the front, middle, and back, are all conveniently preloaded.
Hazards and doglegs are also easy to view and clear, which provide a means for beginners to have everything they need in full view to master a golf game.
The rechargeable battery included here is another standout feature of the S10. You will be able to play for about 12 hours straight using the golf GPS mode. In the same way, you could extend energy from this battery for two or three weeks approximately. To do this you simply use the clock mode of this unit. This way, you will not be without your watch at any time during the game.
The S10 features a high-resolution monochrome display. 128 x 128 pixels are combined with the appropriate screen size. In this case the screen size of 0.9 inches x 0.9 inches. The total weight of the unit is 36.28 grams.
Cons:
More advanced models are available
Silicone band may not be durable enough for some golfers
The Garmin Approach S20 is the golfing partner that doubles as your everyday watch. I use this watch frequently and I consider it a nice upgrade from the simplicity of the Approach S10 and the advanced features in higher Approach models. The immediate standout feature of the S20 model is the inclusion of the Autoshot round analyzer. 
This round analyzer will measure and record every distance you achieve with stat tracking that can be viewed in the Garmin Connect App. Additionally, the S20 is trusting compatible which allows you to analyze information about your swing that you can then use to improve upon later to achieve your best golf game. On the course, the Approach S20's AutoShot round analyzer tracks shots, measures distance, and records shot locations for post-round analysis on Garmin Connect.
You can view the details for each round or analyze your cumulative stats over time or by the club, and view your swing data. It's never been easier to track your progress and share it with friends. You can even save swing sessions for later review.
Pros:
Activity tracking features that measure calories burned, heart rate monitor statistics, distances covered, and overall fitness tracking are some of the newer features you can expect when purchasing the S20.
Autoshot round analyzer feature is great to use when judging distances to hazards and other important information about your golf game to help you improve your overall performance.
The S10 provides a decent battery performance but the S20 improves upon this feature substantially. The S20 provides 15 hours of battery life whereas the S10 provides around 12 hours. These 15 hours are ideal if you intend to play golf over an entire summer day.
Includes Approach CT10 sensors to improve shot detection on wedges and putter, automatically recording tracked shots on any club; keep score and view stats for shot distances and accuracy to the fairway or green
Cons:
Additional features can be cumbersome to navigate while out on the course
On the first view, the Approach S40 is just an incredible looking GPS golf watch. The Approach S40 GPS golf smartwatch with color touchscreen looks great on your wrist and on the course. It shows distances to the front, middle, and back of the green hazards, and automatically records detected shot distances (lie and ball contact may affect shot tracking).
It also lets you manually adjust to today's pin position for accurate approach shots. With more sensors to improve detection accuracy, the standout AutoShot sensor allows game tracking that automatically measures detected shot distances and records them for post-game analysis on the Garmin Golf app.
You can also sync Approach S40 to your compatible smartphone to receive smart notifications for incoming calls, texts, emails, and other alerts displayed right on your wrist. Simply put, the Garmin Approach S40 is one of the top-tier Garmin golf watches going into 2021.
Pros:
Stylish, lightweight GPS golf watch with a sunlight-readable 1.2" color touchscreen display with metal bezel and quick release bands for easy change of style or color
Preloaded with more than 41,000 courses from around the world
AutoShot detection measures and auto-records detected shot distances; putts are not tracked, and some other shots, such as chips around the green, may not be tracked; pair with optional Approach CT10
Green View feature allows manual pin positioning; quickly reference distances to the front, middle, and back of the green as well as hazards and doglegs
Tracks everyday activities such as steps, sleep and includes built-in multisport profiles
Battery life: up to 15 hours in GPS mode; up to 10 days in smartwatch mode
Cons:
The screen is prone to freezing
GPS may not sync to all types of golf courses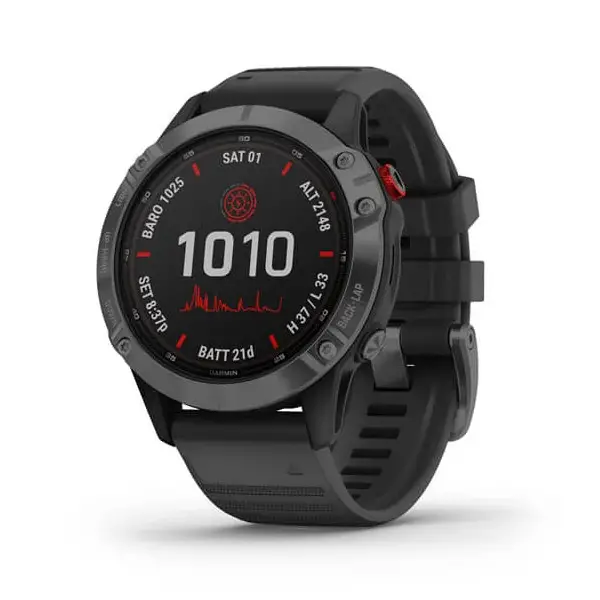 If you are looking for a multisport fitness watch by Garmin with golf tracking, and you want a watch that can harness the power of the sun for long battery life, then the Garmin Fenix 6 Pro Solar is the watch for you. This watch puts no limits on how far you can golf and includes additional features to track performance metrics across a wide range of additional sports. Its unique power-replenishing feature extends battery life, so you'll have more on-wrist time to enjoy the watch's color mapping, music streaming, and other advances. 
A first-of-its-kind pace pro feature helps keep your pacing strategy on track, providing grade-adjusted guidance as you play a course and need expert performance insight into your golf game. You'll even have preloaded topo maps and ski maps for more than 2,000 worldwide ski resorts for when you pursue some non-golf related activities. Other highlights include enhanced wrist heart rate, smart notifications (when paired with a compatible smartphone), pulse ox sensing, Garmin Pay contactless payments, and more. 
This watch is designed for all-day wearability, which makes it the ultimate watch for golfers who prefer to play from sunrise to sunset. Additionally, a customizable power manager mode lets you see and control how various settings and sensors impact battery life. There's even a new expedition mode that provides an ultra low-powered GPS mode that will last for weeks.
Essentially, this is one of the best Garmin watches for multisport tracking and even golf is adequately covered in its vast feature profile. 
Pros:
Solar Powered Multisport GPS watch with large 1.4 inches display that uses the sun's energy to extend battery life and assure more on-wrist time for your off-grid activities
Train with a rugged yet sophisticated watch, featuring 1.3 inches display and titanium, stainless steel or DLC coated bezel
Upgraded activity profiles now let you track more detailed insights into golfing performance
Get improved performance data to help you endure tough challenges, including the acclimation 2.0 widget to analyze additional data and see how your body is holding up to the current elevation
Navigate the outdoors with preloaded TOPO maps, ski maps for 2,000 worldwide ski resorts, multiple global navigation satellite system (GPS, GLONASS, and Galileo) support, and built-in sensors for 3-axis compass, gyroscope, and barometric altimeter
Cons:
Expensive
Solar power technology requires lots of outdoor activity exclusively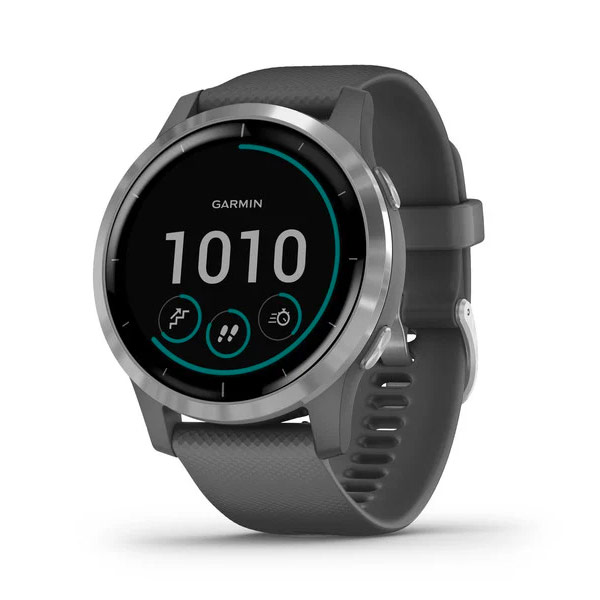 The Garmin Vivoactive 4 is another stellar Garmin watch that is on the smaller end of the size spectrum. When it comes to golfing, you can now use the convenient golf course download feature to log and display your performance specifics and health targets when you are golfing. But the Vivoactive 4 has so much more to offer if you wish to change up your fitness routine occasionally.
If you want swimming mode, this model now has a fully integrated swimming mode performance meter to record your underwater movements and suggest ways to improve to reach targeted goals.
The standout feature is the Garmin Move IQ performance tracker. This feature can automatically detect the type of fitness routine you are performing. Based on this detection, you can view the saved event in your Garmin Connect timelines to let you know the metrics achieved even if you didn't plan on recording the activity which comes in handy if you forget to sync before walking on the course.
The Vivoactive 4 improves upon past exclusions in this popular Garmin line such as the Vivosmart series, and with this in mind, this makes the Vivoactive 4 a great investment for golfers looking for a smaller golf GPS watch with additional fitness activities for variety. 
Pros:
Keeps track of your energy levels
Easily download songs to your watch, including playlists from Spotify, Amazon Music, or Deezer, and connect with headphones for phone-free listening
Record all the ways to move with more than 20 preloaded GPS and indoor sports apps, including cycling, yoga, running, swimming, and of course, golf
Get easy-to-follow, animated workouts right on your watch screen, including strength, cardio, yoga, and Pilates
Up to 7 of battery life in smartwatch mode; Up to 5 hours in GPS and music mode
Cons:
Not a durable design
Not many distinctive golf features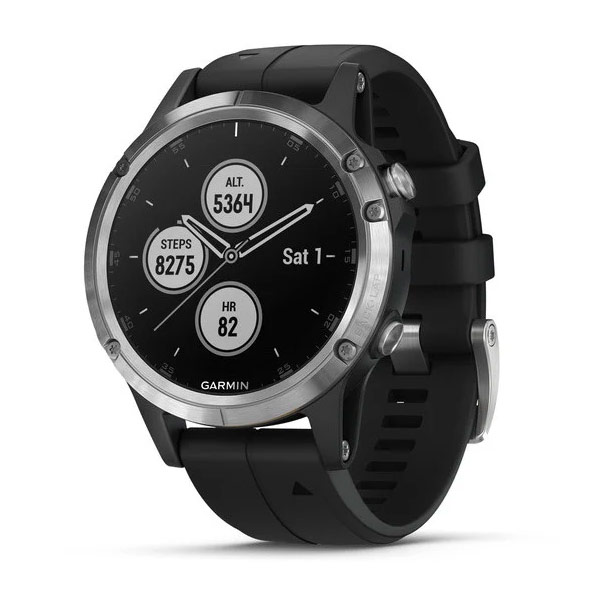 The Garmin Fenix 5 Plus is another standout multisport Garmin watch that has useful golf features along with premium performance and health monitoring. This watch goes far beyond just being a multisport model and is the most convenient golf GPS watch in the upper-tier models of the Garmin line. The Fenix 5 is packed with sophisticated training features to help monitor your form and performance on the golf course. 
Enhanced readouts for training status and training effect shows aerobic and anaerobic benefits of your golfing session that is useful if you are searching for expert health monitoring during your golf performance. The VO2 max estimator crunches data, including your running, swimming, and yes, even your golfing movements through beats per minute, and heart rate variability, to estimate the maximum volume of oxygen you can consume per minute. 
Additional fitness metrics include a recovery advisor with a recovery timer and recovery check, plus a race predictor that estimates your ideal finish time based on your current VO2 max number. Whatever sport you want to track, Fenix 5 has it covered with built-in activity profiles and performance metrics plus smart notifications. The golfing features are comprehensive and this is one of the best Garmin watches to consider if you are curious about your fitness metrics on the course.
Pros:
Premium multisport GPS watch with elevate wrist heart rate technology
Fit for the outdoors with rugged design that features stainless steel bezel, buttons, and rear case
Put key stats at your fingertips with the performance widget that shows the effects and progress of your workouts
Connected features include smart notifications, automatic uploads to Garmin Connect online fitness community, and personalization through free watch faces and apps from our Connect IQ store
Outdoor sensors, including GPS and GLONASS satellite reception and 3-axis compass with gyroscope and barometric altimeter that are perfect for triathletes
Cons:
Pace calculation feature can be erratic
Expensive
Finally, the Garmin Forerunner 945 is a great way to close the golfing-add on watch selections for its amazing golfing-ready features. Whether you're training for a tournament or just a standard golf game, you can create your own custom golf profiles, or download free ones that sync right to your watch. Forerunner 945 also supports Garmin Coach adaptive training plans, which is a great way to receive further guidance or motivation for improving your golf game.
As part of your training plan, it can even help you predict your yardage time and offer many different types of other activities as well. It features an estimated wrist-based heart rate and a wrist-based pulse ox sensor that monitors blood oxygen saturation levels to support advanced sleep monitoring and altitude acclimation. 
You can even view your overall training load be it during golf or one of many other types of fitness activities, which measures your exercise volume from the last 7 days and compares it to the optimal range for your fitness and recent training history. As an added benefit, this Garmin watch comes equipped with convenient music storage, which can bring increased stimulation rather you are playing a casual game or an intense tournament. 
Pros:
Premium GPS golf smartwatch with music
Download songs to your watch, including playlists from Spotify, Amazon Music, or Deezer 
Performance monitoring features include Vo2 Max and training status with adjustments for heat, altitude Acclimation status, training load focus, recovery time, and aerobic and anaerobic training effects
Full color, onboard maps guide you through your game so you never get lost on the course
Safety and tracking features include incident detection during select activities which sends your real-time location to emergency contacts through your paired compatible smartphone
Cons:
Battery life can deplete quickly when running multiple features and music
Bluetooth connectivity is erratic at times
Non-Garmin Alternative Worth Considering
If Garmin just doesn't have what you need (or too much that you don't need), consider the Shot Scope V2 Smart GPS golf watch as a stellar alternative.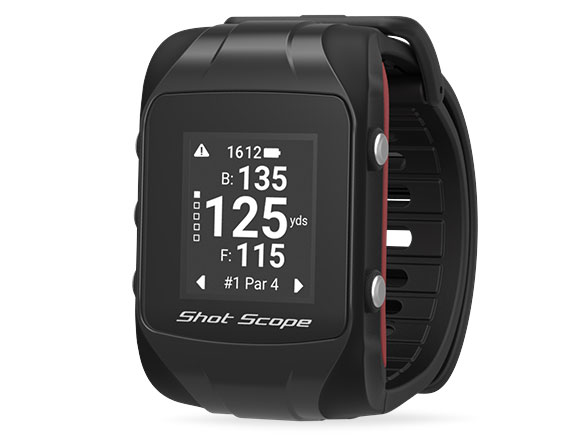 The Shot Scope V2 Smart may not look grand, but it is one of the smartest golf watches available for combining GPS distances with fully automated tour-level performance analysis. You can benefit from dynamic yardages to the F/M/B of the green that moves with you, adjusting to every angle and providing a detailed insight into the course. The Shot Scope V2 Smart also provides the front and back of every hazard which is truly convenient. 
The V2 Smart works on every course worldwide and is completely subscription-free and conforms to the rules of golf. Distances are shown in either yards or meters for ultimate convenience based on your preferred reading preference. The GPS is spot on and helps you pick which irons to use for your approaches to get closer to the pin. 
Additionally, automatic performance tracking gathers data in the background throughout your round. Without having to tag clubs, carry a phone, or deviate from your game, the V2 Smart will gather performance data so that you can learn from how you really play. 
Swings are automatically logged using ClubSense technology so you do not have to record every single time you make a swing. Removing practice swings, this technology will gather the club used and location of every shot and this information will be plotted onto an aerial map of the course.
I highly recommend Shot Scope V2 Smart if you're looking for an accurate GPS and an easy, unobtrusive way to collect and analyze your on-course performance data. Post-round Shot Scope's advanced performance dashboard keeps your game alive once you've left the course with over 100 tour-level statistics and shot-by-shot maps of every round. 
Although this watch may look basic, it was developed by a team of elite golfers to ensure each statistic has been hand-picked to give you maximum areas for improvement. Stats are split into five categories: clubs, tee shots, approaches, short game, and putting.
Not bad for a small and inexpensive GPS golf watch.
Pros:
Inexpensive and easy-to-use
GPS Distances to Front/Middle/Back of green and hazards
Automatic Performance Tracking using Clubsense technology
Free account available on iOS, Android, Desktop
No subscriptions necessary
Cons:
Weak battery life
GPS syncing can be glitchy in bad weather
Which Garmin Golf GPS Watch Is the Best?
Based on expert features and precise GPS accuracy, the Garmin Approach S62 wins every time. This watch has a premium design and the useful round analyzer will measure and record every distance you achieve with stat tracking that can be viewed in the Garmin Connect App.
The fitness tracking offered by this watch is a great way to measure just how much exercise you are getting with a golf game, which can be hard to monitor without a display that keeps track of how hard you are working your body. As previously mentioned, the auto shot round analyzer is perfect to use as a digital scorecard for measuring putts per round and other important dynamics of your golf game.
But the Garmin Approach S20 is not too far behind and is a much better option in terms of shot tracking distance measurement and analysis. The S20 allows you to view your entire game after it is over via Garmin Connect, therefore, you can analyze your performance techniques long after a game has ended, and build upon those techniques to improve your game each time. 
Either choice is top-notch. Furthermore, it can also be said that the Garmin Approach S60 is almost equal to the stellar performance seen with the Approach S62. It's almost an even playing field of superior quality if you choose either of these two models.
Does the Garmin Instinct have golf GPS?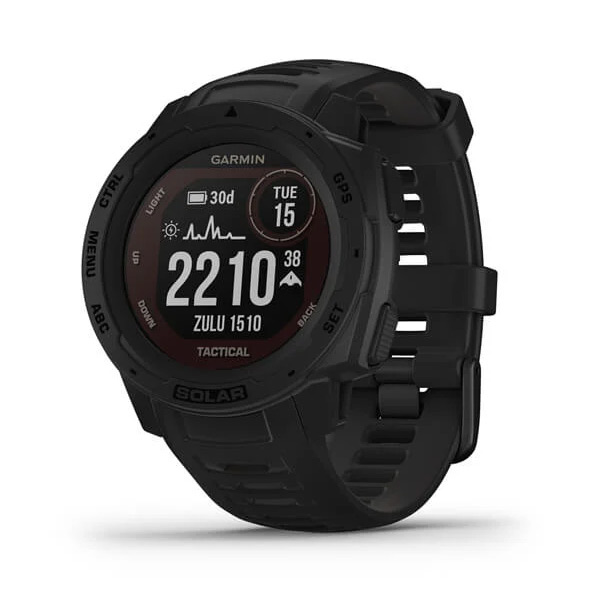 The Garmin Instinct carries many varieties of sports, but golf is not one of the sports seen with this model. The Garmin Vivoactive 4 was later released and includes golfing features as parts of its available sports modes. 
How many years does a Garmin watch last?
A Garmin smartwatch can typically last for upwards of 5 years if the watch is properly updated. The battery life of each model varies but you can typically get several hours of battery in GPS mode and upwards of a week on one charge outside of GPS mode. 
Are golf GPS watches accurate?
A GPS golf watches' accuracy will typically depend on the type of GPS added to the watch. For Garmin GPS watches', GLONASS and Galileo are usually added to models to increase the efficiency and overall coverage area that the watch can navigate. It should be understood that the weather conditions in an area also play a big part in how accurate the GPS syncing will be and a clear view of the sky is always going to give better readings.
What is the best multisport GPS watch?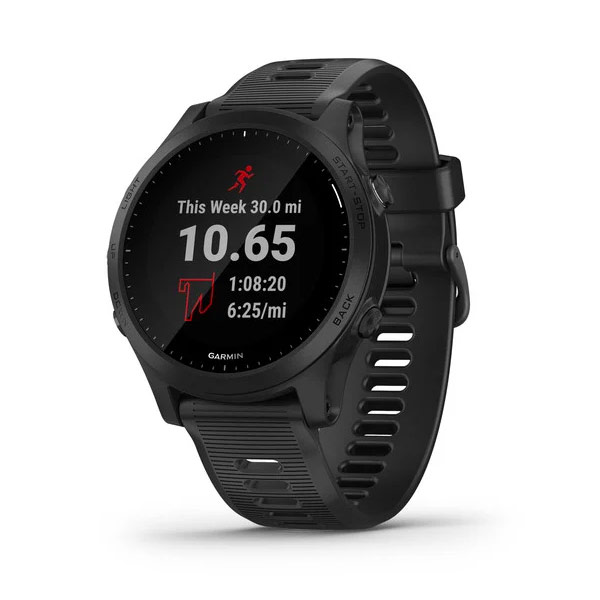 The Garmin Forerunner 945 consistently shows up in the top rankings of GPS smartwatches. With this model, you can run, cycle, swim, and even golf with the same innovative performance tracking features and health statistics. The Forerunner 945 is also comfortable and includes Vo2 Max and training status with adjustments for heat, altitude Acclimation status, training load focus, recovery time, and aerobic and anaerobic training effects.
Final Thoughts
Garmin is hands down the best brand for Golf GPS watches and all of these golf GPS models represent a cross-section of solid watches with superb navigation that is beneficial for your golf game. No matter which watch you choose, any of these models are sure to provide accuracy in yardage, hazards, and even shot distance. Some models are smaller than others and other models provide many benefits that other models may not offer.
The final decision is all based on what you are looking for in terms of comfort, needed features, and most importantly, GPS accuracy based on your overall golfing level. Consider the Shot Scope V2 Smart if the Garmin watches do not have what you need.