The rise of digital technology in the last decade has completely changed how runners evaluate running watches. Long gone are the days of simply having a digital watch that tracks time and distance; runners can now have a full-scale, innovative performance tracking device on their wrist.
Garmin is a company that consistently answers the question of what makes a running watch good, but which Garmin watches are made exclusively for running?
The Garmin Forerunner series is the quintessential Garmin line that designs smartwatches for runners of all fitness levels. The Garmin Forerunner 945 is one of the best Garmin smartwatches because it is designed for triathletes, outdoor trail running, and beginners.
At A Glance
Which Garmin Running Watch Should You Buy?
This guide will serve to offer you a detailed survey of 6 of the best Garmin watches for running. Each watch has different features and levels of accessibility and comfort, therefore, a review of what fitness level each watch is better suited for will also be included. Read on to find out more about the best Garmin watches and which model is the best overall.
The rise of digital technology in the last decade has completely changed how runners evaluate running watches. Long gone are the days of simply having a digital watch that tracks time and distance; runners can now have a full-scale, innovative performance tracking device on their wrist.
Quick Overview: Our Top Picks for Garmin Running Watches
IMAGE
PRODUCT

Our Top Pick

Triathlon ready
Features corning gorilla glass dx
Monitors heart rate

View On Amazon →

V02 Max
Glonass and Galileo GPS
Accessible interface

View On Amazon →

Garmin Forerunner 245 Music

Allows you to control the music playback from your phone
Up to 500 songs or audio data
Prioritizes user safety

View On Amazon →

Great for hiking and mountain running
Comprehensive training plans
Includes convenient coaching plans

View On Amazon →

Built-in sports apps
Waterproof
Elevation tracking

View On Amazon →

Durable lens and battery
Increased water pressure capabilities
Has barometric altimeter technology

View On Amazon →
Garmin Running Watch Reviews
Each of the following Garmin smartwatches is designed to appeal to runners of all fitness levels. Each watch can accurately track miles and steps covered, detailed performance metrics across a range of fitness and health categories, including sleep, as well as helpful features through the Garmin Connect App, Garmin Pay and enhanced performance tracking.
Since each watch is diverse in terms of battery power and GPS capabilities, the process of selecting which watch is right for you depends on what type of activity you will mainly do with the watch. Additionally, some of these models can track a wide range of other activities such as swimming and cycling.
Let's take a look at each watch more closely.
The Garmin Forerunner 45 is one of the earliest models in the Forerunner series. You may be thinking that this makes the watch a bit outdated, yet there are still some great features on this watch that make it ideal for running beginners.
The Forerunner 45 is great for entry-level running but the watch is also capable of tracking basic features such as time and distance for advanced runners as well. This model is also one of the more affordable options if you are on a budget.
Key Features
The Forerunner 45 was originally meant to replace the Forerunner 35, yet there isn't much of a difference between the two models. In terms of comfort, the Forerunner 45 is designed with silicone throughout the band, which prevents all of those sweaty rashes that can come with a leather band.
The watch has pushable buttons, which eliminates the need to go through an app to change settings, you can now interchange settings and customizations through a simple push of a button. This manual customization truly comes in handy when you are in the middle of an intense run.
The performance tracking features are given a makeover with the Forerunner 45 (see on Amazon). The accelerometer effectively measures the force of your movements, and this is true for hard-hitting pavement grinding during fast runs, and if you are simply strolling yourself back home after a vigorous running session.
The gyroscope technology allows you to measure movements and velocity among a wide array of customizable inputs. The Forerunner 45 can measure the movement in your arms, legs, thighs, or even your feet if you wish to know the workout potential of one body part in particular.
The Forerunner 45 is optimal if you are just starting out with daily runs. You will likely also appreciate the ability to track sleeping patterns and the affordable price is certainly a bonus.
Pros:
V02 Max. This feature is useful for measuring the amount of oxygen you use during exercise. This is perfect for such a high-intensity activity as running as it gives you a performance recommendation as well as a health indicator.
Glonass and Galileo GPS. These GPS indicators track pace, distance ran, and customizable intervals that light up with frequency during your run. Gone are the inconveniences of having to keep a mental note of your distance running.
Accessible interface. With this watch, you can simply press one of five convenient buttons to see everything that you need to see during your fitness session.
Cons:
More of an entry-level watch. This isn't a downside by any means but when compared to other models that offer so much more, the Forerunner 45 pales in comparison to some of the successive models.
The inconvenience with notifications. The heart rate monitor and other notifications must be switched to during your fitness routine. This would have been much more convenient to be on the automatic display with other performance intervals.
---
The Garmin Forerunner 945 manages to stand atop the crowded Forerunner line for its multi-purpose capabilities for virtually any fitness level. The Forerunner 945 can be used by triathletes, beginners, track and trail runners, and even those who are brand new to daily running.
The Forerunner 945 is just as capable of measuring basic performance metrics as it is for measuring full-scale triathlons. This customization on such a wide scale is what makes it one of the best running smartwatches.
Key Features
The Forerunner 945 is all about convenience; this model is a complete evolutionary upgrade in the line, which means that some previous concerns with other models have been improved upon for your convenience. This includes the inclusion of various types of sports and fitness performance dynamics as opposed to just running or jogging.
As well as a music upgrade, the inclusion of pulse oximetry data for more comprehensive and dynamic performance readings, and even financial convenience with the inclusion of a convenient app for Garmin Pay contactless payments.
The technology is improved upon, which goes beyond simple velocity to even pinpoint performance targets in various areas of the body as opposed to just an overall assessment. The watch is comfortable and lightweight, therefore, you can rest assured that this model is definitely worth the purchase.
A key feature of the Forerunner 945 is that it also analyzes heart rate like most other models, heart performance conditioning, and heart rate with oximetry data. This provides variability based on a wide range of different performance types to give real-time assessments of how you are faring during your workout and how long you can continue before you reach various thresholds.
The standout feature is the full map navigation. The Forerunner 945 (see on Amazon) uses Glonass and Galileo with the added benefit of showing these GPS features on a full-scale map which allows you to save your location for future reference and easily find your way back home. This is an ideal feature for outdoor runners.
Pros:
Additional Activity Profiles. This model contains innovative and detailed activity profiles that are now expanded for swimming, running, bicycling, and triathlons. These are all part of the profile selections that you can pick from with this model. This model also includes a range of recommendations if you wish to have some ideas to change up your fitness routine.
Triathlon ready. There are some superior Garmin watches for triathletes but the Forerunner 945 covers all the basics. The Forerunner 945 is packed with improved features to measure cadence, ground contact time, stride lengths, and all of the capabilities that sync with accurate heart rate readings and performance statistics.
Cons:
Pricey. The Garmin Forerunner 945 is on the higher end of Garmin watches when it comes to affordability. This is easily overlooked based on the superior features that come with this model, yet be aware of the expensive price tag.
---
The Garmin Forerunner 245 Music is a music lover's dream and one of the most popular Garmin running watches in terms of music functionality and compatibility. Best of all, the Forerunner 245 Music (see on Amazon) is accessible for all fitness types; rather you enjoy full-scale running marathons or just a lite jog.
In addition to the music storage space and accessibility through Garmin Connect, the Forerunner 245 Music also earns high marks for comfort. The silicone band feels lite and gentle against the skin and the watch is very lightweight.
Key Features
This watch is all about music. The Forerunner 245 Music has the added convenience of having up to 500 audio files to play at random. Gone are the days of having to use a separate device to hear all of your favorite fitness songs, you can listen with ease during your run with this model.
The Garmin Forerunner 245 Music is also beneficial if you need some enhanced training during your running sessions. The Garmin Coach feature recommends status, effect, and insight dynamics into your workout history and how it corresponds to any new goals you wish to reach, as well as insights into future recommendations that can then be broken down into distinct categories to ensure that you are dedicating the proper amount of time to each fitness session.
The battery life of the Forerunner 245 Music is also impressive. You can get up to 24-hours of battery life when running the watch in GPS mode and a week when running the watch in regular smartwatch mode.
The Forerunner 245 Music has most of the capabilities of the other models we have mentioned with the added benefit of improved music accessibility.
Pros:
Music storage. This model allows you to control the music playback from your phone in addition to providing space for up to 500 songs or audio data of your choosing.
Running Awareness. The Forerunner 245 Music also prioritizes user safety. An incident detection feature is built into the watch that can notify friends or family of your whereabouts in case of an emergency.
Cons:
Small size. Not every runner will find the smaller size of the Forerunner 245 Music to be appealing.
---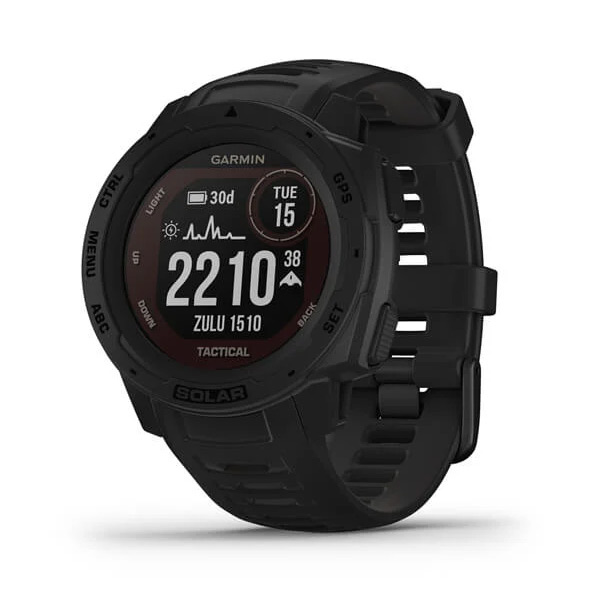 The Garmin Instinct Solar represents one of the finest Garmin designs in terms of solar technology. Simply put, this watch is a powerful and large smartwatch that is designed for long, outdoor fitness sessions. The solar-charging capabilities of this model are unprecedented in terms of charge longevity. The watch is also durable and built-to-last with military-grade toughness.
This watch is big and bulky and loaded with military-grade performance tracking features that are sure to please any runner that treks through rugged terrain.
Key Features
Solar power is the key phrase to keep in mind when it comes to the Garmin Instinct Solar. The lens combines the best of solar technology with powerful battery-saving performance. But perhaps the biggest standout of the Garmin Instinct Solar is the inclusion of advanced performance tracking features. Many of these, such as MGRS (military grid reference system), is perfect for outdoor enthusiasts who take adventures into rugged mountains or tough terrain.
When it comes to performance tracking capabilities, this smartwatch has features that could make any outdoor survivalist proud. This model allows you to sync your watch with enhancements such as night vision, which syncs to a pair of compatible goggles when you buy the bundle pack. The Military Grid Reference System (MGRS) is also convenient for advanced tracking of longitude and latitude coordinates.
With all of these features in mind, this is the Garmin watch to consider if you want a performance tracking watch that goes beyond simple outdoor runs.
Pros:
Great for hiking and mountain running. Garmin designed the Instinct Solar to appeal to the rugged outdoor enthusiast, this means that this watch goes far beyond just running for a more advanced and tactical experience.
Comprehensive training plans. The Instinct Solar is one of the watches that includes convenient coaching plans, which works well to help you reach your goals on those days when running or any fitness regime seems like a chore.
Cons:
Solar charging can be an inconvenience. It may not be a great idea to purchase the Garmin Instinct Solar if you do not plan on being outdoors a lot. The lens needs about 3 full hours of direct sunlight to adequately hold a substantial charge.
GPS overload. There are far too many instances where multiple buttons need to be pressed to navigate properly. If you need to zoom in on a location to see the terrain, you will have to navigate a slew of buttons. Manual entry can be convenient for smartwatches, but this is an instance that would be great for a touchscreen.
---
Garmin Vivoactive 3 is also an impressive watch for running. To be honest, this model is impressive if you are running or just going about your business at work each day.
Stylish, feature-packed, and comfortable – the Vivoactive 3 is a popular Garmin smartwatch for its accessibility. You can change the band dynamics based on the activity you are using the watch for.
With many apps for suggested workouts, this model also goes far beyond simple running capabilities.
Key Features
The Vivoactive series (see on Amazon) does heavily promote its models for running and jogging, but this model is the one that many Garmin enthusiasts have been waiting for due to the inclusion of so many new apps for a wide variety of fitness routines and types.
If you enjoy cycling, you can now use the convenient cycling power meter to log and display your performance specifics and health targets when you are bicycling. If you want swimming mode, this model now has a fully integrated swimming mode performance meter to record your underwater movements and suggest ways to improve to reach targeted goals.
The standout feature is the Garmin Move IQ performance tracker. This feature can automatically detect the type of fitness routine you are performing. Based on this detection, you can view the saved event in your Garmin Connect timelines to let you know the metrics achieved even if you didn't plan on recording the activity.
The Vivoactive 3 (see review) improves upon past exclusions in this popular Garmin line, and with this in mind, this makes the Vivoactive 3 a great investment. With new improvements in design and performance tracking, the Vivoactive 3 has helped to relaunch the Vivoactive series as a major line in the Garmin smartwatch family.
Pros:
Elevation tracking. Hidden inside the multisport capabilities of the Garmin Vivoactive 3 is a barometric altimeter. This feature of the Vivoactive 3 allows users to access rough outdoor terrain that increases fitness metrics during an activity. With Vivoactive 3, you can now track how hard you are working.
Waterproof. An important feature for any Garmin watch that has multisport features is waterproof capabilities. The Vivoactive 3 can withstand up to 50 meters of water pressure, which is great for days you wish to hit the pool and avoid the track.
Cons:
Not ideal for running only. The Garmin Vivoactive 3 is an amazing smartwatch; however, running falls to the wayside for more of a focus on multiple types of activities. If you strictly want a running watch, the Vivoactive 3 may prove to be too focused on other activities.
---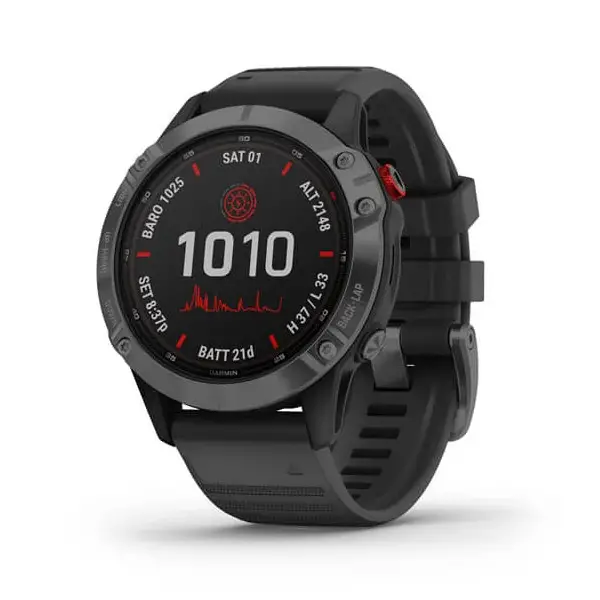 The Garmin Fenix 6 Pro Solar is somewhat similar to the Garmin Instinct Solar, yet this watch focuses more on all types of fitness and not exclusively the outdoors. Yet the solar technology of this model is also featured if the outdoors are your thing.
The Fenix 6 Pro Solar can be used for all fitness types, yet the tone and functionality of the watch are more geared towards advanced runners and triathletes. This model is also one of three Fenix 6 models that are customizable in terms of size and lens type.
Since the Fenix 6, Pro Solar uses solar charging for battery through a powerful Corning Gorilla Glass 3 lens, we consider this model to be the standout.
Key Features
Building on the craftsmanship for solar power that was seen in the Fenix 6X, the Fenix 6 Pro Solar Edition (see on Amazon) contains a power glass lens material that covers the display screen of the watch. This new and improved panel increases the ability of the lens to absorb UV and transfer this power to the battery pack.
You can now have a full solar charge to the battery that limits charging time. In addition to a stellar battery, the Fenix 6 Pro Solar is also packed with superb performance tracking features.
Pace Pro is a more advanced version of the Garmin coaching app that improves upon the features of that app. Additionally, this watch also has barometric altimeter technology to measure altitude and changes in elevation affecting your run.
Pros:
Durable lens and battery. The Fenix 6 Pro Solar stands out in the Garmin line for having some of the best battery performance and lens technology.
Increased water pressure capabilities. This model can now handle underwater pressure of up to 100 meters.
Cons:
Expensive. The Fenix 6 Pro Solar is one of the more expensive Garmin Smartwatches.
Not targeted specifically for running. Like the Garmin Instinct Solar, the Fenix 6 Pro Solar covers many different types of sports; this may confuse those only seeking a watch for running.
---
Which Garmin Running Watch Is Best?
Every one of these watches is stellar, yet when it comes to only one pick, we recommend the Garmin Forerunner 945. The Fenix 6 Pro Solar is a close second, yet the overabundance of features with this model may be overkill for beginners.
The Forerunner 945 (see on Amazon) finds a nice balance between a cross-section of all the features with each of these models. It falls in the middle once the overall costs of all 6 models are aggregated, which is a nice medium range in terms of price.
The performance tracking features find a perfect balance between beginner, intermediate, and advanced fitness levels. The battery performance is superb and more than enough no matter what GPS mode or length of fitness session you undertake.
This model represents one of Garmin's best.
FAQs
What is the most accurate Garmin running watch?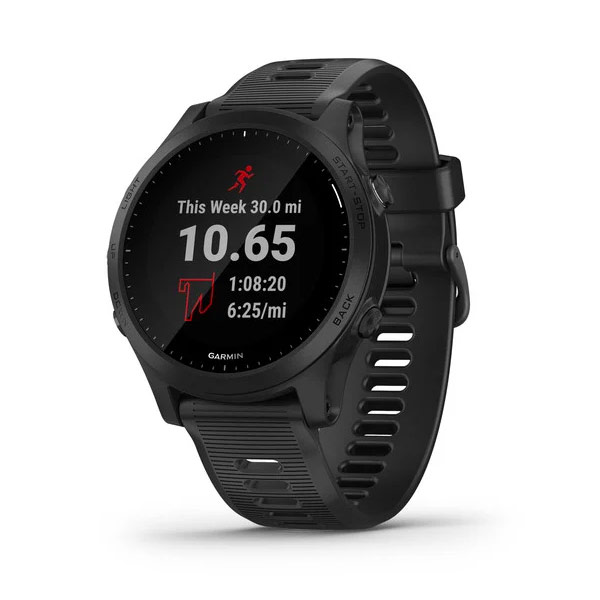 The Garmin Forerunner series is one of the best in the Garmin line and the Garmin Forerunner 945 consistently wins high marks in terms of GPS accuracy, innovative performance tracking metrics, and seamless notifications across the Garmin Connect App.
How do I use my Garmin watch for running?
To use your Garmin watch for running, the process is mostly universal across all Garmin running models. Go into the settings tab and open the Apps setting. Then, choose which app you want to add your running session to and select the 'add new' feature to calibrate your time and customizable settings.
What is the best Garmin watch for running and cycling?
Any Garmin running watch is certain to please runners and cyclists but the best models usually have premium music features available. The Garmin Forerunner 245 Music and the Garmin Forerunner 645 Music have advanced performance tracking features and superior music capabilities, including music storage.
How many years does a Garmin watch last?
A Garmin smartwatch can typically last for upwards of 5 years if well the watch is properly maintained. The battery life of each model varies but you can typically get several hours of battery in GPS mode and upwards of a week on one charge outside of GPS mode.
Is Garmin Venu good for running?
The Garmin Venu is a watch in the Garmin line that prioritizes simplicity over advanced features. The Garmin Venu is capable of basic performance tracking and GPS features, and its comfort is one of the standout features for many runners.
Final Thoughts
This guide has explored some of the best Garmin watches for runners. Each of these smartwatches is loaded with innovative features that track health statistics, performance metrics, and many additional features with the Garmin Connect App.
The Garmin Fenix 6 Pro Solar is the standout watch of this guide for its powerful battery and set of advanced performance features and the Garmin Forerunner 945 is ideal for running alone.
With that said, any of these watches will make your runs more informative and enjoyable.
First time here?
We love writing about the latest Garmin products, take a moment to read some of our other useful articles: