Garmin Approach X10 – for simple golf tracking
Garmin's latest addition to its golfing watch line up, is the simple yet stylish Approach X10. This intuitive watch is the perfect course companion for golf novices.
Preloaded with over 41,000 courses worldwide, its easy-to-read touchscreen display shows precise distances to greens and can guide you past hazards and doglegs with ease. And if that wasn't enough to convince you to buy, then its lightweight, compact design and inexpensive price tag just might.
PROS
Intuitive device, focused solely on golf
Touchscreen display
Pre-loaded with over 41,000 courses worldwide
Measures distance to front, back and middle of the green as well as hazards and doglegs
Green View with manual pin placements
Battery life of up to 12 hours in GPS mode
CONS
Basic features (as above)
No backlight or smartphone notifications
Limited design options
Garmin Approach X10 Golf Watch Review – good things come in small packages
Living in Southern Europe I get to be a fair-weather golfer all year round. So, when Garmin announced its new golfing watch early this year; whilst America and the rest of Europe were swathed in snow; I couldn't wait to get on the golf course in the clement sun to review the Garmin Approach X10 golf watch. Smug… just a little.
Opening the packaging it came as no surprise to find this watch considerably smaller than some of its more recent counterparts. Marketed at golfing beginners, this simple watch houses all the basic functionality you could need for navigating around the course and measuring distances accurately. What it lacks in functionality – such as swing analysis, swing tempo and heart rate – it more than makes up for with its affordable price tag, making this one of Garmin's most accessible golfing watches to date.
Approach X10 – New Features
Considering the simplicity of this watch, I was impressed at the amount of golf courses that could be found on the Garmin Approach X10. Pre-loaded with over 41,000 courses, its GPS receiver was even able to locate my local, little-known Spanish golf course and upon arriving at the first tee was ready to steer me to the next.
Designed in-keeping with Garmin's traditional fitness bands, this thin and unassuming watch sat inconspicuously on my wrist. I choose to review the matte black band, but a bolt blue alternative is also available.
Its 1-inch touchscreen display precisely showed me the distances to the front, middle and back of the green, flagging up doglegs, layups and hazards such as water and bunkers along the way. Its green view with manual pin placements helped me to locate the target and allowed me to zoom in to see the shape and layout of each green. Keeping track of the number of putts, fairways and greens I racked up was also easy with the all improved Garmin Golf app.
You may be interested in:
Acting as judge and juror the Garmin Golf app allowed me to compete against my friends via a personalized leader board, enabling us to fairly keep score and prompting the loser to get the drinks in post round.
Luckily the Garmin Approach X10 is water resistant, which allows you to keep on playing during a short summer downpour and its 12 hours battery life – whilst in GPS mode – ensures that there are no excuses for not finishing the round.
What I loved about the Approach X10
One of the biggest advantages to this watch is its lightweight and compact size. Not only did it look stylish on the wrist but fitted discreetly under my long-sleeved clothes. Its limited functionality did have some advantages, in that I was not forever flicking between screens and could instead concentrate on enjoying the game.
[amazon box="B078SZB6D6″ template="horizontal"]
What could be better
One of the most frustrating omissions on the Garmin Approach X10, is the absence of a backlight. As the sun started to fade towards the end of the round, I found it increasingly difficult to read the watch screen – and during one game, I gave up using it altogether.
I also missed the built-in smartphone notifications that some of the more expensive watches offer, as when wearing the Garmin Approach X10, I still needed to carry my mobile phone with me when out and about on the course.
The only other bug bear I had with this watch, was that the touchscreen was a little fiddly for my fingers. This is, in part, one of the downfalls to its lightweight and compact design!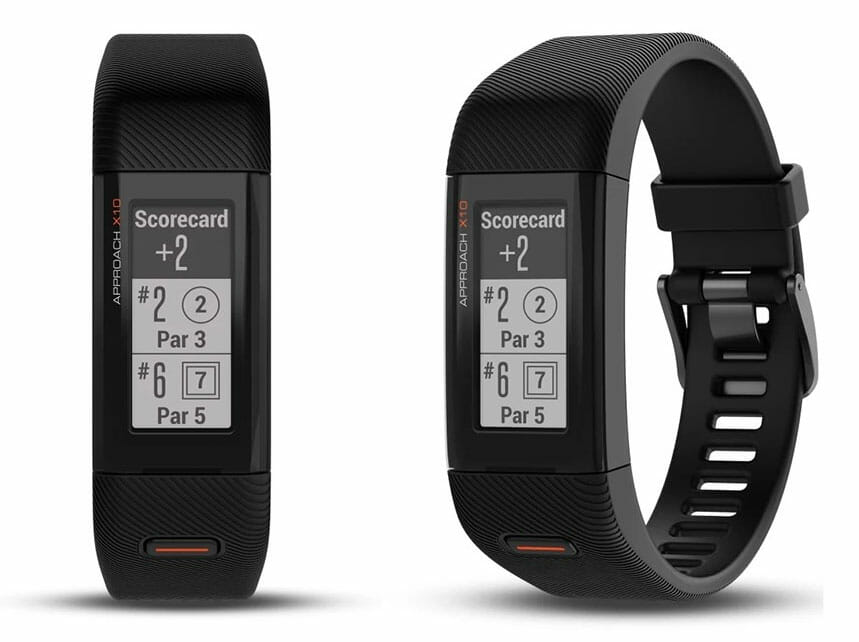 Is the Garmin Approach X10 worth the money?
As a golfing fanatic I did find this watch a little too basic for my needs and craved some of the more sophisticated features found on the Garmin Approach S60.
That said, Garmin is aiming this watch at the golfing beginner, and for someone learning the basics who wants to improve and impress whilst out on the course, the Garmin Approach X10 is definitely worth a purchase. Great value for money, this watch will see you moving from amateur status to pro in no time at all.